UNTERSTÜTZEN SIE DEN KLUB SIE LIEBEN
Entdecke die Kampagne deines Vereins
Alle Kampagnen auf Tifosy wurden in Zusammenarbeit mit den jeweiligen Vereinen erstellt und werden von den Vereinen ganzheitlich unterstützt. Wir arbeiten in enger Zusammenarbeit mit Verein und Fans um die Anliegen von allen Beteiligten zu verstehen und diese bei den Kampagnen miteinzubeziehen.
Support und Fanfund
Als Fans seid Ihr das wichtigste für die Zukunft eures Vereins. Durch Fanfunding auf Tifosy kannst Du Kampagnen Wirklichkeit werden lassen. Als Dank für deine Spende kannst aus vielen exklusiven Belohnungen auswählen.
Äussere deine Meinung und teile sie mit anderen Fans
Bei Tifosy kannst du deine Meinung direkt einfliessen lassen und den Fortschritt bei Fundraising und Projekten Schritt-für-Schritt mitverfolgen. Diskutiere mit anderen Fans und versuche an die Spitze der Tabelle deines Vereins zu gelangen, indem du Kampagnen teilst und andere zum mithelfen motivierst.
The platform was simple and effective and Tifosy's expertise proved very helpful. We were delighted to exceed our target within the timeframe, and are extremely grateful for Tifosy's contribution to this success.
Sarah Brookes
Communications & Marketing Director of Fulham Football Club
View Campaign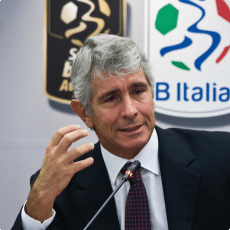 Lega B is excited to have reached a partnership with Tifosy, which represents a new opportunity for our Clubs, fans and cities. Via Tifosy's capabilities, we will create an incredible range of opportunities for participation, interaction and involvement for existing fans and new generations enabling them to leave a positive and concrete legacy that improves the infrastructure of the football club and the cities itself.
Andrea Abodi
President of the Italian Football League B
Das Tifosy Team hat viel Know-how demonstriert. Sie zeigten uns, was könnte und was nicht erreicht werden könnte. Sie haben eine riesige Menge geholfen, um aus dieser Kampagne ein Erfolg zu machen. Ich freue mich zu sagen, dass wir mehr als £150.000 gesammelt haben.
James Mason
COO Bradford City Football Club
View Campaign
The aim of the Italian Basketball League is to put fans first. It is because of this we felt that Tifosy, with a similar mentality, were the perfect partners. For too long we have found ourselves distanced from our fans and their needs. Tifosy is the perfect platform to bridge this gap. It offers us the chance to listen to our fans. We can offer transparent, concrete projects that are relevant and valuable to our supporters.
Federico Zurleni
Managing Director of the Italian Basketball League
Die zweimonatige Pompey Kampagne war ein voller Erfolg. Das Ziel wurde noch 3 Tage vor dem Stichtag erreicht und der Betrag hat schlussendlich £270,000 übersteigt. Ich würde nicht zögern, das Tifosy Fanfunding Konzept zu befürworten und nochmals mit Tifosy eine Kampagne organisieren.
Mark Catlin
CEO von Portsmouth Community Football Club
View Campaign