INTRODUCTION
Lampedusa. Italy's southermost island, a mere 70 miles from the North African coast, and now home to thousands of refugees fleeing from war-torn Syria, Eritrea and Libya, flooding the tiny outcrop of land of 6,000 locals. Some talk of a clash of civilisations. Some talk of a clash of religions. Lampedusa is not about this. Lampedusa is about the everyday need to save human beings, abandoned to their fate in the sea, where thousands die every year attempting the crossing. The community of Lampedusa doesn't care about their skin colour, their choice of religion or their country of origin. This community only cares about giving help to those who have risked their lives for a better future for their families.
#UNCAMPOPERLAMPEDUSA
THE PROJECT
"The Bridge - Un Ponte per Lampedusa" is being run in association with Lega B and their official charity B Solidale Onlus, the clubs from Serie A and Serie B and other partners. Together, our aim is to raise €100,000 which will part-fund a new football pitch on the island of Lampedusa with a grandstand, changing rooms and floodlights. This target is to be reached before the end of the campaign in January 2017.
The project will see the creation of a public football pitch that will host the local amateur youth team, students from all grade levels and refugees. It will provide a range of opportunities including sport, training courses, non-sporting events and, most importantly, integration. The aim is that the pitch will quickly become a social hub for the community of Lampedusa. The island has seen a large influx of refugees in the past few years due to its proximity to North Africa and a project like this could be a strong unifying force for everyone living and arriving there.
The project also involves the co-financing of activities for the youth teams that, for budgetary reasons, cannot participate in the respective federal championships.
BEFORE
AFTER
THE COST OF THE PROJECT
The total budget for the development of this project is €2,000,000, financed by different partners including non-profit organisations, public and private institutions and this crowdfunding campaign. In addition, the project will count on the support not only of Lega B and Clubs, but also of major Sports Media titles and Broadcasters.
Once the project has been completed, there will be an inauguration game featuring former footballing stars.
HOW YOU CAN PARTICIPATE
Anyone can participate in this crowdfunding campaign which has many different types of exciting rewards available, which will be updated regularly. Additionally, during the course of the campaign, exclusive competitions and auctions will be added.
FAQs
How can I pay?
You can pay with any major debit or credit card.
How long does the campaign last for? And when can I contribute until?
The campaign lasts until mid-January 2017 and you can contribute until that date.
What if the campaign target is not reached or it is exceeded?
All the money we raise will go to B Solidale Onlus (Lega Serie B's official charity). If the target is exceeded, the additional funds raised will be added to the project.
Are there extra costs to pay when contributing?
No. All costs are covered by your contribution including shipping fees. Though, in case of transportation and accommodation are needed, the contributor will have to cover this by themselves.
How much of my contribution is taken up by Tifosy for admin fees and costs?
Tifosy charges 5% of the total amount raised, to cover the costs of the campaign. These include, amongst others, creation/structuring/design of the campaign and specific The Bridge campaign page, development and platform costs, logistics, marketing and social media, customer service, etc. These campaign costs are below the crowdfunding industry average, which typically does not provide for an integrated service like Tifosy. Costs related to the manufacturing and fulfilment of rewards vary on a per reward basis and are borne by B Solidale Onlus.
When will I receive my reward?
The items will be sent as soon as possible after receiving your contribution. If the reward chosen is an experience or a service, Lega B will contact you to arrange the day and the most appropriate way to do the activity you choose.
Can I contribute more than once?
Yes of course. You can donate as many times as you wish..
What happens with my personal information?
We will never store your credit card info anywhere. We use a secure payment process provider to process payments, so we don't have to touch your payment information. We will use your name and email to deliver your contribution receipt, any rewards, and keep you up-to-date with campaign information. At the end of the transaction you'll have the option to allow (or not) your data to be sent to Lega Serie B for marketing and commercial purposes. On occasion, we will use these details to share details of other Tifosy campaigns and the projects of trusted partners which might be of interest to you. If you prefer not to receive such emails you will be able to unsubscribe. Please refer to the Terms and Conditions for more details.
I don't have a credit or debit card, can I still contribute?
Of course you can. You can make your contribution via bank transfer to B Solidale with the following details: Trust B Solidale presso UniCredit S.p.A - IBAN: IT 47 Z 02008 05085 000104289110. Please remember to insert as "reason for payment" the following information: "Tifosy Lampedusa".
I don't live in Italy. Can I still contribute?
Yes, donations are accepted from most countries as long as you use one of the card types listed above. Not only that, we will also take care of shipping you with the rewards you have chosen.
Where does the money go when I pay?
Your money goes directly into B Solidale bank account through Stripe, a safe international online payment service.
Lega B's Top Fans
| | | |
| --- | --- | --- |
| 1 | Anonymous | 50000 |
| 2 | Singapore Airlines | 1000 |
| 3 | Fausto Zanetton | 250 |
| 4 | Ludovica Mantovani | 200 |
| 5 | Luca Vialli | 100 |
| 6 | Nicola Verdun | 90 |
| 7 | Tomas Tejero | 75 |
| 8 | Anonymous | 75 |
| 9 | Silvio Frangioni | 60 |
| 10 | Simona Verdun Di Cantogno | 50 |
| 11 | Andrea Locco | 50 |
| 12 | Franco Maria Maggi | 50 |
| 13 | Sandro Lulli | 50 |
| 14 | Fausto Zanetton | 40 |
| 15 | Geoff Tidey | 30 |
| 16 | Giampaolo Cataldo | 30 |
| 17 | Simone Thailand | 30 |
| 18 | Anonymous | 30 |
| 19 | Daniel Vyravipillai | 30 |
| 20 | Joe Gebran | 30 |
| 21 | Filippo Escher | 30 |
| 22 | michela rayneri | 30 |
| 23 | Alessandro Cozzi | 30 |
| 24 | Stefano Bassi | 30 |
| 25 | Alex Kossmann | 30 |
| 26 | Anonymous | 30 |
| 27 | Sergio Pergher | 30 |
| 28 | giuliano cargiolli | 30 |
| 29 | Anonymous | 30 |
| 30 | Pete | 30 |
| 31 | Giovanni Zurleni | 20 |
| 32 | Erica Castellani | 20 |
| 33 | James Pollock | 10 |
| 34 | Wouter Van Der Gaag | 10 |
| 35 | Antony Herrera | 10 |
| 36 | Simone Cavaliere | 10 |
| 37 | John Bussetil | 10 |
| 38 | Gioacchino Roberto Di Maio | 10 |
| 39 | MARCO BENINCASA | 10 |
| 40 | Alfio A. Sciacca | 5 |
| 41 | Riccardo Mocavini | 2 |
Rewards
JUST CONTRIBUTE
Don't want a reward? Just contribute any amount here to support the campaign.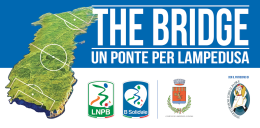 OFFICIAL CERTIFICATE OF CONTRIBUTION
Get your hands on your very own personalised certificate of contribution to the Lampedusa project.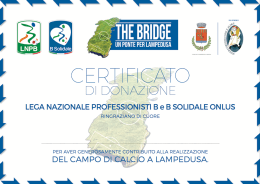 SIGNED PENNANT AND CERTIFICATE
Get a signed pennant of your favourite Serie A or B club and the certificate of contribution of #UnCampoPerLampedusa campaign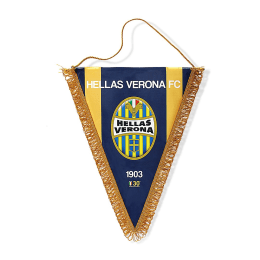 Contribute €30
Limited (2 left of 50)
THE OFFICIAL PUMA LEGA B FOOTBALL
Impress your footballing friends with your very own official Puma Lega B football!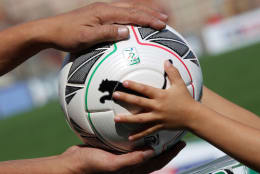 2 TICKETS FOR CENTRAL STAND + WALKABOUT EXPERIENCE (if available) FOR A SERIE B GAME
Experience the Serie B in a unique way! Contribute and get 2 tickets to watch a game from the main stand + walkabout experience if available.
OFFICIAL TEAM JERSEY SIGNED BY YOUR FAVOURITE PLAYER
Thanks to your support you can receive the official jersey of your Serie A or B club signed by your favourite player! Are you ready to wear it when singing at the stadium?
Contribute €250
Limited (89 left of 100)
NAME ENGRAVED ON WALL OF FAME + 2 TICKETS FOR THE OPENING CEREMONY AND GALA GAME
This is a unique opportunity to have your name engraved on the wall of fame of the Lampedusa football pitch and receive 2 premium tickets to attend the opening ceremony & gala match.
Contribute €50
Limited (8 left of 10)
ATTEND THE EXCLUSIVE OFFICIAL LAUNCH EVENT OF THE 2016/17 SERIE B SEASON
Get 2 exclusive premium tickets for this amazing event, surrounded by sports personalities and the media.
CHANCE TO WIN: SIGNED NAINGGOLAN'S A.S. ROMA JERSEY WORN DURING ROMA-UDINESE (4-0)
Great chance to win this unique reward kindly offered by A.S. Roma and their player Radja Nainggolan. The signed jersey has been worn by Nainggolan during A.S. Roma - Udinese, first game of the new Serie A TIM football season.