Our initial target of £3,000 will help us to run this fantastic club for the rest of the 2016 season. If we reach that milestone, we will then look to raise further funds for other important projects at the club.
If you've always dreamed of being on the board of a Premier League club, here's your chance…
Ok, it may not be the Barclays Premier League, but Bayangol FC of the Mongolian Premier League need your help with a unique project that is using football for positive social change and taking a stand against discrimination and corruption in football. It's like a real-life game of Football Manager except it's changing the lives of people on the other side of the world.
Bayangol FC was founded in 2013 as a club for the everyday people of Mongolia - a club that would have an ethical and charitable ethos, helping people who wouldn't otherwise have a chance to express and empower themselves through football in a nurturing environment. Our players' backgrounds vary vastly from students in Ulan Bator to players whose families still live traditional nomadic lifestyles.
As a club we stand against discrimination and corruption and have tackled both head on. We combatted football fraud when we crowd funded to refund a young Mongolian footballer, Ochiroo, who was tricked by a fake agent and lost a life-changing sum of money. Now he is back playing football with a smile on his face.
At the start of the season Bayangol signed three Nigerian footballers - one was the victim of player trafficking, the other two had been cut adrift by other clubs who let them become illegal immigrants and refused to pay them.
Bayangol FC is run by a small group of committed football fans from all over the world, from the United Kingdom to the USA to New Zealand. We're more than a club, we're a football community.
Frequently Asked Questions
How can I pay?
You can pay with any major debit or credit card.
How long does the campaign last for? And when can I contribute until?
The campaign lasts until the 15th September 2016 and you can contribute until that date.
Is this a Bayangol FC official campaign?
Yes. Bayangol Football Club from Mongolia has set up this project, and using Tifosy's crowdfunding platform to allow fans everywhere to get involved.
Where does the money go when I pay?
Your money, less fees and administration costs, will be held in a Bayangol FC account, where it will be kept until needed to pay for the nominated projects. These funds will be used to support Bayangol FC and projects that have been announced on this website.
How much of my contribution is taken up by admin fees and costs?
Costs and campaign expenses amount to less than 10% of the total amount raised. These include, amongst others, production costs of the campaign site, design and running costs of the campaign website and underlying platform, marketing costs, Tifosy's fees and expenses, and payment processing fees. The campaign costs and expenses are in line with the crowdfunding industry average. Costs related to the manufacturing and fulfilment of rewards vary on a per reward basis.
Who can contribute to the campaign?
Anyone who supports this project can contribute.
Are there additional payment processing or shipment fees on top of what we contribute for the rewards?
No, all costs are included in the price you pay for your reward.
When will I receive my reward?
We will send many items as soon as possible after receiving your contribution. If the reward chosen is an experience or a service, time may vary depending on when the activity will take place.
Can I contribute more than once?
Yes of course! You can donate as many times as you wish.
Can I give the reward as a gift to someone?
You certainly can! When you contribute for any personalised item, we will take information of the person it is intended for.
What are you doing with my personal information?
We will never store your credit card info anywhere. We use a secure payment process provider to process payments, so we don't have to touch your payment information. We will use your name and email to deliver your contribution receipt, any rewards, and keep you up-to-date with campaign information. On occasion, we will use these details to share details of other Tifosy campaigns and the projects of trusted partners which might be of interest to you. If you prefer not to receive such emails you will be able to unsubscribe. Please refer to the Terms and Conditions for more details.
I don't have a credit or debit card, can I still contribute?
You can definitely make your contribution. Please contact us directly info@tifosy.com with your request, and we will make sure to handle it with you offline.
Update
1
Bayangol has now reached £1,280 leaving us just shy of 50% to our target of £3,000. The money raised is going towards running the club for the rest of the 2016 season and will hopefully see the team rise up the league. There are great rewards still on offer...
Read More
Bayangol FC's Top Fans
| | | |
| --- | --- | --- |
| 1 | Fausto Zanetton | 100 |
| 2 | Alessio Tuveri | 100 |
| 3 | Anonymous | 75 |
| 4 | Greg Tinker | 50 |
| 5 | anthony newbery | 50 |
| 6 | Timothy Christopher | 50 |
| 7 | David White | 25 |
| 8 | Ash Civil | 25 |
| 9 | Geoff Tidey | 25 |
| 10 | Rui Yang | 25 |
| 11 | Ted Edmunds | 25 |
| 12 | Alex Kossmann | 10 |
| 13 | James Pollock | 10 |
| 14 | Jeremy Julius | 10 |
| 15 | John Bussetil | 10 |
After 126 days this campaign was closed on 31 October, 2016 (23:55 GMT)
Rewards
CERTIFICATE OF CONTRIBUTION
Show your support for the club! We will send you a personalised certificate recording your contribution by email and keep you updated with the progress of this campaign.
CLUB SCARF + CERTIFICATE OF CONTRIBUTION
Contribute to receive a scarf of the club and a personalised certificate of contribution
Sponsor a player
Choose your Bayangol FC player and sponsor him for the season. You'll get regular updates from the player on his progress, and after the season you'll get their kit!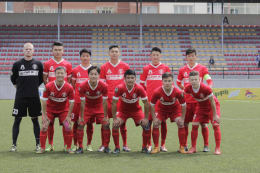 BE IN THE 2016/17 SHIRT DESIGN
Your name will be included in the design of Bayangol FC's home shirt for next season!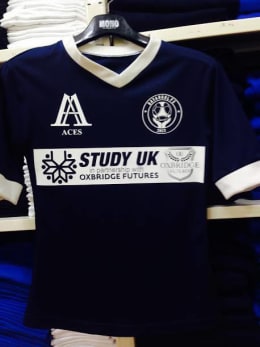 BE A BAYANGOL SQUAD MEMBER!
You will be given an official squad number, get a personalised home shirt and appear in the squad on the website, Wikipedia page and programme!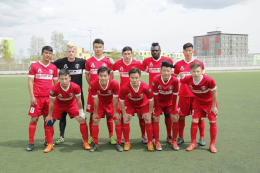 Contribute £2,500
Limited (1 left of 1)
BECOME THE CLUB CHAIRMAN
Join the three-man board, making the operational decisions for the club
TEAM SHIRT + CERTIFICATE OF CONTRIBUTION
Thanks for your support! You'll receive a replica team jersey of Bayangol FC! Are you ready to wear it with pride? You will also receive a certificate of contribution.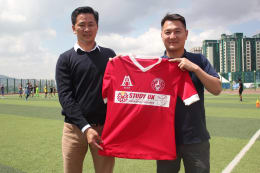 TEAM SHIRT + SCARF + LETTER OF THANKS + CERTIFICATE
You will receive the club's replica jersey, the club's scarf, a personalised letter of thanks from the directors & team, and a certificate of contribution!