Invest Today
Through its 43-year history, Stevenage FC has consistently exceeded expectations. Since joining the United Counties League in 1980, the Club has achieved a remarkable seven promotions in only 30 years, nearly reaching the second tier of English football. Along the way the Club has won three further trophies and completed FA Cup "giant killings" over Premier League and Championship opposition.
Stevenage FC is a club with big ambitions. Positioned close to London, it has a stadium which has undergone continuous improvement including the development of a brand-new 1,500-seater North Stand. The Club also boasts extensive first-team training and Academy facilities over two sites that are the envy of many clubs in League One and the Championship and its coaching team benefits from a conveyor belt of young talent coming through the Academy. New revenue streams are also being opened up through an events and entertainment business using the stadium and new catering facilities, and the Club will be announcing exciting new commercial partnerships for the coming seasons.
All of this has been made possible by a passionate majority owner, Phil Wallace, who has been at the Club for over 20 years and a high-quality board of directors who have focused on delivering growth through meaningful but sustainable investment.
Share in Our Future
Chairman Phil Wallace believes that now is a fantastic time to invest in Stevenage FC as the Club is offering the opportunity to buy shares with real voting rights and unique dividends linked to promotion.
Funds raised through the equity offering will be invested into the Club's playing and transfer budget with the aim of securing promotion through the EFL divisions. The Club expects promotion to bring an increase in value for shareholders who will also benefit from unique promotion dividends. New investors will receive a dividend of 25% of the issue price on the first promotion to EFL League One and a further dividend of 75% on the first promotion to the EFL Championship.
"It is an exciting time for Stevenage Football Club, and for new shareholders to Share in Our Future."
Chairman Phil Wallace
It is not often possible to make an investment in a football club. Stevenage FC is offering an opportunity to do just that. Funds raised through the sale of shares will be invested into the playing budget with the objective of securing promotion to EFL League One and subsequently to the EFL Championship. If the club can achieve these aims, it expects to deliver entertaining football, higher group revenue and, ultimately, an increase in the value of the Club and the Shares.
HOW THE FUNDS WILL BE USED
Stevenage FC will use the proceeds of the offer to increase the Club's wage and transfer budget. By injecting the funds raised directly into the playing budget, the Club aims to close the gap between its spend and the average spend of clubs in EFL League Two. In this way, the Club believes it will increase its chances of getting promoted. Last season, Stevenage FC missed out on the EFL League Two promotion playoffs by one point.

THE IMPACT OF PROMOTION
Achieving promotion would trigger an immediate increase in the Club's broadcasting revenue (based on the current distribution mechanism for broadcasting revenues in the EFL) and would be expected to have a positive impact on all other revenue streams e.g. ticketing and commercial/sponsorship revenues.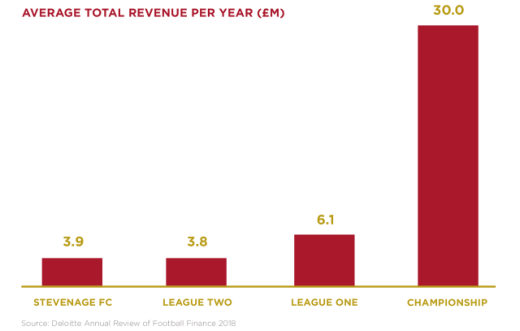 AN INCREASE IN CLUB VALUATION
The methodology frequently used for establishing the indicative value of a football club is known as the "Revenue Multiple" method. This method measures the value of a club by taking the revenue that it generates and multiplying it by a factor based on precedent transactions and case-specific circumstances. The Directors of Stevenage FC have valued the Club at £8.8m corresponding to a revenue multiple of 1.94x. When divided by the number of outstanding shares, this implies the price of £25 per share.
The Club believes that through promotion and increased revenue, it can generate value for shareholders. As an example, applying the Club's revenue multiple to the average revenue of an EFL Championship club (£30.0m) implies a hypothetical value of ca. £144 per Stevenage FC share, over 5x the issue price.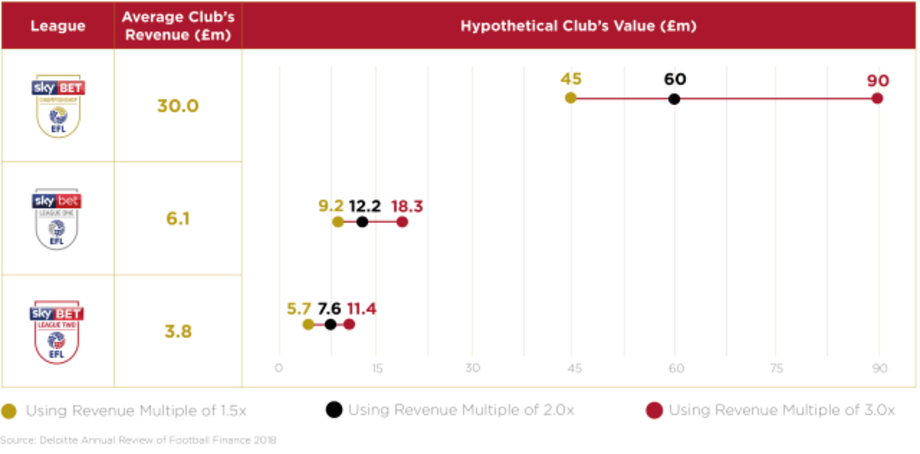 You should note that valuation analysis generally involves a large number of subjective assumptions, that capital is at risk and that a return on your investment cannot be guaranteed. For further information in respect of the Club and its valuation, see section 4 (the Offer) in the Offering Document. Please ensure that you have read and understood all of the Offering Document, including the risk factors, before applying for Shares.
Rights & Privileges
Shareholders of the Stevenage Football Club will have unique and exclusive access to the inner workings of Stevenage FC and be involved like never before.
Key rights attached to the shares include:
Information rights: shareholders will receive a copy of the annual accounts of the Club, and will be invited to attend an annual CEO Update, at which an review of club business and strategy will be presented and discussed.
Voting rights: shareholders will have one vote per one share acquired (as does the Club's majority shareholder) and, as a result, have proportionate voting representation
Consultation rights: shareholders will be consulted and vote on certain decisions relating to the Club's operations and development. Such decisions include:

the design of the first team home and away kits each season;
certain changes to the design of the stadium or its facilities;
any proposed change to the name of the Club;
any material change to the principal colours of the Club's first team home strip;
any proposed relocation of the Club stadium to a location more than 5 miles from the current stadium.

Tag-Along and Drag-Along Rights: sell your shares on the same terms as the owner in the event that more than 50% of the Club is sold
Pre-emption Rights: ability to maintain your % ownership by having the opportunity to proportionally participate in any future share offerings made by the Club
Promotion Dividends: share in the Club's success through dividends only available to new investors

Phil Wallace
Chairman and majority shareholder
Phil began his working career in a firm of London stockbrokers before being recruited in 1972 to expand a small canned goods importer into an international business by diversifying into frozen foods. That company is now the major multinational Lamex Food Group with annual sales in excess of US$ 1.5 Billion. Phil took a majority stake in Lamex in the 1980s and led year on year growth, moving in 2006 to the role of Group CEO which he holds today, overseeing all Group trading activity, strategy and direction from bases in the UK and USA.
Phil became the majority shareholder and Chairman of Stevenage FC in 1999. During the 20 years of his tenure he has led the Club to major successes on the pitch, including the Club's establishment in the EFL, rise to the League One playoffs in 2012, and outstanding performance in the FA Trophy and FA Cup. Off the pitch, Phil has been the driving force in building the foundations for future success, including major investments into improving the stadium and new training and academy facilities.
Phil Wallace
Chairman and majority shareholder
Stuart Dinsey
Club Director
Formerly a business journalist, Stuart Dinsey founded his own company Intent Media in 1998 and grew it into a £10m business with over 100 staff. A specialist in entertainment, leisure and technology, Intent's portfolio covered music, video games, computing, toys, licensing, cycling and more. Since selling the business in 2012, he has been Chairman of video games publisher Curve Digital, a board member of games trade association UKIE and Non-exec Director of selected media interests. Rising from the ranks of season ticket holder to major sponsor, Stuart was invited to join the Stevenage FC board at the end of 2013.
Stuart Dinsey
Club Director
Paul Wallace
Club Director
Paul began his career at the London Metal Exchange after graduating from Leeds University where he studied Business Management. He followed his father into Lamex Foods in 2006, operating in a newly formed division of the Group that focused on Juice and Juice Concentrates and Honey. He was made a director of Lamex Agrifoods in 2010 and subsequently promoted to the main board in 2013. Paul is the current joint Managing Director of Lamex Agrifoods, based in their Miami, Florida offices. Brought up a Stevenage FC fan by his father, Paul was eager to support the Club's development and joined the board in 2008.
Paul Wallace
Club Director
Dr Marc Wallace
Club Director
Marc is a medical doctor and Consultant Physician based at Addenbrooke's Hospital in Cambridge. In 2006, He completed his undergraduate degree in Medicine and Surgery at the University of Bristol, which was awarded with merit. During his medical degree, in 2003, he simultaneously completed a competitively intercalated degree in Anatomical Science that developed specific expertise in Bone, Joint, Spine and Muscle function. He moved to Cambridge in 2010 to complete specialist training in Dermatology; subsequently taking up a permanent consultant post. Like his brother Paul, he has been brought up as a Stevenage FC fan and remains heavily involved in family business ventures. Appointed in 2014, and experienced in medical matters, he brings a unique perspective to the board.
Dr Marc Wallace
Club Director
Marcus Taverner QC
Club Director
Marcus is a leading barrister specialising in construction; engineering and energy law; and professional negligence claims against architects, engineers and other professionals. He became a QC in 2000 and Head of his Chambers in London in 2015. He has an extensive advisory practice and is well known for his strategic acumen and understanding of the commercial aspects of litigation. Over the last 35 years Marcus has appeared regularly in the High Court, Court of Appeal and Supreme Court and in many jurisdictions around the world. He also acts on behalf of clients engaged in Arbitrations and other forms of alternative dispute resolution. A lo..]#cal to Stevenage, Marcus has been attending matches and supporting the Club with his family since 1993. He was appointed a director in 2008.
Marcus Taverner QC
Club Director
Alex Tunbridge
Chief Executive
Alex started his career in professional increasing the Club's young supporter base at AFC Bournemouth. In 2009 he moved to his home-town club Stevenage FC to establish the Foundation, which won the award for the Football League's Best Education Programme during his tenure. Alex was appointed Academy Managing Director, where he led the launch of a sports-based Nursery School for 90+ children.
After a spell leading the launch of an indoor soccer centre in the USA, Alex returned to the UK as CEO of Newport County FC, where he drove attendances up 39% and Season Ticket sales up 120%, and secured EPPP Category 3 status for the Academy. In 2018, Alex returned to Stevenage as Chief Executive, leading the operations across the Club, growing the supporter base and club revenues and overseeing strategic management and financial controls.
Alex Tunbridge
Chief Executive
Dino Maamria
First Team Manager
Dino started his playing career in his native Tunisia before moving to Burnley FC in 1996. He left due to injury, playing at Glentoran and Doncaster Rovers. Dino joined Stevenage FC in February 2003, going on to make 106 appearances and score 38 goals.
Dino gained his UEFA licenses and FA coaching badge, and in his first full role guided Northwich Victoria from fifteen points adrift in the Conference National to avoid relegation and win Manager of the Year. As first team coach at Stevenage, Dino helped deliver a 24-game unbeaten run, win the 2009 FA Trophy, and secure back-to-back promotions to the Football League for the first time in their history, and to League One. After a short spell at Preston North End, Dino retuned as assistant manager, making the League Two play-offs. He had management roles at three further clubs before rejoining Stevenage in March 2018, guiding the Club to its highest position since 2014/15 in his first full season.
Dino Maamria
First Team Manager
Document
To view this information, you must have logged-in and completed the self-certification. Click here to sign-up/login and certify.
FAQS
About the shares
About the shares
What class of Shares are on offer?
+
Will I directly hold shares in the Club?
+
How much is being raised?
+
What happens if the Stevenage FC Equity Offering is oversubscribed?
+
Making an Application
Making an Application
Who can invest in Stevenage FC Shares?
+
How many Stevenage FC Shares can I apply for?
+
Can I pay by instalments or top up my holding of Stevenage FC Shares?
+
Investment Returns and Selling Shares
Investment Returns and Selling Shares
What return do I receive on my investment?
+
Are my Shares guaranteed to retain their value?
+
Will the percentage of the Club owned through my Shares always be fixed?
+
Are the Stevenage FC Shares transferable and can I sell them or buy more?
+
How do I get my money out?
+
Shareholder Rights
Shareholder Rights
What rights do I have as a shareholder?
+
What are the Promotion Dividends?
+
Are there any other benefits?
+
General
General
Is my investment protected by a compensation scheme?
+
Do I need to discuss the Stevenage FC Equity offering with a financial advisor?
+
What happens if I die while I hold Stevenage FC Shares?
+
I would like to participate – what do I do now?
+