Inversteer in je club's toekomst
Tifosy is de globale leider in sport crowdfunding waar jij professionele clubs kan ondersteunen in ruil voor beloningen, aandelen of obligaties
Ontdek jouw club's campagne
De campagnes van Tifosy worden samen met de club opgezet en worden volledig ondersteund door de club. We werken nauw samen met de club en de supporters om er zeker van te zijn dat we ieders perspectief begrijpen en kunnen vertegenwoordigen in de campagne.
Investeer in je club
Als supporters zijn jullie het meest belangrijk voor de toekomst van de club. Jullie kunnen een campagne voor de club succesvol maken met fanfunding via Tifosy. Als tegenprestatie voor je bijdrage kun je kiezen uit een assortiment aan exclusieve beloningen.
Laat van je horen en deel met andere fans
Het is belangrijk dat je campagnes waarvan jij wilt dat ze succesvol zijn deelt met je vrienden en je familie. Daardoor wordt de campagne zo succesvol als maar kan
Wat mensen over ons zeggen
het platform was eenvoudig te gebruiken en effectief en Tifosy's expertise was buitengewoon behulpzaam. We waren heel blij dat we het gestelde doel van de campagne overschreden hebben binnen de gestelde duur, en zijn bijzonder dankbaar voor Tifosy's bijdrage aan dit succes
Sarah Brookes
Communications & Marketing Director of Fulham Football Club
View Campaign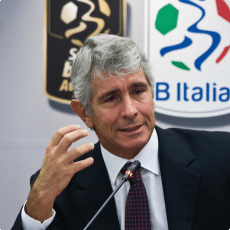 Lega B is excited to have reached a partnership with Tifosy, which represents a new opportunity for our Clubs, fans and cities. Via Tifosy's capabilities, we will create an incredible range of opportunities for participation, interaction and involvement for existing fans and new generations enabling them to leave a positive and concrete legacy that improves the infrastructure of the football club and the cities itself.
Andrea Abodi
President of the Italian Football League B
Tifosy have a lot of expertise. They showed us what could and what couldn't be achieved, that this campaign could be a success, and they did a huge amount to make it a reality. I'm delighted to say that we raised over £150,000.
James Mason
COO Bradford City Football Club
View Campaign
The aim of the Italian Basketball League is to put fans first. It is because of this we felt that Tifosy, with a similar mentality, were the perfect partners. For too long we have found ourselves distanced from our fans and their needs. Tifosy is the perfect platform to bridge this gap. It offers us the chance to listen to our fans. We can offer transparent, concrete projects that are relevant and valuable to our supporters.
Federico Zurleni
Managing Director of the Italian Basketball League
De twee maanden durende campagne voor Portsmouth FC was een doorslaand succes. Het doel dat de club gezet had om £250,000 op te halen is drie dagen voor het eind van de campagne behaald en uiteindelijk is er £270,000 opgehaald. Ik kan het Tifosy fanfunding concept van harte aanbevelen en ik zou zo Tifosy weer vragen om een campagne voor ons te runnen.
Mark Catlin
CEO van Portsmouth Community Football Club
View Campaign