When Covid-19 first struck, there was a lot of data filled social media highlighting how unprepared the football industry was for such an interruption and making predictions on everything from TV rights contract penalties to player pay cuts.
At first it was difficult to know how long the pandemic might last and the scale of impact it would likely have. Work soon began on the various projects to get league and European competitions completed in order to fulfil broadcasting contract commitments, on which rebates were nevertheless required to be paid in all competitions, though these were negligible for Germany's Bundesliga which managed to restart after a suspension of only 64 days. The complete overview of suspensions is below.
The headline numbers
Overall, revenues of the Big Five in 2019/20 were down €1.9bn (11.0%) compared to 2018/19, despite the pandemic only taking hold in the latter part of the season – according to figures from Deloitte. The biggest impact on revenues was felt in Italy's Serie A – a fall of €443m (17.8%) – while Germany's Bundesliga escaped with a loss of only €138m (4.0%) by achieving the earliest restart and minimising broadcast rebates. As a result, the Bundesliga rose to second place in overall revenue terms, overtaking Spain's La Liga, which itself suffered a relatively modest fall of €258m (7.6%).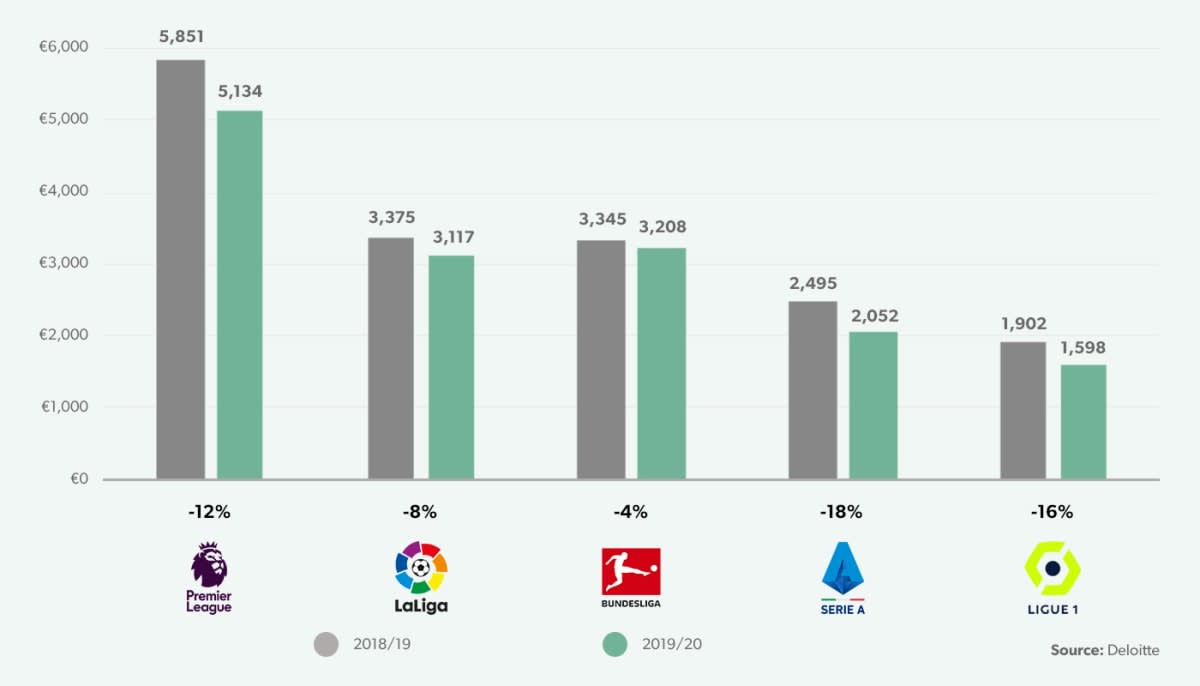 TV money rebates and delays had the biggest impact
Unsurprisingly, the biggest percentage fall was seen in matchday revenues, which fell 19.2% from €2.3bn to €1.9bn as a total of 489 of 1,826 games (26.8%) were played behind closed doors (BCD) or cancelled. The pain was sharpest in the Bundesliga with a loss of 30% (82 matches BCD), while the Premier League suffered only a 12% loss (72 matches BCD).
Broadcasting revenues fell 15.2% as rebates were paid to TV companies and payments related to delayed fixtures were shifted into the next financial year. While lower in percentage terms this was by far the biggest loss to the 2019/20 financial year in absolute terms with a combined drop of €1.4bn vs. 2018/19. Here the biggest drop was in France – a 23.4% loss – where Ligue 1 was not resumed after being suspended on 28th April, meaning a significant rebates had to be paid. Serie A and the Premier League also experienced significant losses in broadcast revenues, while La Liga restricted the losses to only 6.6% and the Bundesliga actually grew revenues fractionally as all matches were completed before the end of the financial year.
Revenues from commercial activities were relatively unaffected with a loss of only 0.6% (€32m) as the majority of these revenues are based on long-term agreements. Commercial revenue actually grew 10.3% in the Premier League and 1.0% in the Bundesliga, while La Liga experienced only a minor loss of 2.5%. In France, the cancellation of Ligue 1 will have triggered contractual rebates, while Serie A suffered a 16.4% loss due to the higher proportion of commercial revenues linked to matchday.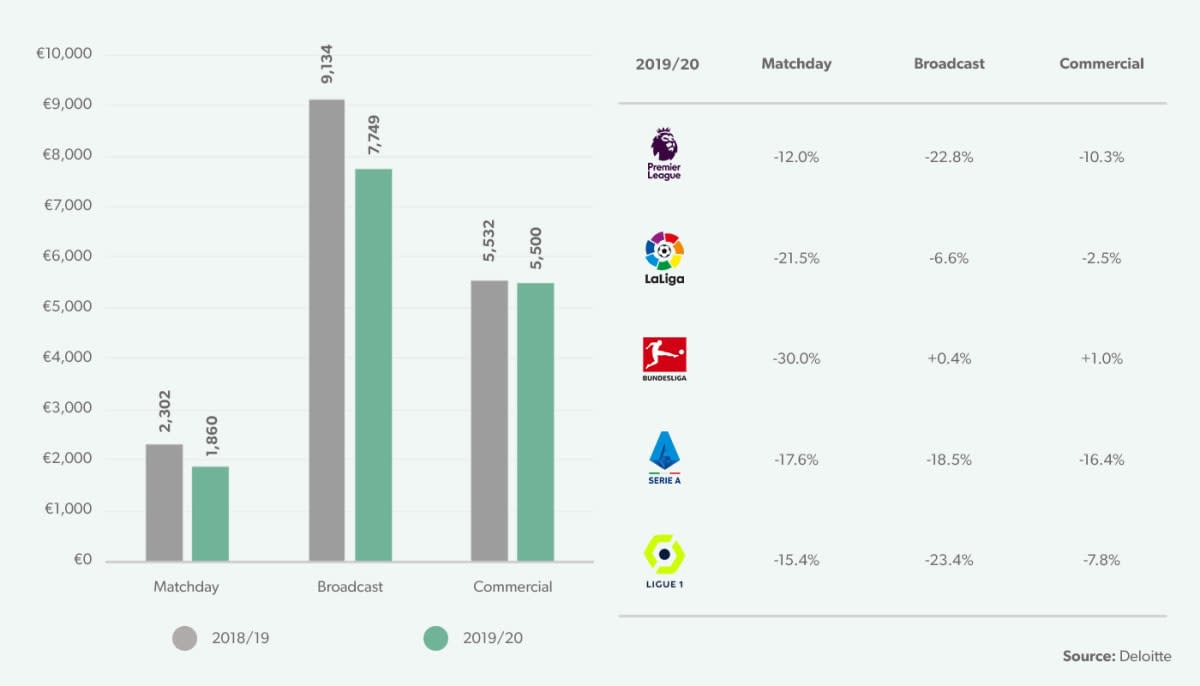 Premier League players – the highest-paid in the region – attracted the most criticism in the Big Five for pushing back on a reduction in pay, and in the end only one club (Arsenal) managed to push through a pay cut.
Did player pay cuts make a difference?
A lot of media attention was paid at the start of the pandemic to the efforts of clubs across Europe to persuade players to take a reduction in compensation to help their employers mitigate the effects of lost revenues. In the final count, the only league which managed to reduce its overall wage bill was Serie A, where staff costs fell 8.4% from €1.8bn to €1.6bn – although as a percentage of revenues this still drove an increase of 8 points to 78.5%.
Three leagues – La Liga, the Bundesliga and Ligue 1 – managed to keep wages flat or growing less than 2%, but with falling revenues this still saw significant jumps in wages to revenue ratio. The most extreme jump was seen in Ligue 1 where wages went from 73.0% to 88.6% of revenues, fully 10 points above the next highest in Serie A.
Premier League players – the highest-paid in the region on average – attracted the most criticism in the Big Five for pushing back on a reduction in pay, and in the end only one club (Arsenal) managed to push through a cut (as opposed to a delay) in pay. Indeed, aggregate wages at Premier League clubs grew 4.5% in 2019/20, increasing more than 11 points from 61.3% to 72.9% of revenues.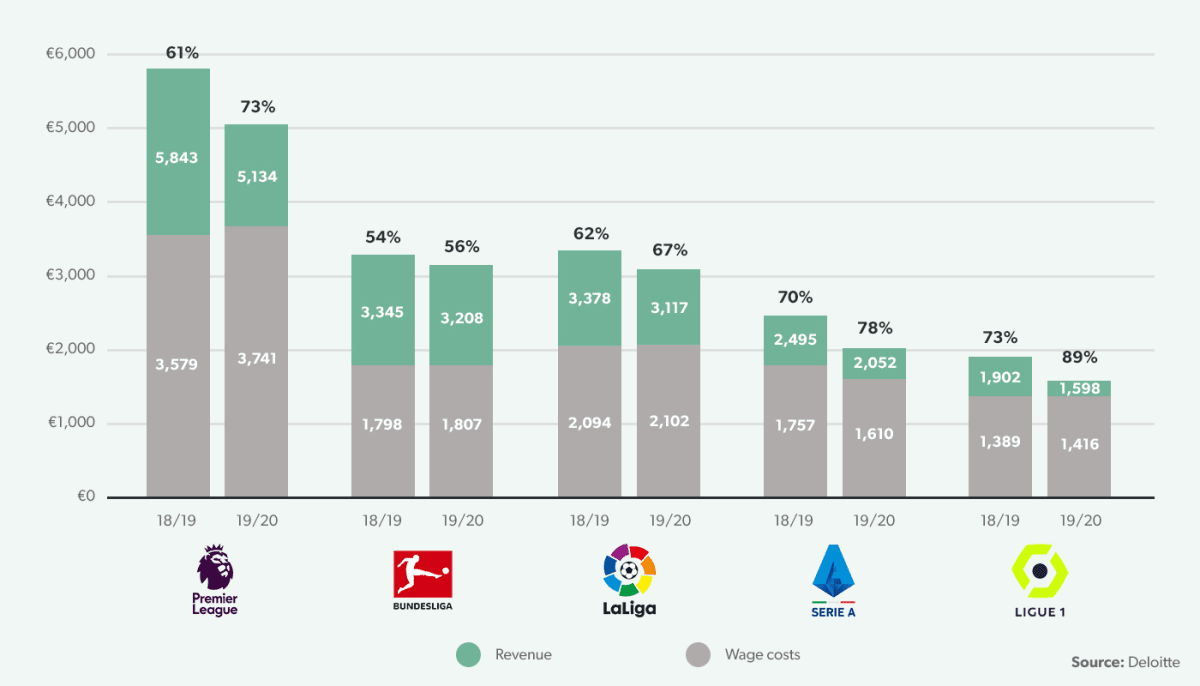 Profitability in pieces
With such a massive fall in revenues, club profitability took a huge hit – from an aggregate operating profit of €1.5bn in 2018/19 to a combined loss of €0.4bn in 2019/20 – a fall of €1.9bn. The Premier League accounts for nearly half (47.6%) of this drop, falling from €950m in operating profit to just €63m, a 93% decline over the year which saw the PL fall into third place behind the Bundesliga and La Liga on profitability terms.
Both Serie A and Ligue 1 were unprofitable even before the impact of Covid-19. While Serie A clubs were collectively just underwater in 2018/19, they posted an operating loss of €274m in 2019/20. Ligue 1's collective losses increased nearly 90% to €575m.