What is Tifosy?
As the world's first and only fully-authorised sports crowdfunding platform, our mission is to enable everyone to invest in sports, in a fair and transparent way. Through our proprietary platform, billions of sports fans around the world can invest in the professional clubs they are passionate about.
Tifosy is the clear market leader in sports crowdfunding, having worked with more than 15 major professional sports clubs. We offer fans and investors the opportunity to invest in sports clubs through equity, debt or rewards-based crowdfunding campaigns.
Who we've worked with

We work with a large variety of clubs and tailor campaigns to meet the club's specific needs.
Equity-based campaigns
For clubs wanting to issue shares to fans & investors, we provide a fully-integrated platform including regulatory authorisation and investment/payment. Tifosy takes care of the full process (legal, financial, regulatory, marketing) and guides the club professionally throughout the whole capital raise
Debt-based campaigns (Mini bonds)
For clubs wanting to borrow substantial debt from the fans and the public, a sports mini-bond provides capital at favourable rates while offering fans higher returns than typical high-street savings products. Tifosy's licensed platform and team of experts execute the issuance of a mini-bond flawlessly
Reward-based campaigns
The most common type of crowdfunding, made famous through platforms such as Kickstarter and viral campaigns like the Pebble Watch. Rewards campaigns are unregulated and ideal for clubs raising smaller sums and wanting awareness and engagement amongst their loyal fan base
How it works
Discover clubs
All campaigns on Tifosy are created together with the club and fully endorsed by them. These campaigns can be rewards-based or investment-based (equity or debt). Tifosy only launches campaigns that can be trusted by fans and investors, and ensures full transparency and accountability.
Invest in clubs
Select the club you are interested in. Read about their campaign and choose the amount you are willing to invest. In return for your contribution you can get money-can't-buy rewards and experiences (rewards-based campaigns), become an actual shareholder (equity-based campaigns) or receive an interest rate on a club loan (debt-based campaigns).

Make it happen
It's important to share campaigns that you want to succeed with your friends and family. Encourage your network to participate to bring extra backers and funds to the campaign. This will ensure your club's campaign will be as successful as possible.
"The Tifosy team handled all aspects of the raise expertly from start to finish, from financial and regulatory work to brilliant marketing. The success of the campaign exceeded all expectations."
Phil Wallace
Chairman of Stevenage Football Club
View Campaign
"The platform was simple and effective and Tifosy's expertise proved very helpful. We were delighted to exceed our target within the timeframe, and are extremely grateful for Tifosy's contribution to this success."
Sarah Brookes
Communications & Marketing Director of Fulham Football Club
View Campaign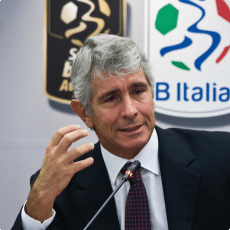 "Lega B is excited to have reached a partnership with Tifosy, which represents a new opportunity for our Clubs, fans and cities. Via Tifosy's capabilities, we will create an incredible range of opportunities for participation, interaction and involvement for existing fans and new generations enabling them to leave a positive and concrete legacy that improves the infrastructure of the football club and the cities itself."
Andrea Abodi
Former President of the Italian Football League B
"Tifosy have a lot of expertise. They showed us what could and what couldn't be achieved, that this campaign could be a success, and they did a huge amount to make it a reality. I'm delighted to say that we raised over £150,000."
James Mason
COO Bradford City Football Club
View Campaign
"The aim of the Italian Basketball League is to put fans first. It is because of this we felt that Tifosy, with a similar mentality, were the perfect partners. For too long we have found ourselves distanced from our fans and their needs. Tifosy is the perfect platform to bridge this gap. It offers us the chance to listen to our fans. We can offer transparent, concrete projects that are relevant and valuable to our supporters."
Federico Zurleni
Managing Director of the Italian Basketball League
"The two-month Pompey campaign was a runaway success story. The target was hit with 3 days to spare and eventually topped £270,000. I'd have no hesitation in endorsing the Tifosy fanfunding concept and in asking Tifosy to run a campaign for us again."
Mark Catlin
CEO of Portsmouth Community Football Club
View Campaign