The impact of the Covid-19 pandemic on sports clubs and teams around the world is increasingly being confirmed in black and white as 2021 accounts and financial reports are published.
While some sports have been hit harder than others – depending on the preservation of broadcast and commercial contracts, the relative importance of revenues from spectators and the taking out of appropriate insurance – there is no doubt the impact has been felt across the board. Bloomberg quoted estimates of $13.0bn in lost revenues for the NFL, NBA and NHL combined and $4.4bn for European football.
Meanwhile, Premier League clubs Burnley, Newcastle United and Southampton have all been acquired by new owners since the last day of 2020, along with Italy's Genoa, Spezia Calcio and Ascoli Calcio, and Club Bruges in Belgium. Significant institutional investments have been made in Atlético de Madrid and Inter Milan. Overall in 2021, an estimated $6.5bn was invested via equity and debt placements in Europe alone, $4.5bn in football, with further transactions mooted for Ligue 1, the Bundesliga and a wide range of clubs.
The high levels of M&A activity in European football in particular coincides with a dramatic downturn in average club valuation. KPMG reported a fall of 15% for the top 32 European clubs in their 2021 European Elite report, triggering some owners to seek an exit while a new wave of investors looked to buy the dip.
Value growth in US, decline in Europe
When comparing the average enterprise values (EV) of clubs and teams across major North American and European sports leagues, a marked difference can be seen between the continents. In absolute terms, the average valuation of the largest 32 clubs in European football stands at $1.3bn, showing a significant gap vs. their counterparts in the top three North American sports, despite the higher global following and stronger international brands. More pertinently, the average valuation of these elite clubs declined 14.9% in 2021, losing some $6.95bn collectively.
Average valuations have increased across all 4 major North American sports but fallen in European football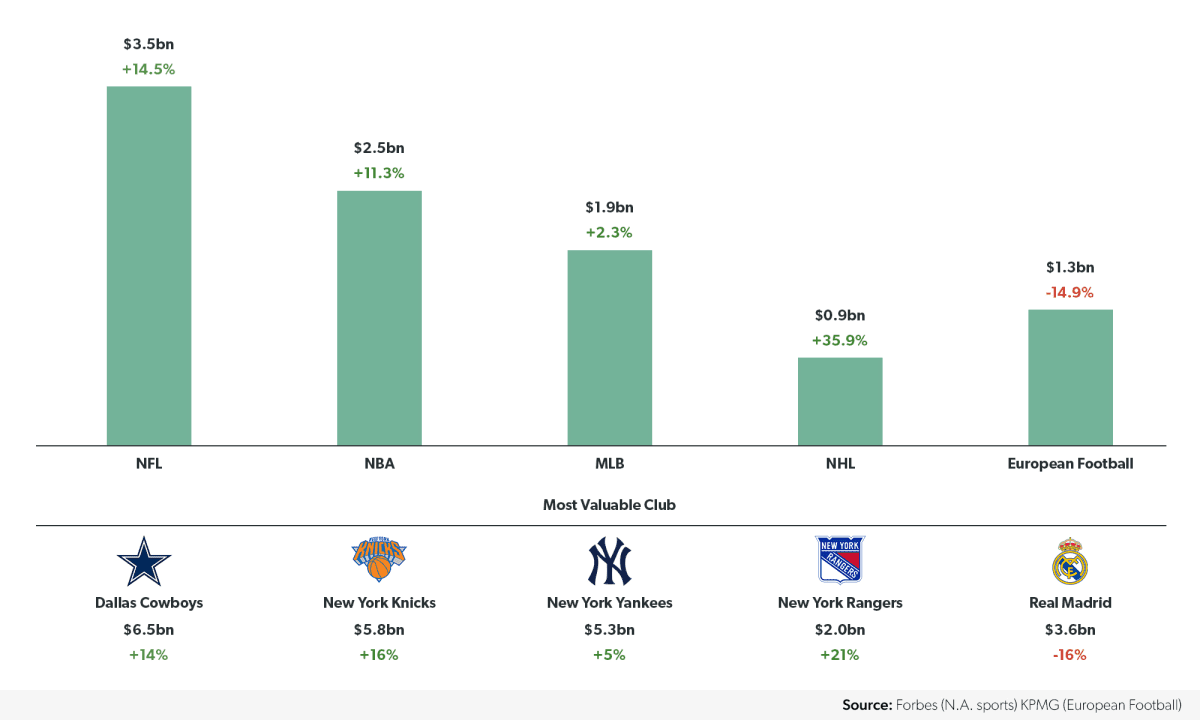 Broadcasting rights pivotal to value creation
The latest round of domestic media rights deals has been concluded on all European football leagues and all North American sports except the NBA and the outcome has been starkly different between the two continents. In Europe, annual contract values fell for three of the "Big 5" leagues, with only La Liga's deal seeing an increase. The Premier League negotiated a rollover of its existing deals with Sky, BT and Amazon, considered by most commentators to be a good result in the context of the challenges facing live sport. According to KPMG, a significant factor behind the decline in European football valuations has been the reduced ability of leagues' to negotiation strong broadcasting deals following the rebates caused by rescheduled matches during the pandemic.
Meanwhile the North American sports have all negotiated significant increases in broadcast revenues. The NFL's new multi-broadcaster agreement will bring in $10.0bn per annum ($112.0bn over 11 years) a rise of 74% from the prior deal. While still the smallest in size, the NHL's new deal with ESPN and Turner has jumped by more than 2.5x to $625.0m per year. The MLB's increase was more modest but still represents a 19% growth. Commentators anticipate the new NBA deal, which will start in the 2025/26 season, to reach $70.0bn for a nine year cycle ($8.0bn per annum), which would represent a threefold increase over the current arrangement.
North American sports will see significant increases in broadcasting revenues, only matched by La Liga in Europe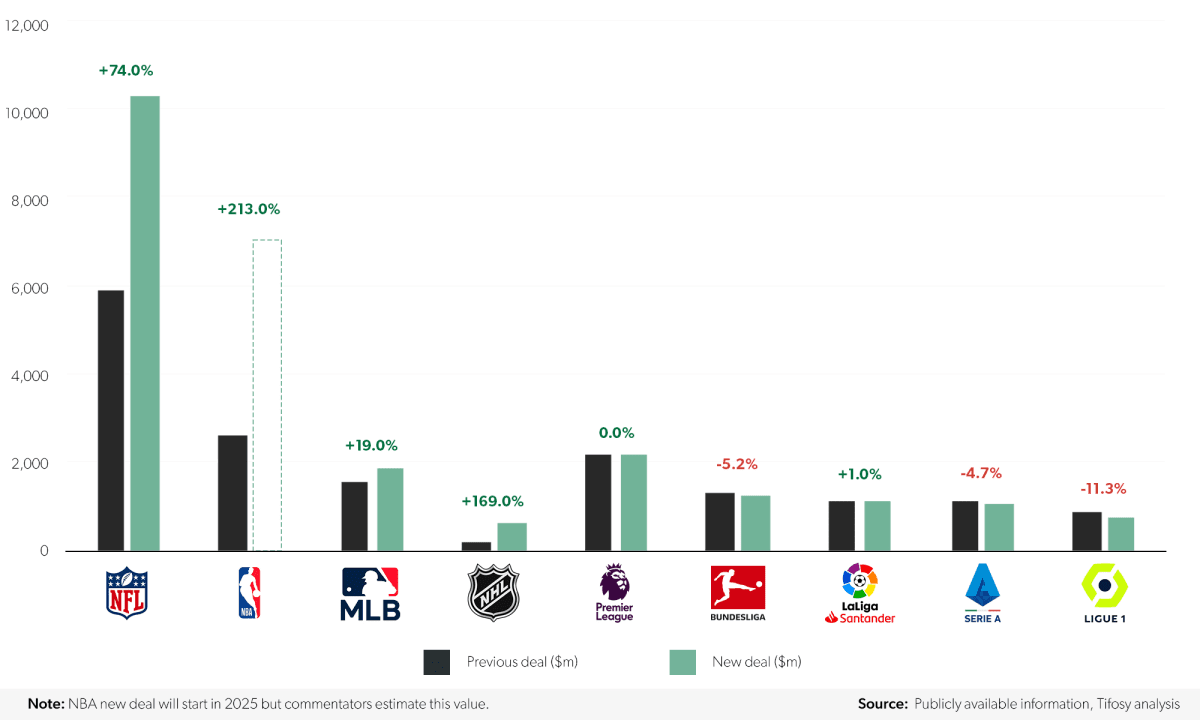 Capturing value
While major growth in the leagues' primary revenue streams is key to value creation, strong governance structures and systems help to capture and retain that value. First and foremost, closed leagues with no relegation alleviate the financial risk associated with poor performance. According to Forbes, the New York Knicks lost nearly 70% of games in the previous 6 seasons but remain the second-largest sports team in the world by value. By contrast, FC Schalke 04 recorded a dramatic 38% decrease in value in 2021, a direct result of the team's relegation to the 2. Bundesliga for the first time in 30 years. While league membership is fixed, new franchises can be added to increase overall value, such as in the NHL where the Vegas Golden Knights and Seattle Kraken have joined since 2017.
The Financial Fair Play / Profitability & Sustainability systems in place in European football have helped to rein in excessive spending but clubs continue to run at significant losses across Europe. Across the Atlantic, cost-control measures such as salary caps, luxury taxes and Collective Bargaining Agreements (CBAs) organised at a league level allow franchises to budget effectively and reduce the risk of overspending on salaries. CBAs provide the leagues with greater ability to reduce player salaries during a season, as the NBA did soon after the start of the pandemic, or lower the salary cap the following season, as was done in the NFL.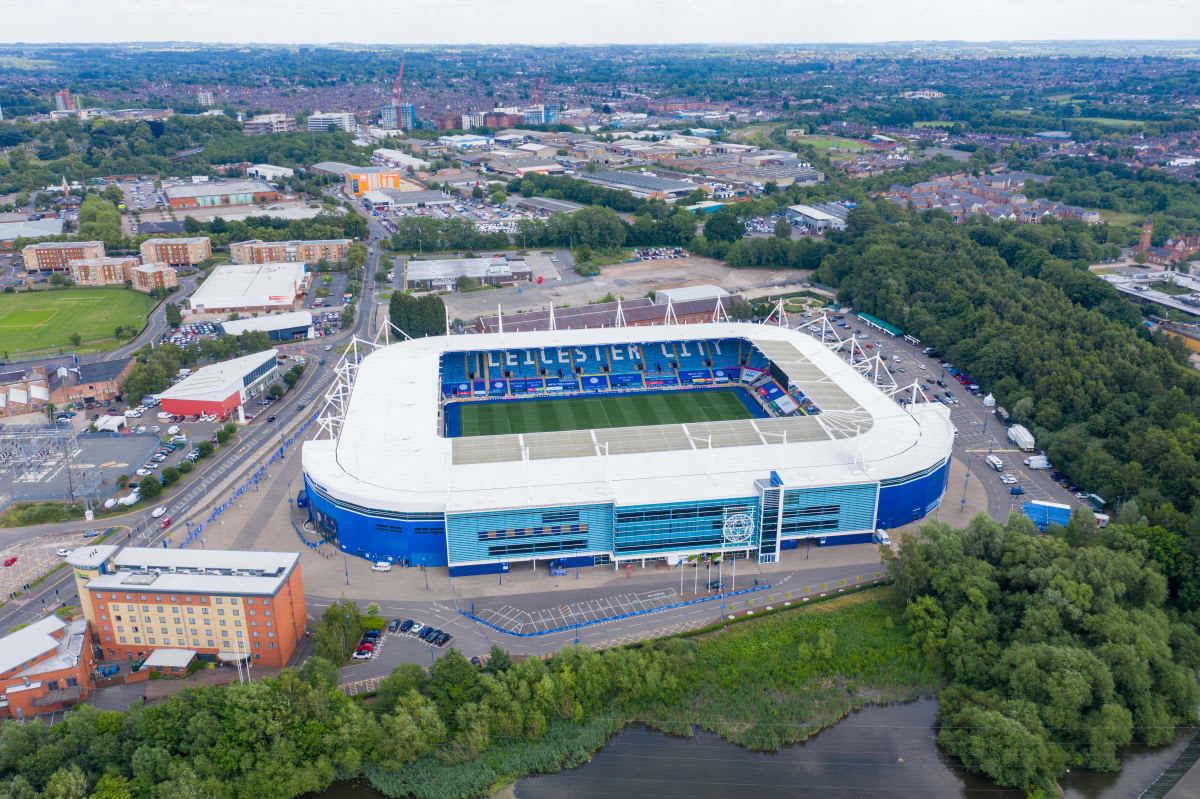 Detail on 2021 valuations: European football
Looking at the top 32 European football clubs more closely, we see that the change in valuation differed across leagues:
The biggest drop for a Premier League side was Leicester City at -24%, while Liverpool's value only fell -14%. Collectively, the average decline of the eight Premier League clubs in the Top 32 was -18%
La Liga's six clubs fared a little better with an average fall of -11.5%. Indeed, a relatively modest drop of between 5-10% was experienced by four Spanish clubs including Barcelona, while Real Madrid fell -16% and Villareal -21%
The Bundesliga's top 2 of Bayern Munich and Borussia Dortmund both held value well, falling -9% and -5% respectively, while Schake 04's disastrous season and relegation saw their value plummet -38%
In Italy, the picture was very varied with Juventus and Inter Milan losing -15% and -11% respectively while Napoli and AC Milan's decline was steeper and AS Roma lost -33%. Atalanta was a new entry to the Top 32 following impressive back-to-back seasons
Ligue 1's PSG and Lyon declined -8% and -10% respectively.
In European football, Premier League clubs experienced the most significant valuation decrease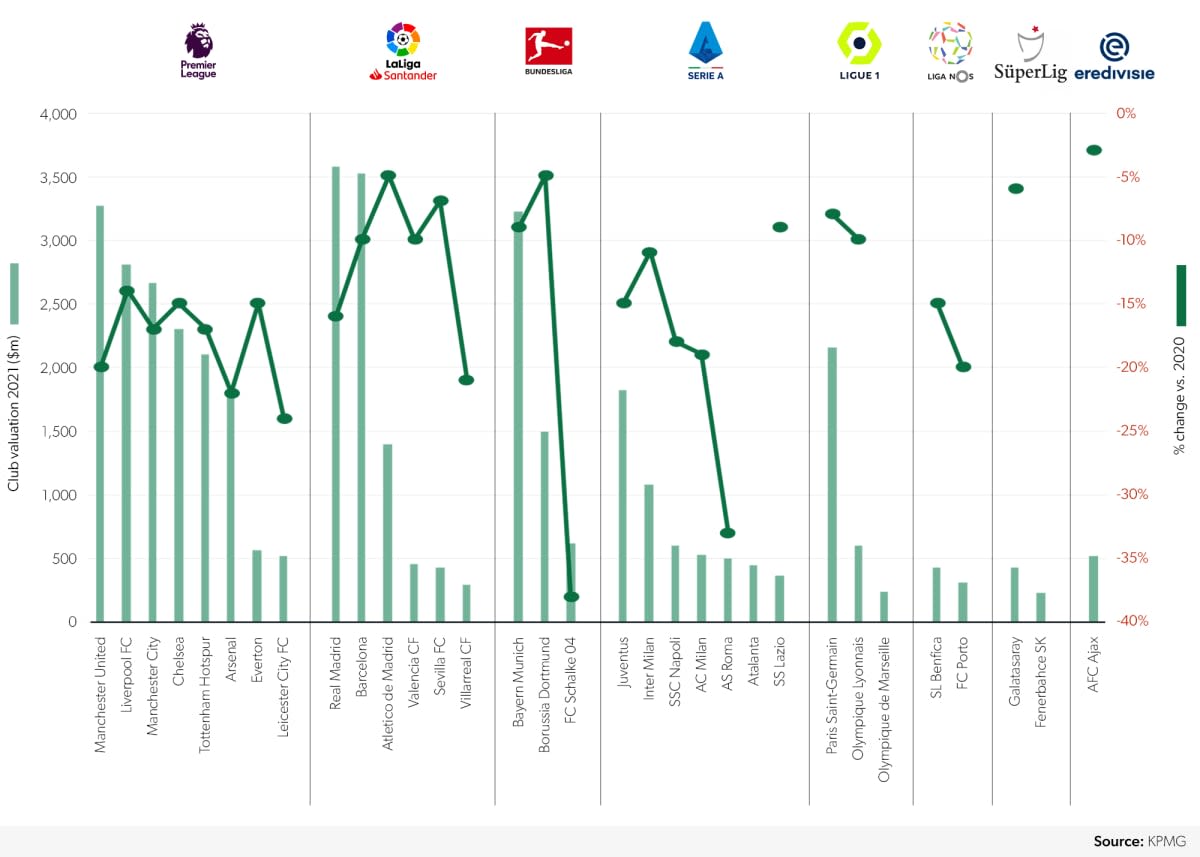 Detail on 2021 valuations: North American sports
Looking at the four North American leagues together we can see stark differences between them:
Valuation growth has been most consistent between teams in the NFL with most in the 10-15% range. Stronger growth for the LA Rams, Washington Football Club, Miami Dolphins and in particular the Tampa Bay Buccaneers, winners of Superbowl LV with MVP Tom Brady
There is significant variation in growth in the NBA with six teams achieving growth of 15% or higher, led by the Brooklyn Nets and the LA Clippers. At the other end of the scale Oklahoma City Thunder grew only 3%.
Weakest growth across the board was seen in the MLB, with the largest four franchises growing 5% and most others between 1-3%. The Tampa Bay Rays valuation did not move in 2021.
NHL valuations grew dramatically for most clubs, with the Edmonton Oilers doubling its value and the NY Islanders growing 83%. In contrast to the MLB, it is the smaller franchises which saw the higher rates of growth.
Valuation changes have been most dramatic in the NHL