As Covid-19 continues to raise questions on the future of the sports industry, football's potential for investor value creation is again being challenged and the risks associated with owning a stake are front-and-centre once more.
In this context the M&A rumour-mill has been running at fever pitch in recent weeks, as some owners are believed to be looking for an exit while prospective investors look for potential bargains amongst clubs in distressed positions. Recent ownership changes at Serie A's AS Roma and Parma Calcio 1913 may only be the start of a busy period for football M&A.
The media has also focused on a perceived ongoing shift in European football from Chinese to American owners: Parma's sale saw Chinese group Desports hand control to US convenience store magnate Kyle Krause, whjle in recent years the number of Chinese holdings in English clubs has also fallen, notably the final transfer of Tony Xia's shares in Aston Villa to Nassef Sawiris and Wes Edens in 2019, and Au Yeung Wai Kay's recent sudden decision to place Wigan Athletic into administration.
To provide context for whatever is to come over the coming months and years, Tifosy has analysed changes of ownership in the "Big 5" European leagues (2019/20 season members) over the last thirty years. In this, the first of two pieces on the subject, we look at frequency of transactions across markets over the years 1990 to 2019, and deep dive into the rise of foreign ownership in football.
M&A activity peaked in the late 2000s
There were 369 transactions (involving either a partial or a full sale) for football clubs from the Big-5 leagues in the 30 years from 1990 to 2019, meaning that on average 12 deals took place involving in a change of share ownership each year. Activity peaked in the latter half of the 2000s, with 133 deals taking place between 2004 and 2011 – almost 17 deals per year across that period of eight years. Full changes of control, in which the majority ownership of a club changes hands, were reasonably stable across the 30 year period at between four and 10 per year, with a phase of steady increase between 1998 and 2011 in line with the increasing number of transactions at the time.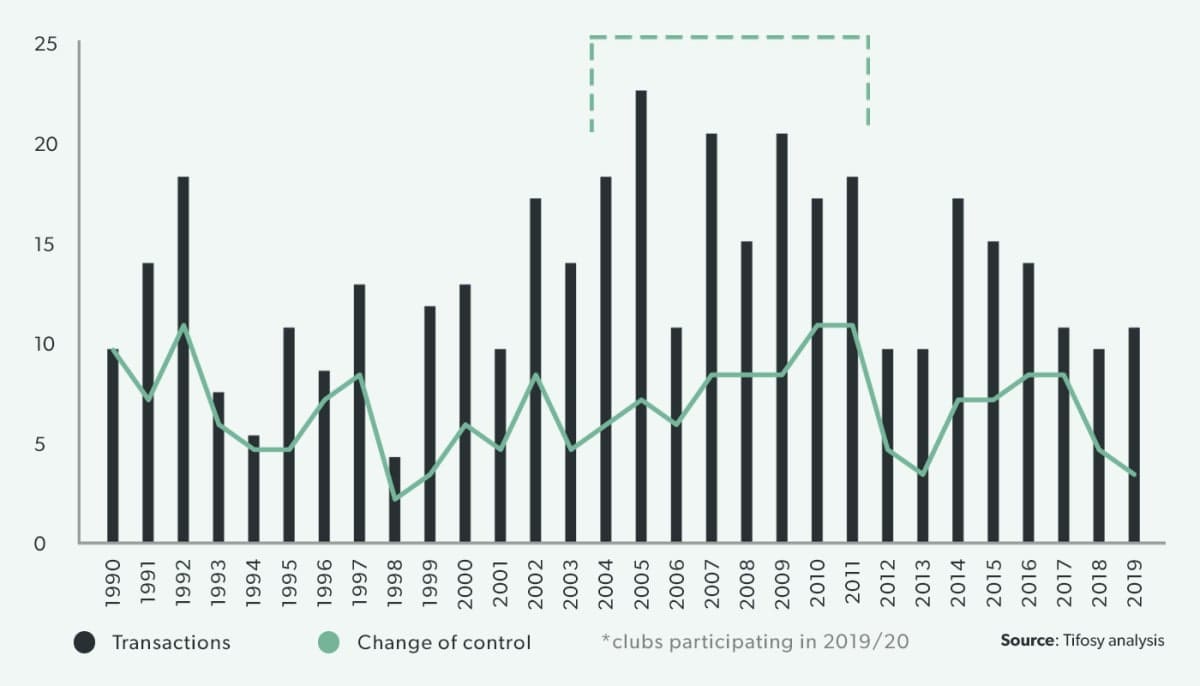 England and Italy led in number of transactions
Over the thirty-year period under consideration, 233 transactions – almost two-thirds – involved clubs in England's Premier League (122 deals, 33% of total) and Italy's Serie A (111 deals, 30%), demonstrating the higher availability of investment opportunities in – and attractiveness of – these two divisions.
Clubs in Spain's La Liga and France's Ligue 1 were less active, accounting for 61 and 62 transactions respectively (17% each), reflecting later incorporation and development of corporate governance in these leagues. As late as 2007, one-third of clubs in the Spanish top division were owned by their members (socios), while France's Ligue 1 saw more sporadic activity over the period than other leagues. The strict fan-ownership rules in German football, under which supporters continue to hold the majority of shares in 14 of 18 clubs, meant low activity in the Bundesliga, with only 13 transactions in the 30-year period (4% of the total across the five divisions).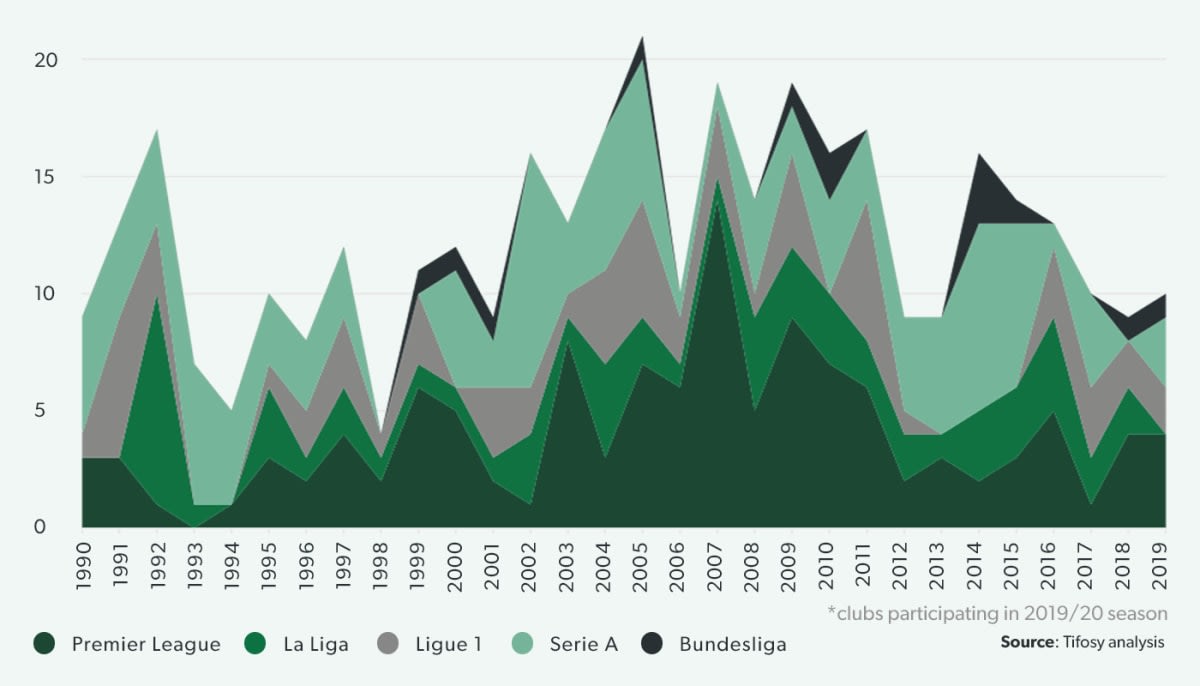 Declining majority: a fall in outright acquisition
During the 30 year period under review, there has been a noticeable reduction in the number of transactions which involved the acquisition of a majority stake. In the 1990s, 71% of M&A transactions involved clubs changing hands to a new majority owner. Since 1999, however, around 51% of deals have involved a change of control, with an outlier year in 2017.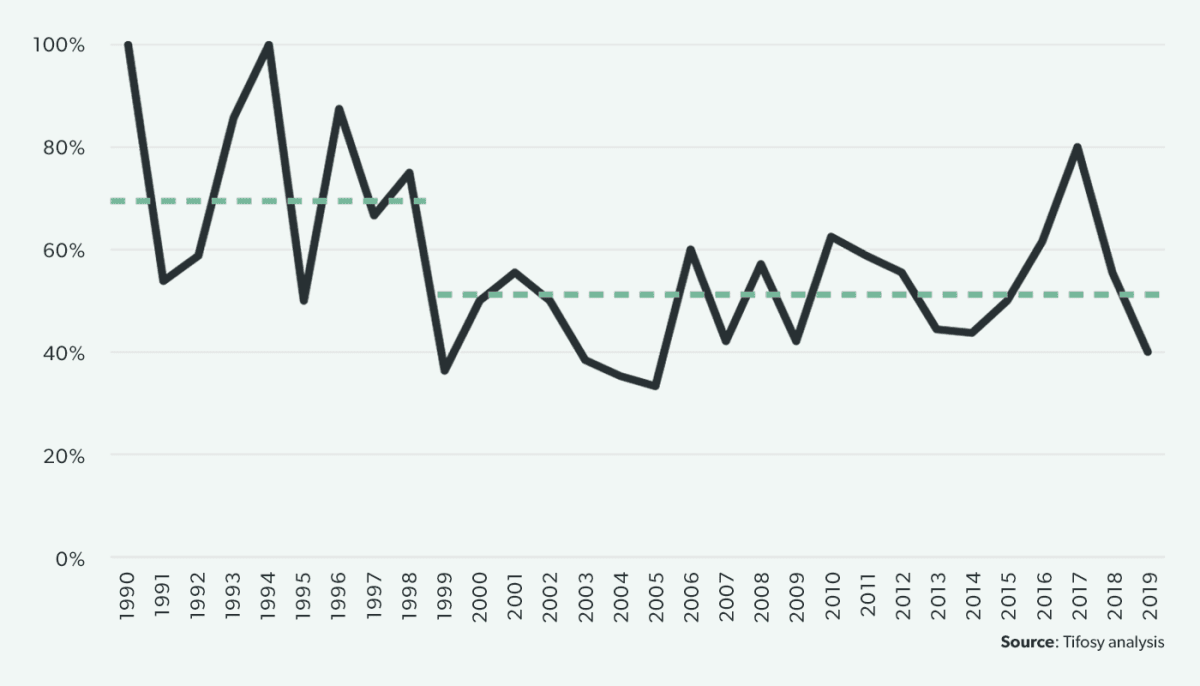 English clubs attract most foreign investors
It might be surprising to consider that the first foreign investment into European football was made in 1997, when Jimmy Hill – frequently noted for being one of the pioneering figures of the modern game – sold Fulham FC to Egyptian-born businessman Mohammed Al Fayed. Since then, the proportion of overseas ownership has risen consistently across Europe to reach 39% at the end of 2019.
More than 70% of clubs in the Premier League and EFL Championship in 2019/20 have some foreign ownership interest – 31 clubs out of 44. Foreign involvement in these divisions began in the mid-1990s and accelerated rapidly ahead of all other countries in the region, reaching 50% of both leagues in 2012. At the end of 2019, only six Premier League clubs and seven Championship clubs remained in English hands. The next highest is France's Ligue 1 which reached 40% in 2017 (8 clubs). Of the 78 clubs in the rest of the "Big 6", only 21 clubs had foreign owners (27%) at the end of 2019. Despite having the second-highest number of M&A deals overall across 1990-2019, Italy's Serie A did not attract its first foreign investor until 2011 (AS Roma).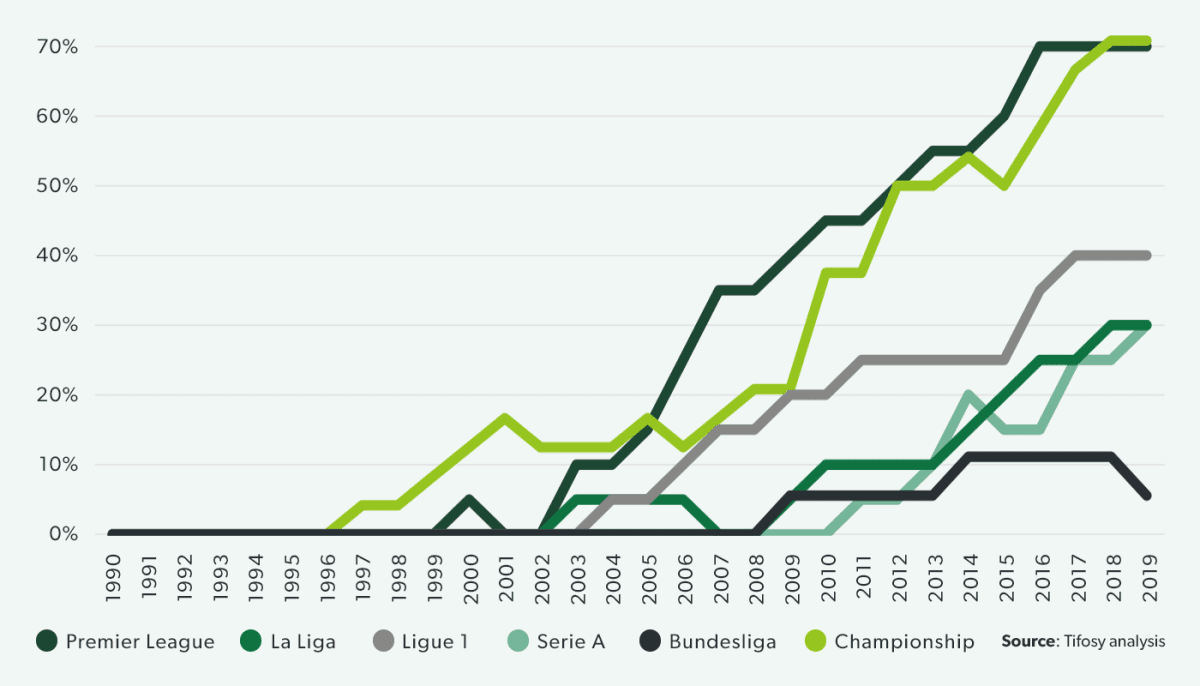 The USA and China have dominated since 2014
As late as 2014, the highest number of foreign investors to the "Big 6" came from other countries in Europe – Italians such as the Pozzos and Cellino in England and Spain, Swiss at Southampton and Marseille, Icelandic consortia at West Ham and Stoke City.
From 2015 however, North America (primarily the USA) took over leadership, having steadily built up stakes since 2003's arrival of the Glazer family at Manchester United, followed rapidly by their compatriots into Aston Villa, PSG, Arsenal, Liverpool, Derby County and Millwall. Investors from China and Hong Kong started arriving in 2007 (at Birmingham City) but only really started to expand their influence from 2015-2016 with the acquisition of several other clubs in the English midlands and north.
As late as 2014, the highest number of foreign investors came from elsewhere in Europe – Italians in England and Spain, Swiss at Southampton and Marseille, Icelandic consortia at West Ham and Stoke City.
In the last 5 years North American and Hong Kong/Chinese investment accelerated to account for 53% of all overseas interest in "Big 6" clubs, although China has given signs of pulling back, having recently sold or given up positions in AC Milan, Parma Calcio 1913, Aston Villa, Wigan Athletic, Atletico Madrid, and OGC Nice. Other regions with significant investment are the Middle East /Africa and Asia Pacific, each the origin of 12% of foreign investors.