If every sports media article published currently is to be believed, private equity firms are circling like vultures over the lumbering herd of wounded herbivores that are European football clubs.
In recent weeks, the sport industry media has been abuzz with stories of institutional investors taking stakes in sports assets. And it's not only private equity of course – every high net-worth individual ever fancied as a club owner is back in the spotlight, the subject of speculation once more. But to establish what is really likely to happen, it is often instructive to look back at recent history, to look at the patterns in the kinds of investors which have been involved in recent transactions in the world of football club M&A.
This is a challenging task, as investments into clubs are made using a variety of vehicles and can result in complex corporate structures, so strict definitions of entities have been used consistently in this exercise to provide the clearest possible picture. To keep matters simple, each owning entity (with minimum threshold of 10% equity stake) has been placed into one of only four categories: private investors (defined as private individuals, families or consortia), institutional investors (i.e. funds), corporates, and public listings.
It is important to note that we are analysing transactions here, not the status quo of ownership. In the early 1990s many clubs in Europe were owned by local municipalities or their own supporters (as some still are, especially in Germany) and for a significant number formal incorporation of clubs as companies only took place well into the decade. These early positions are not visible in the data – often the first transaction in our data period is the acquisition of the club from its supporters by a private individual.
The vast majority were private investments
Between 1990 and 2019, 184 private individuals, families, or consortia have invested more than 10% in Big 5 clubs, representing 83% of all new ownership interests in that period. There have been 43 other significant investments in that time, split fairly evenly between (i) corporations, most of whose investments took place in the early 2000s and have since been sold on to new parties, (ii) listing on public exchanges, popularised in the same period and of which half remain listed, and (iii) institutional investors, which began to make investments in the mid-2000s as many of those corporates stepped back and clubs reconsidered the merits of public listings, but have really only become significant in the last few years of the analysed period.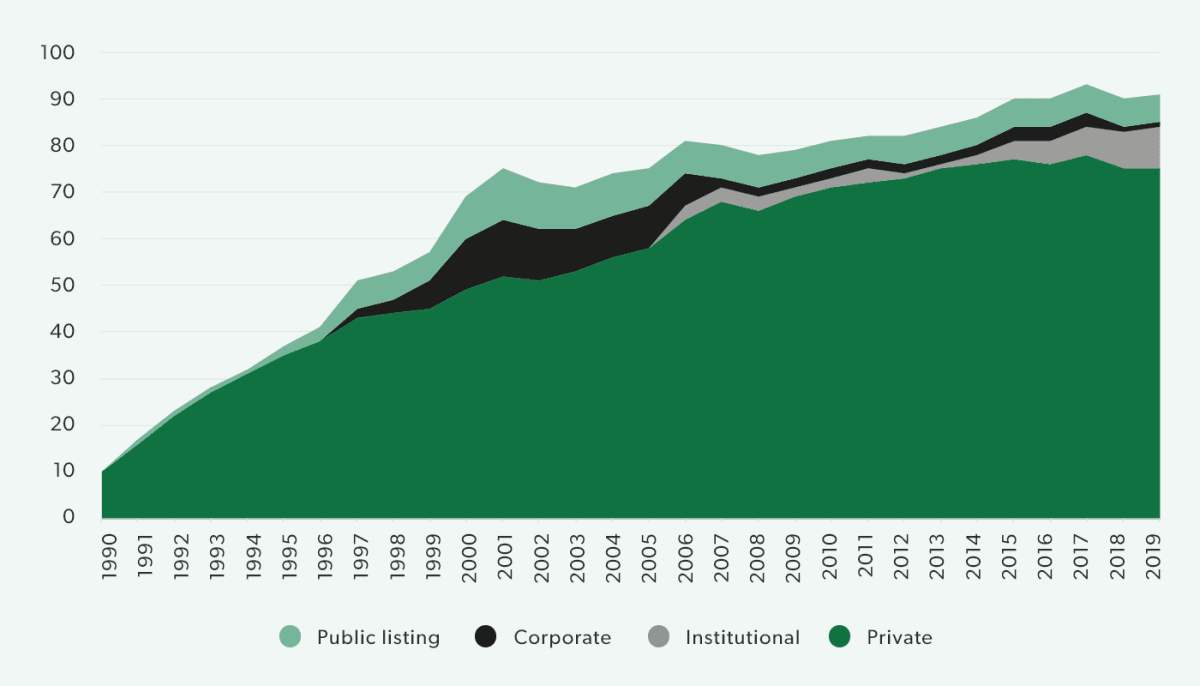 A wave of corporate investing in England and France
As the Premier League started to become a more lucrative proposition in the late 1990s, corporations such as Granada/ITV, NTL and Sky initiated a wave of investments into seven Premier League clubs. A similar pattern emerged in France with M6, Pathé Frères, Socpresse, Canal+ and IMG France getting in on the action. More recently, Chinese firms Dalian Wanda and Rastar Group took stakes in La Liga's Atletico Madrid and Espanyol respectively, and in 2009 Red Bull bought and renamed RB Leipzig in Germany. While they do not meet the 10% threshold for inclusion in this study, it is worth noting that three corporates have bought into each of Germany's two largest clubs – with Adidas, Allianz, and Audi each holding 8.3% of Bayern Munich and Evonik Industries, Puma and Signal Iduna taking minority stakes in Borussia Dortmund.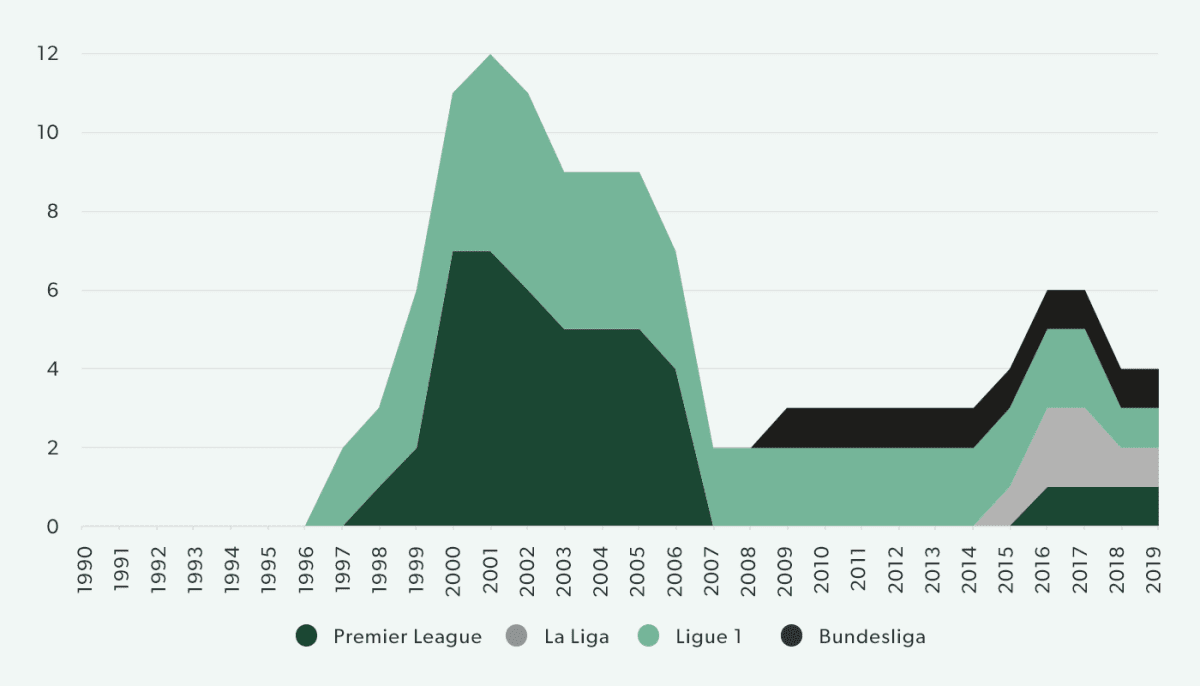 Public listings peaked in the early 2000s
At a similar time to the heightened interest from corporates in the Premier League, the number of clubs listed on a public stock exchange also grew. In 2001 it was possible to buy shares in seven major English clubs: Aston Villa, Chelsea, Leicester City, both Manchester clubs, Southampton and Watford. All of the shares were delisted by 2011, though Manchester United's owners listed subsequently 10% of the club's shares on the New York Stock Exchange in 2012 in order to secure a new capital injection. In Italy, AS Roma and Lazio successfully completed their IPOs in 2000, followed in 2001 by Juventus. The Bundesliga's Borussia Dortmund also listed in 2000, followed by Ligue 1's Olympique Lyonnais in 2007. The shares of these last five clubs continue to trade publicly today.
In 2001 it was possible to buy shares in Aston Villa, Chelsea, Leicester City, both Manchester clubs, Southampton and Watford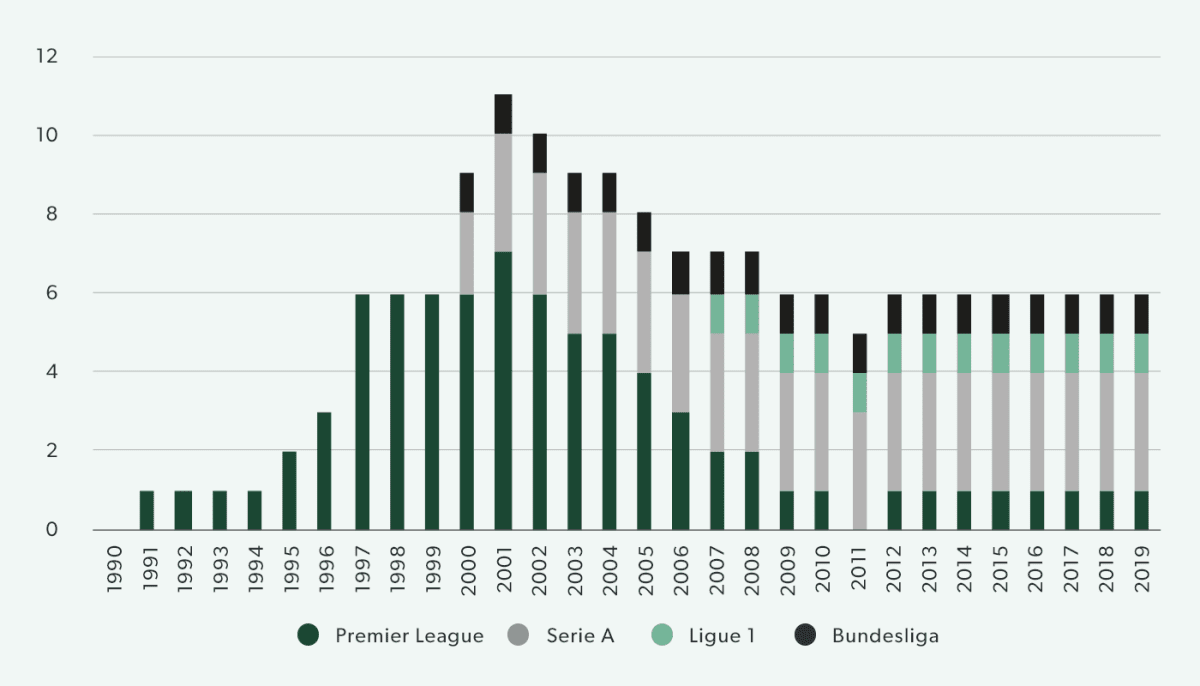 Funds started investing in 2006
The majority of activity from institutional investors in the 30-year period in question took place in France, and only two other divisions – the Premier League and Serie A – have also seen investment from funds. In 2006, three funds each bought roughly a third of Ligue 1's PSG, before consolidating to two in 2009 and selling to the sovereign fund Qatar Sports Investments over 2011 and 2012. More recently, funds have taken positions at Bordeaux and Lyon. In Italy, funds have bought into AS Roma, Juventus and Inter Milan, and Elliott took ownership of AC Milan after Li Yonghong defaulted on his debt. Manchester City of the Premier League have taken investment from a Chinese fund consortium led by CMC and CITIC, before selling a stake to Silver Lake in 2019.