On 3 September, City Football Group announced themselves as new majority shareholders of Ligue 2 club Troyes AC, adding a 10th professional men's club to their stable of assets.
In acquiring the shares of former owner Daniel Masoni, CFG also extended their geographic footprint 10 countries across five continents. The group is expected to acquire further clubs as it continues to build a new approach to sports management, leveraging the scale of a centralised model while benefiting from a talent acquisition and development network which spans the globe.
CFG are the best known for this empire-building approach, but since the turn of the millennium several other ownership groups have built portfolios of clubs in football and other sports. In the past decade, 25 investments have turned one-club owners into portfolio players holding at least one football club in the 'Big 6'. We take a deep dive into the current owners of clubs in these divisions and look at their investments in other clubs.
The growth of portfolio ownership groups
As already noted, the largest ownership group in terms of the number of clubs is City Football Group (CFG), with football clubs in 10 different countries around the world. CFG is closely followed by Red Bull, which has interests in football, ice hockey, and motorsport in six countries, primarily in Europe. Kroenke Sports & Entertainment has a diverse portfolio across five sports, but Arsenal FC is their only asset outside of the USA. There are a further five groups or individuals owning three or four club assets, either focused entirely in football such as Vincent Tan and the consortium of Chien Lee and Pacific Media Group, or branching into multiple sports such as Liverpool owners Fenway Sports Group, Crystal Palace shareholders Josh Harris and David Blitzer, and Swansea City co-owner Jason Levien.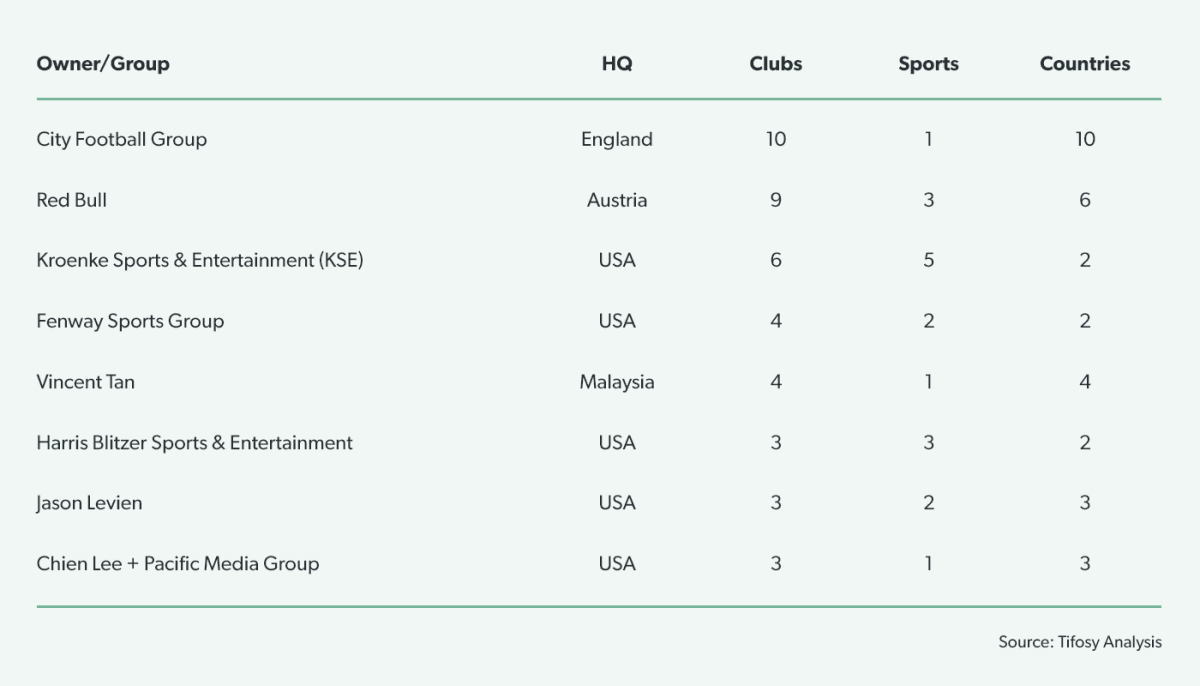 An American invasion into the Premier League
A major trend has been for the owners of clubs in major US sports to turn to English football to add to their portfolio, starting with the Glazer family's first investment into Manchester United in 2003 and most recently with the takeover of Aston Villa by Wes Edens alongside business partner Nassef Sawiris. Indeed, eight American groups or individuals invested in clubs either in the Premier League at the time or – in the case of Aston Villa and Leeds United –promoted to the division since acquisition. Only Swansea City, acquired by Steve Kaplan and Jason Levien in 2016, has been relegated since the time of investment.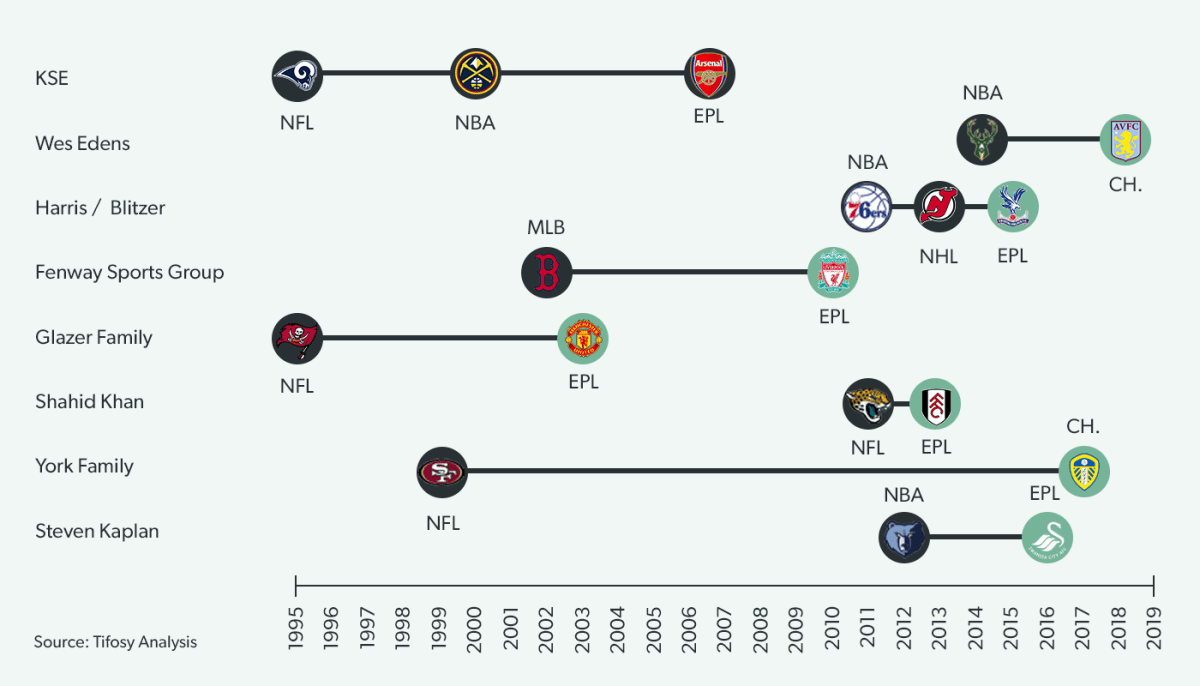 Update: since original publication, American investment group ALK Capital has completed its takeover (84%) of Burnley FC, with managing director Alan Pace replacing Mike Garlick as chairman. 40% of Premier League clubs now have a significant shareholder from the United States.
Eight American groups or individuals invested in clubs either in the Premier League at the time or – in the case of Aston Villa and Leeds United –promoted to the division since acquisition
Portfolio owners are primarily focused on football
Excluding the clubs they own in the Big 6 European football leagues, almost 60% of the portfolio of multi-club groups is made up of other football clubs – the larger portion (34%) in smaller European leagues such as Austria, Belgium and Switzerland and the remainder (25%) in leagues across the rest of the world such as the USA, Canada, Australia and China.
Within Europe, Belgian football assets are the most sought-after, with six owners of English clubs also holding a club in Belgium's top two football divisions and the majority shareholder of AS Monaco also acquiring Cercle Brugge as a feeder club. The recent focus on acquisitions in Belgium may be linked to the country's rise to the top of the FIFA rankings and the large number of Belgian players on the roster of clubs playing at the highest level.
Beyond football, the sport featuring highest in multi-club ownership portfolios is basketball. As might be expected, the majority of clubs are in the USA, but the list also includes clubs in England, Australia and Spain.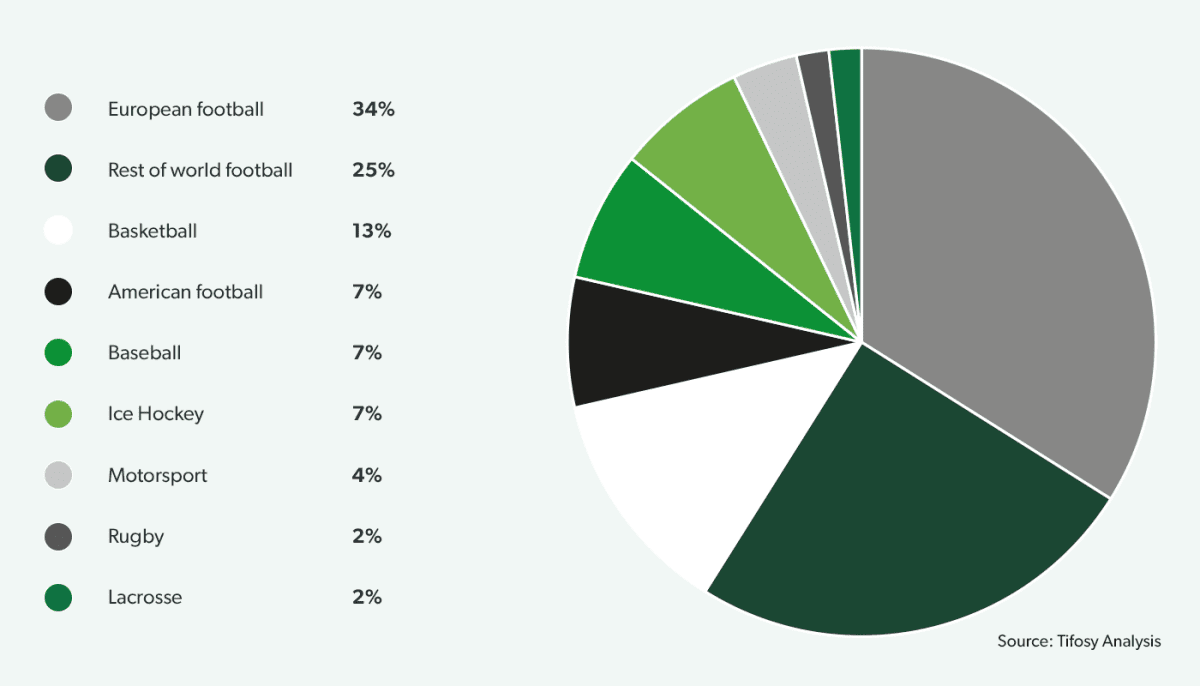 City Football Group owns 10 clubs in 10 countries
Since the acquisition of Manchester City in 2008, CFG has gone on to invest in 9 additional football clubs in 9 other countries, starting with New York City FC in 2013. They own the majority stake in 8 of the 10 clubs. Part of CFG's strategy is to build a presence in both emerging football economies, such as the USA, China, Australia, and India, to benefit from growing interest and commercial potential, while also investing in properties in established leagues in England, Spain, France, Belgium, Uruguay, and Japan, enabling them to create a strong talent development network.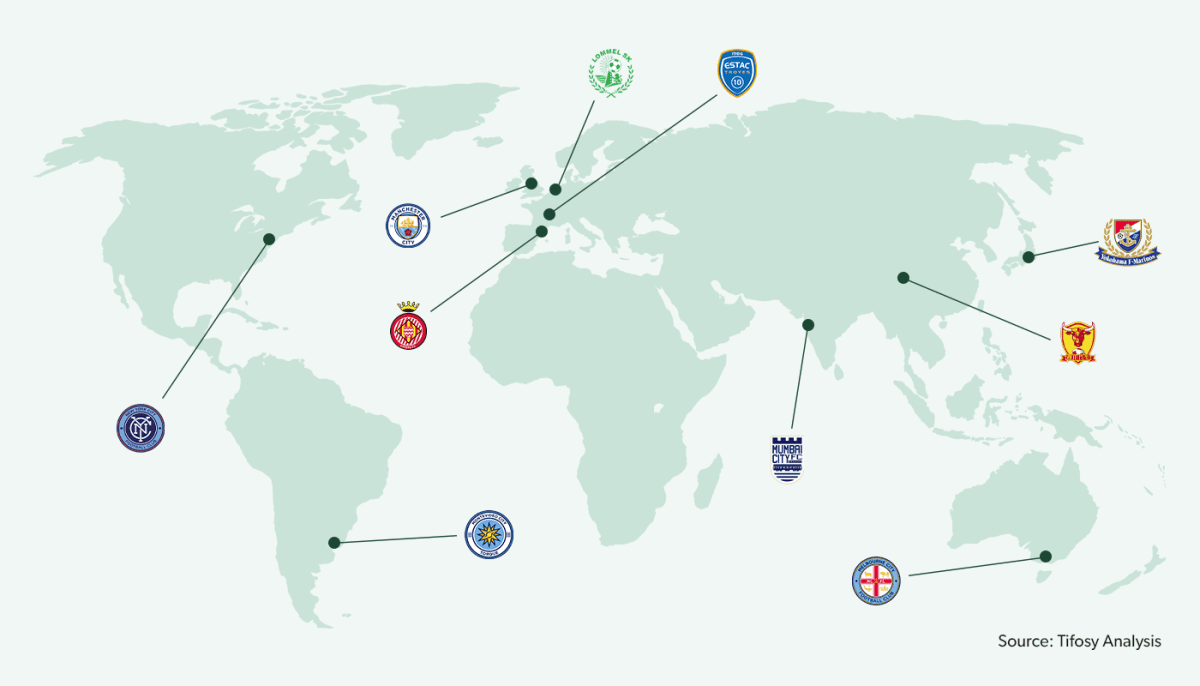 Red Bull are a force in multiple sports
In the past 15 years Red Bull have established themselves as a major force in world football, starting with the acquisition and rebranding of FC Red Bull Salzburg in the home market Austria's Bundesliga in 2005 before adding the New York Red Bulls (USA), RB Leipzig (Germany), Austrian feeder club FC Liefering and FC Bragantino of Brazil.
Prior to the development of the football portfolio, Red Bull's first major sports investment was in ice hockey when they bought EC Salzburg in the Austrian Hockey League in 2000, adding EHC München in 2013. The group has also invested in motorsports with Red Bull Racing (Formula One) and Scuderia Toro Rosso.
Red Bull holds 100% of the shares in all their clubs, except RB Leipzig in Germany where their stake is 99% in order to get around strict DFB rules on supporter/member ownership and voting rights.