In the Summer of 2020, two pieces of football industry news raised eyebrows, one each side of the Atlantic.
The first was the announcement on 21 July of the formation of a new franchise in the NWSL, the first women's professional soccer team in the Los Angeles area since the LA Sol of Women's Professional Soccer folded in 2010, to be named Angel City FC. The second, at the end of September, was leaked news of a takeover of the world's third-oldest football club, Wrexham AFC of the National League, the fifth tier of English football.
The common denominator of these two pieces of news? Both involved Hollywood royalty. The Angel City project is spearheaded by Academy Award winning actor Natalie Portman, alongside other celebrity investors, while non-league Wrexham was bought from its supporters by actors Ryan Reynolds and Rob McElhenney.
Celebrity ownership of sports franchises is not new, although it has primarily been in North America, where closed leagues and accelerating broadcast and commercial revenues have de-risked sports investing more than in other markets. The earliest celebrity investments were in baseball: as early as 1946, screen stars Bing Crosby and Bob Hope bought shares in MLB teams (the Pittsburgh Pirates and Cleveland Indians respectively), the "Singing Cowboy" Gene Autry bought the rights to the Los Angeles Angels in 1960, while the novelist Tom Clancy held a stake in the Baltimore Orioles from 1993 until his death 10 years later. In IndyCar racing, the actor Paul Newman launched the Newman/Haas team with Carl Haas (unrelated to current F1 team owner Gene Haas) in 1983, while David Letterman invested into the team now known as Rahal Letterman Lanigan Racing in 1997.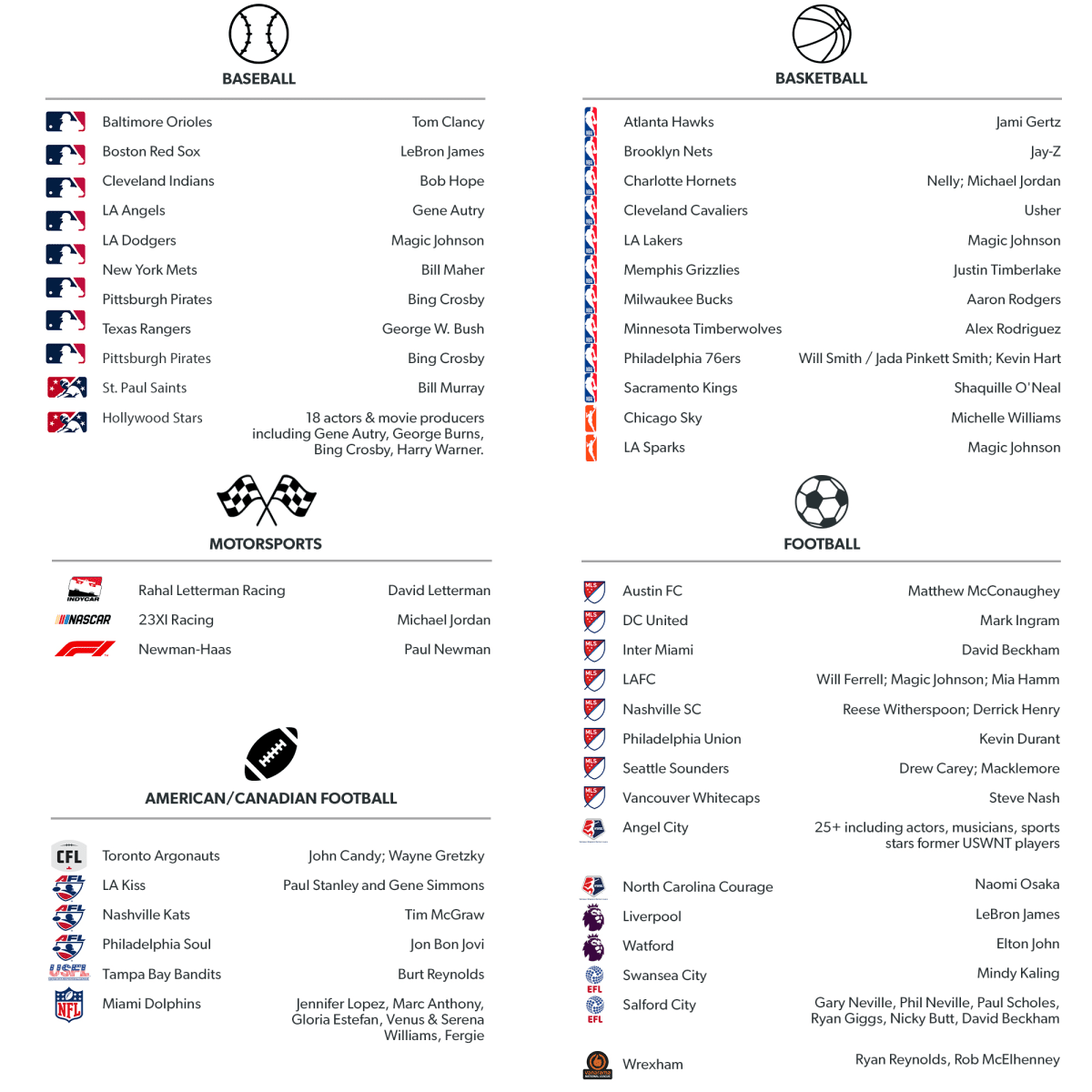 Source: Press articles
In the NBA, the first major celebrity investment was that of Magic Johnson in the LA Lakers in 1994. From the mid-2000s onward a slew of musicians and actors made investments, including Jay-Z (Brooklyn Nets), Nelly (Charlotte Hornets), Usher (Cleveland Cavaliers), Will Smith and wife Jada Pinkett Smith (Philadelphia 76ers) and Justin Timberlake (Memphis Grizzlies). Celebrity stakes in American/Canadian Football franchises are less common, although in 2009 the Miami Dolphins welcomed Jennifer Lopez, Marc Anthony, Gloria Estefan, Venus & Serena Williams and Black Eyed Peas singer Fergie as new shareholders, and John Candy and NHL legend Wayne Gretsky bought into the Toronto Argonauts. Paul McCartney is also rumoured to own a single share in the Green Bay Packers, and several celebrity investments were also made in teams in the Arena League and United States Football League, both now defunct.
Until recently, celebrity investment in English football was limited to Elton John's ownership of Watford FC from 1976 to 1987 until recently. Then in 2011, NBA player LeBron James was granted a minority stake in Liverpool FC (understood to be 2%) as part of a commercial deal with Fenway Sports Group, while comedian and actress Mindy Kaling is a Swansea City shareholder, owning 1% of the 68% majority stake held by Swansea Football LLC, the 2016 consortium led by Steve Kaplan and Jason Levien. The recent rise of the MLS has also attracted investors, with stakes in franchises now held by the likes of Magic Johnson and Will Ferrell (both LAFC), Matthew McConaughey (Austin FC), Kevin Durant (Philadelphia Union) and most recently Reese Witherspoon (Nashville). David Beckham's investment group was awarded the MLS's 25th franchise place in January 2018 and Inter Miami launched in 2020, 13 years after Beckham received an option to purchase an expansion team at a price of $25 million when joining LA Galaxy as a player in 2007.
A marketing and commercial advantage?
The presence of celebrity owners is a gift to the marketing departments of Angel City and Wrexham, with social media follower numbers surpassing benchmarks at both clubs. Only 18 months since being given a name, Angel City has reached 244k followers across Facebook, Twitter, Instagram and TikTok – in line with the league average and ahead of some clubs established nearly a decade ago (similarly, David Beckham's Inter Miami, whose debut was in 2020, has the fifth-highest following in the 30-team MLS, many of whose members were founded in 1996). Angel City has the second-highest following on TikTok after Houston Dash and the third-highest on Instagram behind Orlando Pride and the Portland Thorns. Fellow 2022 debutant San Diego Wave FC has amassed a total following around one third the size on the same platforms.
Wrexham AFC, meanwhile, now has a combined following of close to 600,000, dwarfing the rest of league average, in a division featuring former league clubs such as Chesterfield, Grimsby, Notts County and Southend United, all of which have spent time in the second tier or above. As at Angel City, growth is particularly impressive on Instagram and TikTok, both more celebrity-oriented than Facebook. Wrexham's TikTok following is now outstripping that of many clubs in the EFL Championship, three divisions above.
Celebrity-backed franchises have developed impressive followings, especially on Instagram and TikTok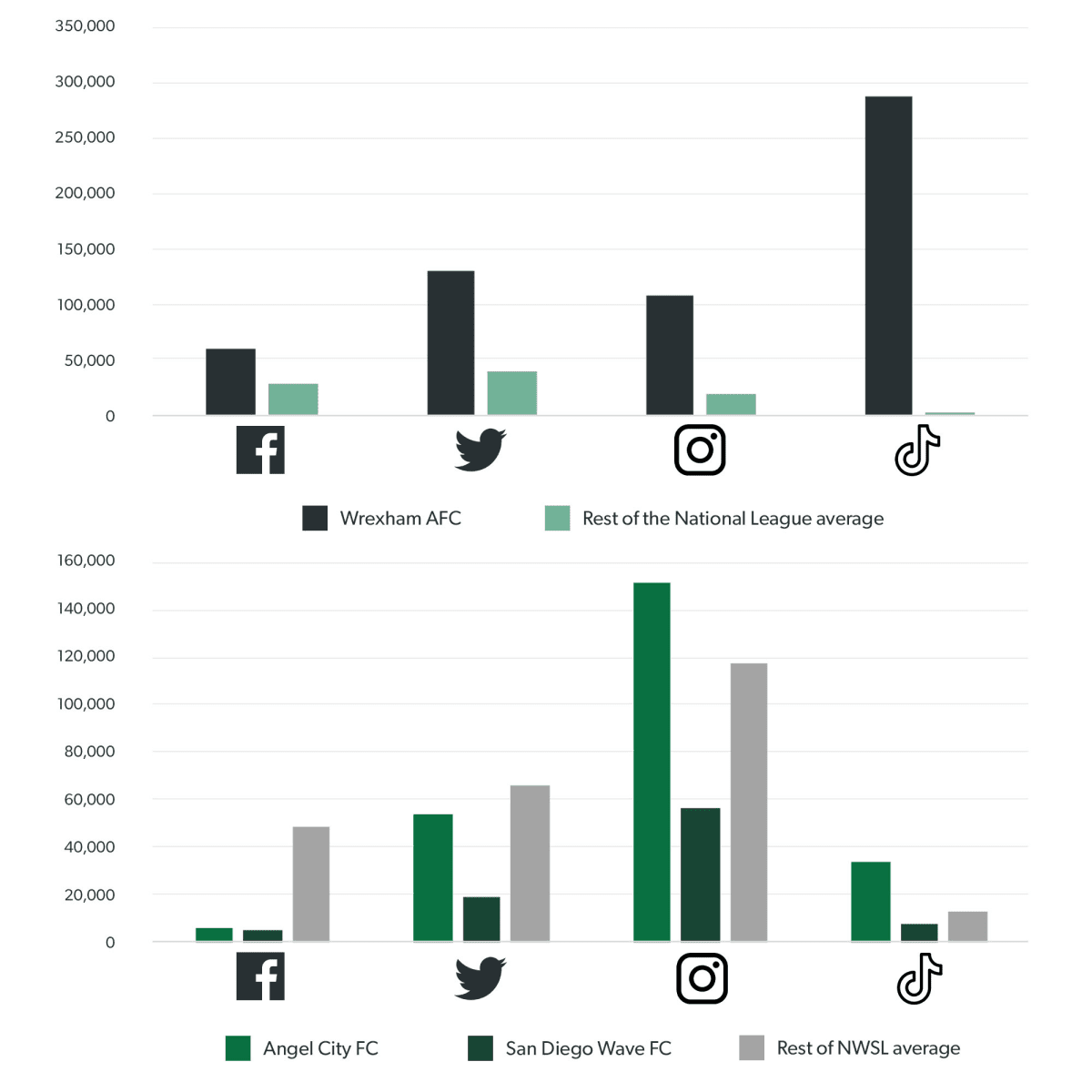 Source: Facebook, Twitter, Instagram, TikTok
Not all new followers will be avid football fans, of course – to some extent this is "borrowed interest". Social media numbers rocketed for Doncaster Rovers in 2013-14 when Louis Tomlinson, the former member of the band One Direction, signed for the club and went on to mount a takeover bid – but this did not deliver a sustained positive impact for that club.
Things have moved on since then, however. The consumption of sport has changed with celebrity athletes playing an ever-bigger role in the club marketing and content creation (as well as their own side projects) – why not celebrity owners? In February Wrexham published an article on its website noting changes seen in the year since Reynolds and McElhenney officially took over. Aside from huge social media growth, tangible impacts have been seen at the ground, where attendances in 2021/22 are up 110% and season tickets sales up 125% vs. 2019/20, the last pre-Covid season. The club also reported the sale of over 14,000 shirts, smashing the previous record of 3,896.
The consumption of sport has changed with celebrity athletes playing an ever-bigger role in club marketing and content creation – why not celebrity owners too?
Central to the strategy of Reynolds and McElhenney is a docuseries, the first season of which is anticipated later this year on Disney+ in the UK and FX on Hulu in North America. Following in the footsteps of Amazon's All or Nothing and Take Us Home: Leeds United, and Netflix's Sunderland 'Til I Die, Welcome To Wrexham will be the first of its kind to focus on a club outside league football. Bringing together the grittiness of a working class former mining community in North Wales, the star power and popularity of Ryan Reynolds and a genuine tilt at promotion to EFL League Two (Wrexham currently occupy the top playoff spot with TWO games to play), the series could be the biggest hit of the genre.
No doubt the projected exposure from such a series was key to securing a front-of-shirt sponsorship deal with global social media giant TikTok, and it is in its partnerships strategy where Wrexham's owners can hope to deliver the biggest commercial upside. While no docuseries has been announced for Angel City, the club's lead sponsor is Door Dash, the largest food-delivery app in the United States, while many of the other 11 clubs in the NWSL partner with local or regional enterprises, many of them non-profits. Similarly, Wrexham's peers in the National League have small local or regional brands on their shirts.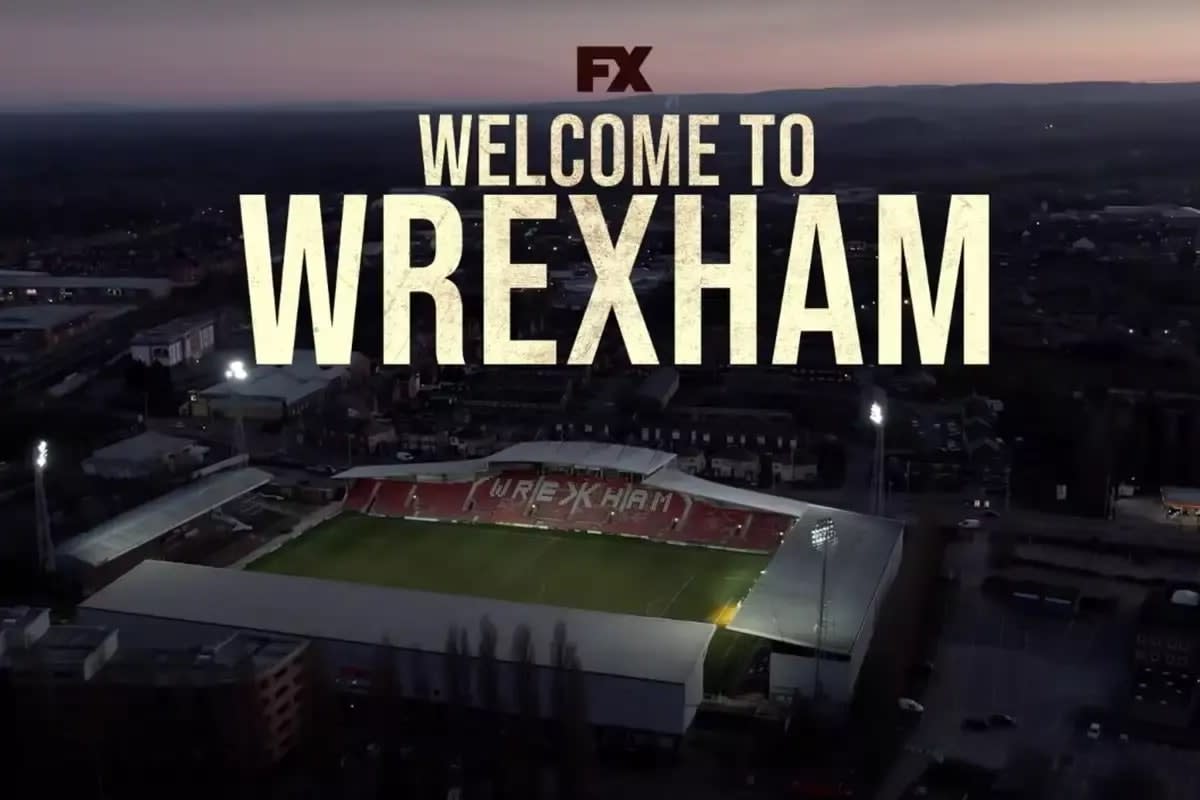 Angel City FC's debut season got underway on Saturday with a 2-1 home win against North Carolina Courage, the other NWSL side with a celebrity investor – Japanese tennis player Naomi Osaka became part-owner in January 2021. With former English players Eniola Aluko and Freya Coombe as sporting director and first-team manager respectively there are high hopes, although no attempt has been made to buy success through player acquisition, despite the resources at the Club's disposal. Wrexham have also steered clear of making major signings (with the possible exception of centre-forward Ollie Palmer, signed from Wimbledon in January), although they did recruit experienced league manager Phil Parkinson, formerly of much larger clubs Bradford City and Sunderland.
Key Outtakes
At both Angel City, a brand new team in a league and sport with rapidly growing following, and Wrexham, a traditional club languishing in non-league football, the celebrity owners have identified the opportunity for significant growth in which their fame and profile can play a part rather than bringing minimal impact to a large and established franchise.
Wrexham are already reaping the rewards of celebrity ownership, and interest is growing in the unfashionable underdog's potential return to league football after a 14-year absence in their new owners' first full season at the helm. A perfect candidate for a fly-on-the-wall documentary telling a rags to riches story, perhaps Wrexham will be only the first to benefit from the magic touch of celebrity.