While much of the sports industry was in existential crisis in the first half of 2020, purveyors of tournaments between elite players of Fortnite, League of Legends and Dota 2 saw opportunity arising.
eSports is not fully insulated from the issues brought about by the pandemic: merchandising and ticketing revenues fell dramatically as live events in stadia were cancelled. But with matches played on screens rather than pitches and players not required to be co-located, this is a sector of the sports industry naturally adapted to a world of social distancing and online viewing.
In fact, the rise of eSports has been going on for some time, both in viewership and revenue. NewZoo estimates suggest a market worth approximately $1.5 billion by 2023. Audience estimates vary, but a figure of 500 million in 2020 does not seem exaggerated. According to Forbes, the number of eSport pro athletes has been growing more than 40% every year since 1998, and the LA Times reports that eight million people log on every day to participate.
eSports revenues growth did stall in 2020
Until 2020, the eSports market was enjoying rapid growth, with a reported five-year CAGR of 17.8% to 2019. To put that into context, the fastest growth over the same period in European football was La Liga at 12%, while the Premier League and Serie A grew at 5.5% and 4.7% respectively. The industry was expected to hit $1bn revenue in 2020, and certainly would have done comfortably had it not lost around $160m in publisher fees and ticketing and merchandise compared to 2019. These losses were offset by growth in sponsorship – the largest revenue stream at $584m or 61% of the 2020 total – and media rights, although both of these experienced a slowdown, especially the latter at only +3.3%, very much out of step with audience growth.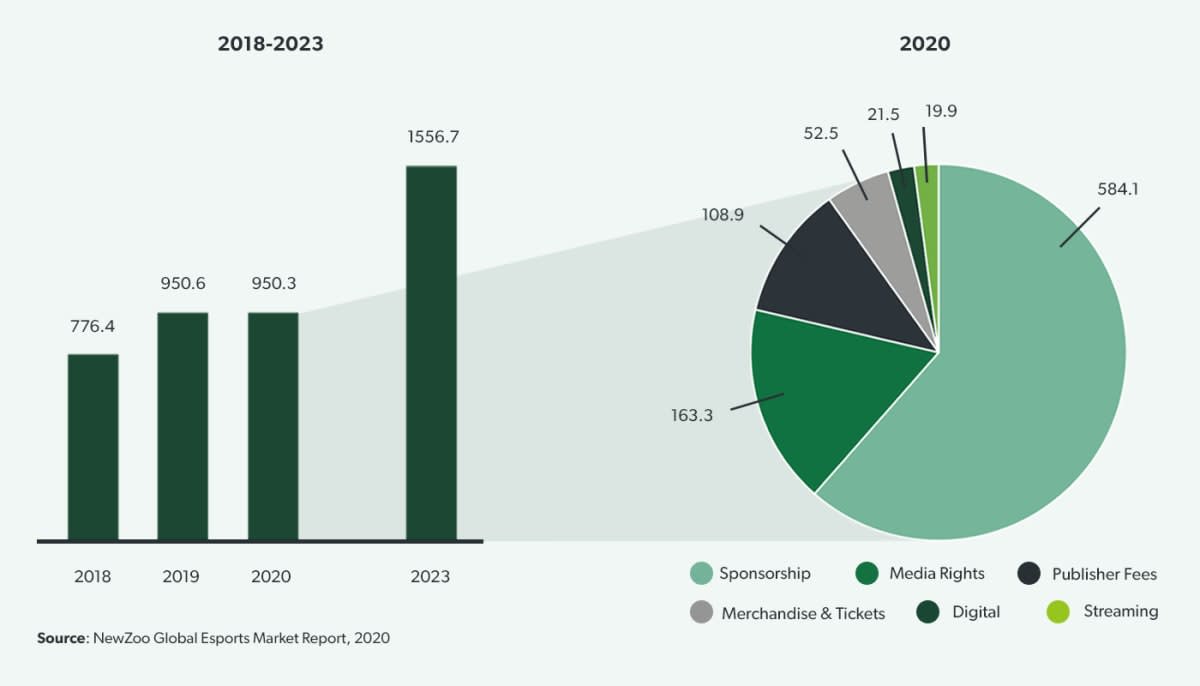 eSports audiences are growing more than 10% annually
As with most sports, revenue growth is underpinned by a growing viewership. The opportunity to reach a large and engaged audience has attracted sponsors. eSports has seen an increasing number of viewers in the last 5 years. Data from NewZoo predicts a CAGR of 10.4% from 2018 up to 2023, when the number of occasional viewers and enthusiasts combined will reach 646 million.
The largest region for eSports viewership is Asia Pacific, which accounts for a massive 57% share of the global total. According to The Drum, Asia Pacific is the largest gaming community in the world, with China, Japan and South Korea leading the market. In China, 64% of the population consider themselves gamers, and in 2018, the Chinese Ministry of Education added eSports and gaming into its postgraduate and vocational curriculum. Meanwhile in Korea, eSports have been broadcast on television for more than 20 years.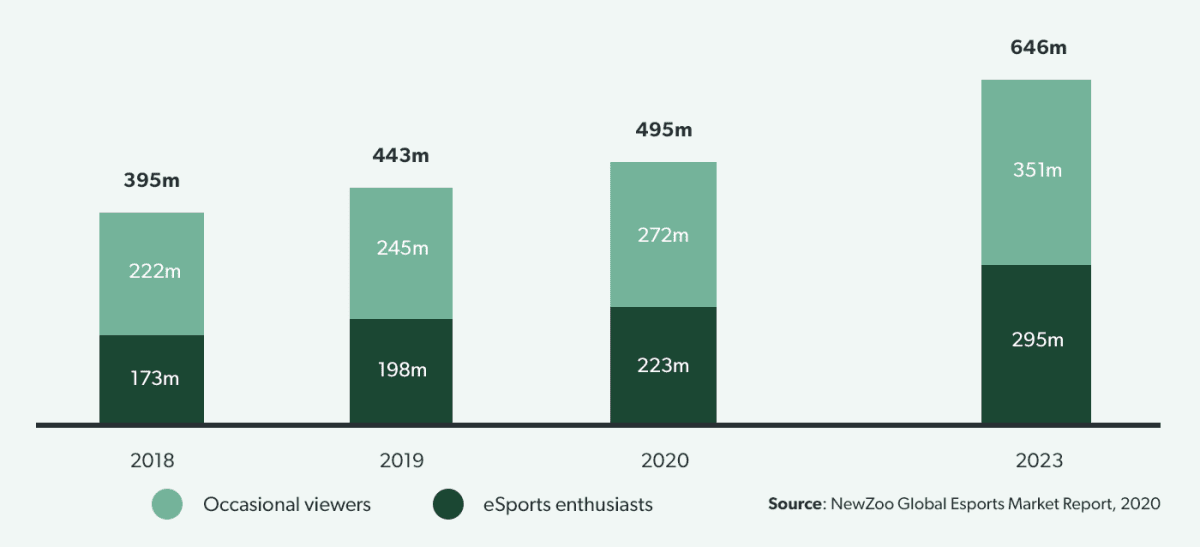 In China, 64% of the population consider themselves gamers, and in 2018, the Chinese Ministry of Education added eSports and gaming into its postgraduate and vocational curriculum.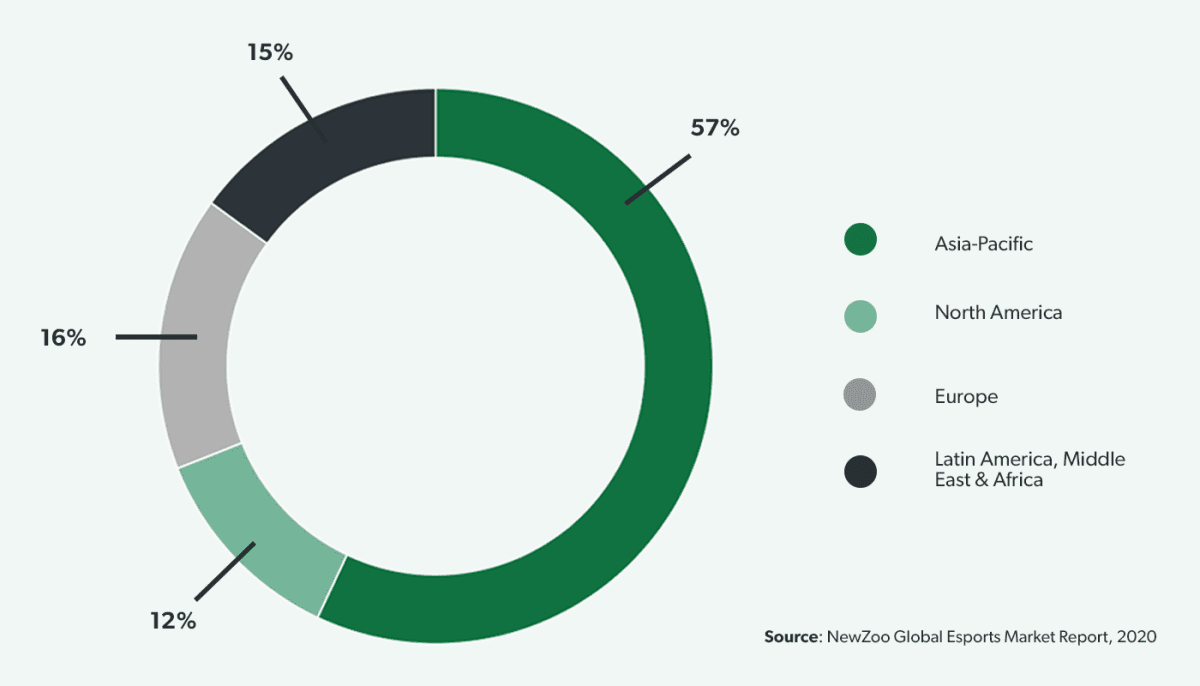 Twitch is the top streaming platform
As of late 2019, over 80% of US eSports viewers watched live matches on at least one dedicated eSports viewing platform, while 44% of viewers watched content on multiple platforms. Viewers follow multiple leagues or tournaments use different viewing options to find live matches, and some platforms have secured exclusive distribution rights for specific leagues or tournaments. All platforms experienced a significant jump in viewing from the second quarter of 2020 when 57% more hours were watched than in Q1.
The largest platform is Twitch, which accounted for 18.4 billion hours of viewing in 2020. The platform revolutionized the eSports broadcasting model since its launch in 2011 and remains at the forefront of the eSports industry after being bought by Amazon for just under $1 billion in 2014. Twitch offers a wide variety of content, covering the most played and most-watched games in the world as well as adjacent content. In an attempt to catch up in the market, Facebook announced the acquisition of Mixer from Microsoft in June 2020.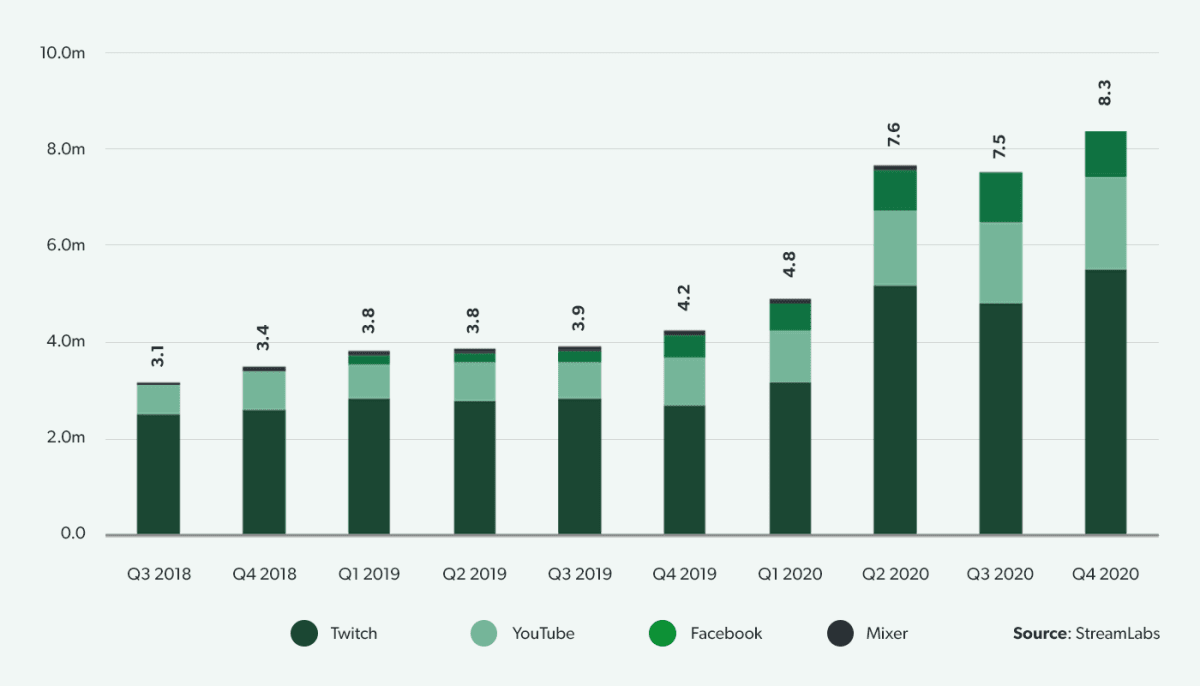 eSports is dominated by battle arena and shooting games
The table below shows 2019's most-watched games on Twitch, YouTube, and Mixer worldwide by live eSports hours, including pre- and post-game analysis. League of Legends, which is categorised as a multiplayer online battle arena (MOBA) game, enjoyed a healthy lead as the most-watched title with almost 350 million hours, more than 60% ahead of Counter Strike: Global Offensive, a first-person shooter (FPS) game in second place.
The top 4 games, all of which attracted more than 100 million hours of viewing in 2019, are all MOBA or FPS games, though Overwatch is a multi-player version of the latter. Indeed, these genres are two biggest amongst the 25 most popular games in live eSports overall, together accounting for 84% of viewing hours, with fighting games in third place. They are also the top two genres in terms of prize money. MOBA games account for 74% of the prize money pool for the top 10 tournaments, followed by FPS on 19%. Fortnite had the biggest individual prize pool of 2019 at $64.4m, more than the US Open and Wimbledon in tennis.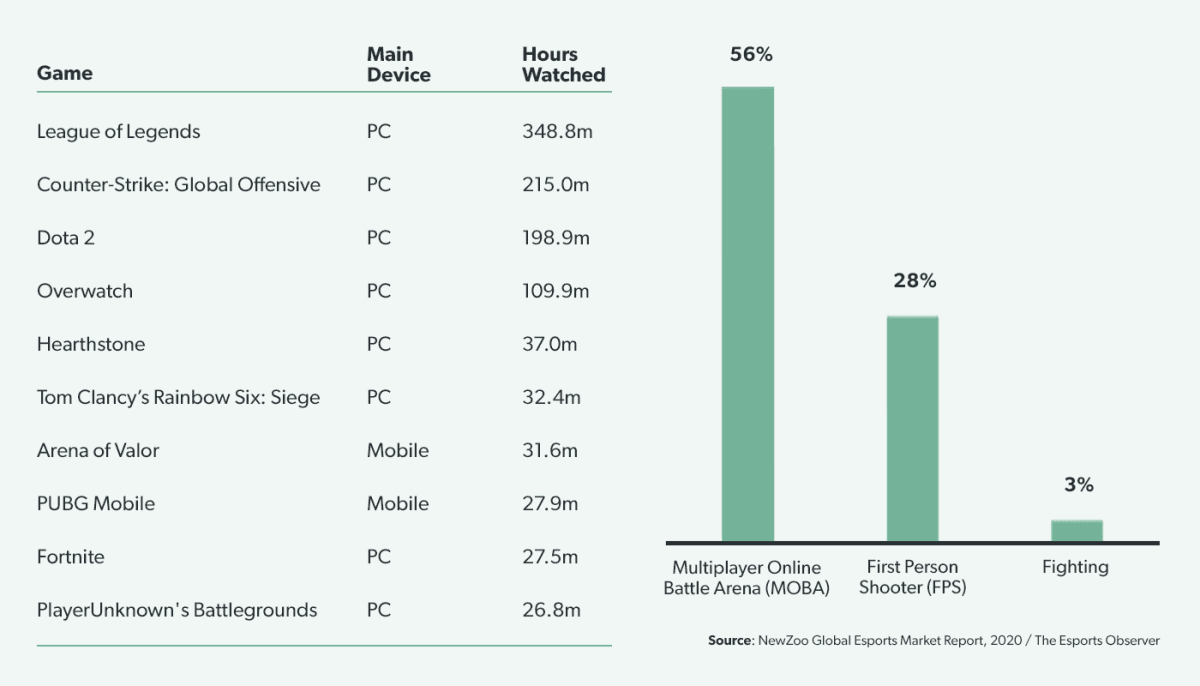 eSports is attracting investment, with a focus in the USA
The excitement of a fast-growing new segment of the high-growth sports industry naturally brought investment, with the sector reporting news of oversubscribed funding rounds and celebrity investors such as Drake, Stephen Curry and Jennifer Lopez. There was even talk of some eSports teams overtaking major franchises of traditional American sports in value. Early investors include venture capitalists and private equity, which according to Pitchbook have invested $4.8 billion into the sector over the past five years. With the slowdown in revenues seen in 2020, some eSports companies are now morphing into broader entertainment companies as they seek to broaden their appeal, according to Forbes.
In December, Forbes published a list of the most valuable eSports teams. The average team value was $240m, although valuation increases had flattened off after a 54% rise in 2019. Top of the list was TSM, valued at $410m on an estimated revenue of $45m. Better-known names in the list are Team Liquid in third place ($310m) and FaZe Clan in fourth ($305m).
Despite viewership being largest in Asia Pacific, the engine of the industry is in North America. According to various sources, 56% of the top developers are based in North America, as are 60% of the top teams and 45% of the top 100 hundred live-hosted tournaments. Asia Pacific follows as the second biggest region on all of these measures.
$6.1bn was invested in the eSports sector in 2020 (figures up to November), eclipsing the previous record of $4.5 set in 2018. Over the decade to 2019, reports BDO, the USA was by far the most active in eSports M&A, completing 36 transactions in the period, well ahead of the next highest countries Canada and the United Kingdom, both on 6. However, according to law firm Kohrman Jackson & Krantz, interest has cooled even despite eSports's apparently Covid-resilient business model and the growth in viewership of 2020. Many investors who sustained large economic impacts from COVID-19 are reluctant to inject further capital into a relatively young and potentially uncertain industry.