European football clubs must follow the rules of both UEFA and the national league in which they participate. Some regulations, such as Financial Fair Play, are absolute, while others are more flexible.
Over the last 30 years, European football supporters have witnessed the acquisition of significant stakes in their clubs by wealthy individuals, consortia and sovereign states. Despite the financial impact wrought by the Covid-19 pandemic, investment activity from overseas parties has continued unabated, driven by the potential for lucrative returns in a sector with strong fundamentals and significant opportunities for future growth.
However, new ownership regimes need to be mindful of rules and regulations imposed by the European football governing body, UEFA, and by the domestic leagues, when acquiring equity in European clubs. So, what are the most important disparities of ownership structures in various leagues and what restrictions do UEFA impose to all comprising clubs?
In total, UEFA comprises 32 member leagues and associations of clubs from 25 UEFA national associations. The rules of the governing body are designed to:
Promote and improve standards across Europe
Ensure that clubs have an adequate level of management and organisation
Adapt clubs' sporting infrastructure to provide players, spectators, and media representatives with suitable, well-equipped and safe facilities
Protect the integrity and smooth running of UEFA club competitions.
Ownership structure regulations
The domestic regulation which resonates most with European fans is the Bundesliga's "50+1" rule, seemingly mentioned whenever politics and power merge with football. It was introduced in 1998 by the German Football Association (DFL) and states that clubs - and by extension the supporters - must retain 50% plus one share of the voting rights in the limited companies which operate their professional teams. This prevents private investors to push through and prioritise their own agendas over the will of the club and its fans.
Bundesliga powerhouses Bayern Munich & Borussia Dortmund both operate different business models within the league's legislation; Dortmund are listed on the German SDAX stock exchange, while Adidas, Audi and Allianz each hold 8.33% stakes in Bayern Munich. Both clubs however, retain the majority of voting rights (75% Bayern, 100% Dortmund) which is why the 50+1 rule is celebrated as a fan ownership model.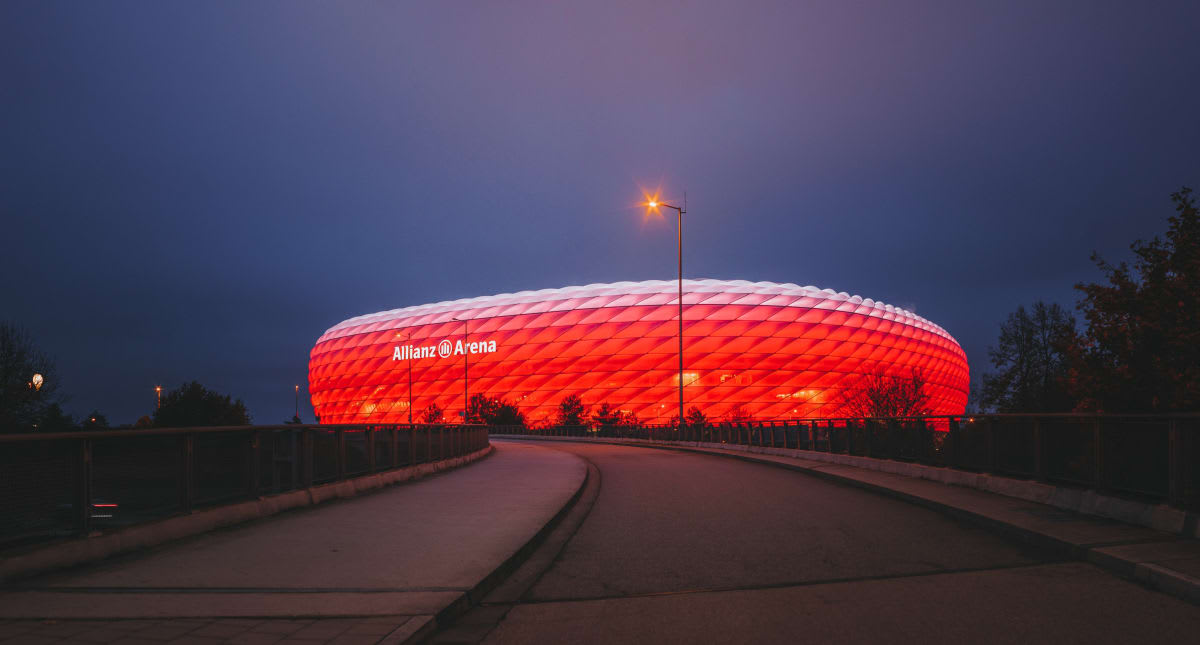 However, there are some exceptions to the 50+1 rule in Germany. If an individual or a company has invested in the club continuously for over twenty years, they may apply for an exemption. This is the case for Bayer 04 Leverkusen and VFL Wolfsburg who are both classified as "workers clubs", as they were founded by the workers of pharmaceutical giant Bayer in Leverkusen and automotive company Volkswagen in Wolfsburg.
A more recent example is TSG Hoffenheim and its 96% shareholder Dietmar Hopp (owner of software company SAP), who invested over £300m since the 1980's – elevating the club from amateur leagues to the Bundesliga. More controversial is RB Leipzig which managed to circumnavigate the requirements in 2009. The club has only 17 voting members, all of whom are employed directly or indirectly by Red Bull, enabling the soft drinks manufacturer to control the club's financial decisions.
In Spain, a law passed in 1990 obliged professional sports clubs to become public limited companies, except those that had positive financial results in the years prior to laws passing. The exempted clubs - Barcelona, Real Madrid, Athletic Club de Bilbao and CA Osasuna - were treated as non-profit organisations and enjoyed a 25% tax rate for more than 20 years, giving them an unfair advantage over the 30% norm for other sports companies. This advantage was removed after an appeal to the Court of Justice of the European Union (CJEU), which also ordered the organisations to pay up to €5m each in back taxes in 2021.
Fit and proper?
Governance in the English Premier League (EPL) is very different, having always placed a strong emphasis on the commercial growth of the league. According to the latest UEFA club benchmarking reports, 40% of Premier League clubs are majority-owned by foreign investors, with an additional 35% having overseas minority stakeholders.
Those interested in owning a club in any English professional division are required to complete the Owners and Directors Test (OD Test) also known as the 'fit and proper person test'– which was introduced by the Football Association (FA) to combat possible corruption and a perceived lack of transparency. The test works as a pass/fail, and requires that owners are not involved directly or indirectly with other domestic clubs, have a clean criminal record and can present evidence of sufficient funds for the prospective acquisition and initial operating costs.
In fact, 16 countries require new owners to pass fit and proper assessments, with Wales and Denmark also in the process of introducing such checks.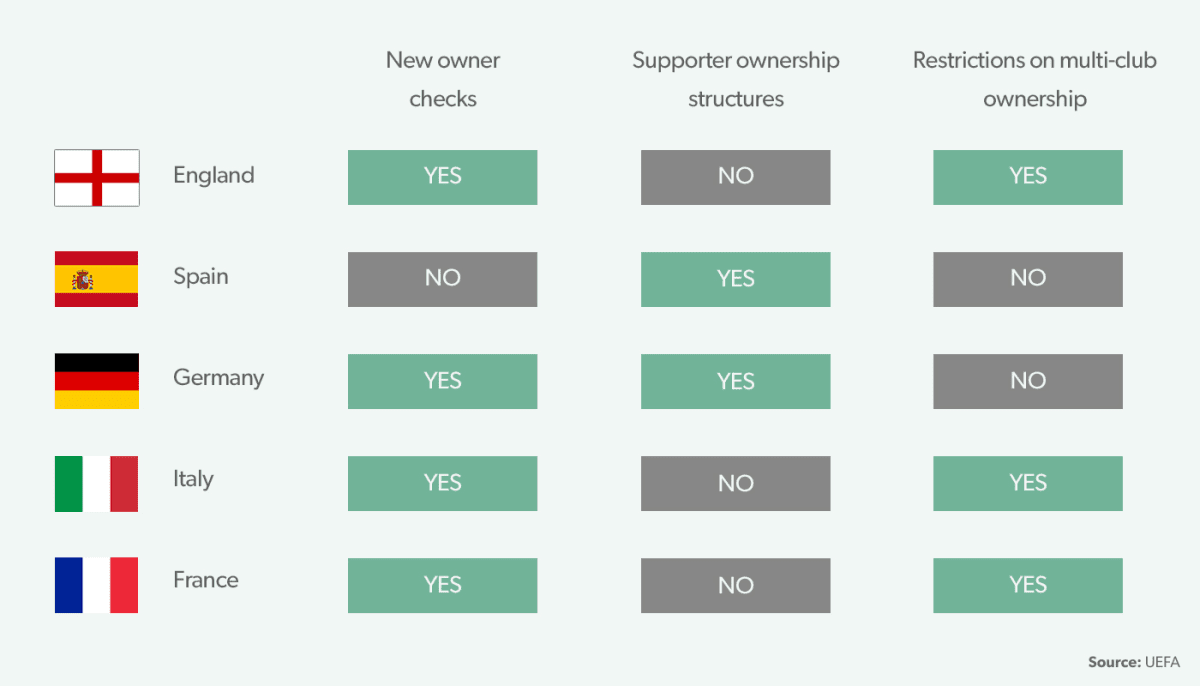 Multi-club ownership
The fastest-growing ownership model in world football is multi-club ownership. The best-known proponents of this strategy are energy drink giants Red Bull – with an empire stretching from Germany and Austria to the US and Brazil – and City Football Group, who have demonstrated the potential of this strategy with four clubs in Europe as well as in the US, Australia, China and Japan. The ability to develop players to use across the franchise, combined with growing global commercialisation and broadcast appeal in football, has continued to convince investors of the potential of multi-club ownership.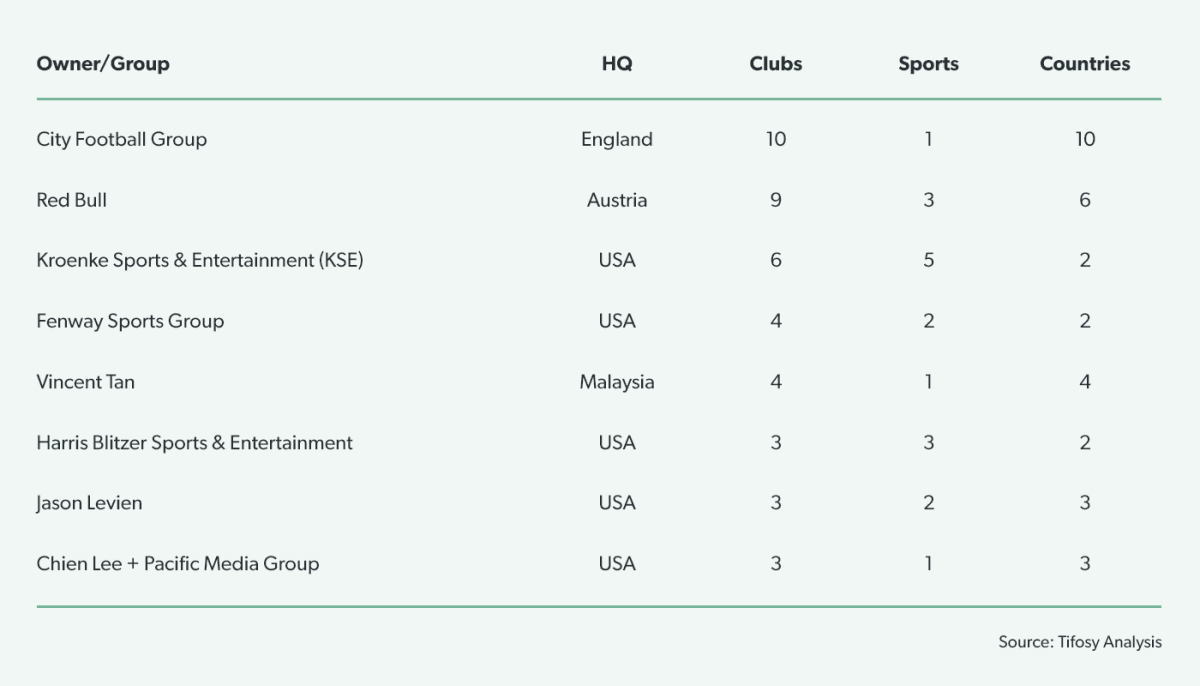 Given the complexity of ownership rules and regulations in European Football, there are limitations and challenges to investing in multiple clubs in the region. UEFA's integrity rules state that no two clubs or more participating in a UEFA competition may be directly or indirectly controlled by the same entity or managed by the same person. RB Leipzig and RB Salzburg can both participate in the UEFA Champions League this year because the UEFA ruled no individual or legal entity had a decisive influence over more than one club (any shareholding of 50.1% or more) – showing that there are ways around this rule if structure and governance are set up in the right way.
The English FA goes further than UEFA, ruling that any owner with a stake of 30% or higher in a Premier League club cannot own another English club. Under the UEFA rules it would be possible for an investor to have 100% shareholding in one club and a 49% shareholding in another while still competing in the same competition.
Financial Fair Play
UEFA's Financial Fair Play Regulations are perhaps the best-known rules in Europe, having been the subject of many cases involving potential sanctions for high-profile clubs. These regulations state that a club must not spend more than they earn in order to promote their financial stability - this includes clubs balancing their books and ensuring they can meet the payments for transfers and employees. The independent Club Financial Control Body is responsible for verifying clubs' compliance with the rules.
The regulations came into place in 2010 when many clubs were in very weak financial positions: a 2009 UEFA review determined that more than half of Europe's 655 clubs had recorded losses in the previous season, and that 20% of these clubs were in "financial peril". At the time, Premier League clubs collectively had debts of £3.1bn on their balance sheets.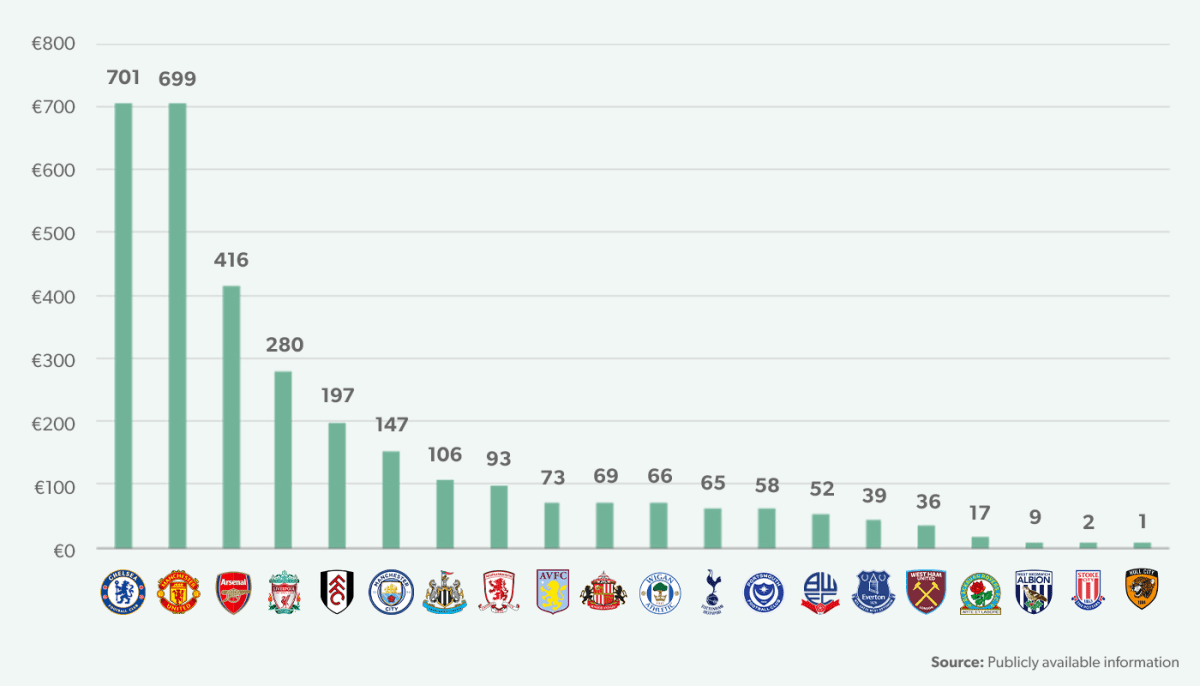 It has been argued that Financial Fair Play has had positive financial effects on European football. In the first five years of their introduction, net equity doubled for clubs, and net debt to revenue ratio reduced from 65% to 35%. According to UEFA, 28 settlement agreements, mostly regarding transfer and wage limitations, were reached to ensure clubs did not operate at a loss. Additionally, UEFA insisted that over 50 clubs' owners provided new capital, so their clubs did not accumulate debt through their smaller losses. To further discourage rising debt, late payments result in sanctions, such as removal from UEFA competitions.
Club Licensing
Starting in 2004, a multi-faceted club licensing model was established with requirements for clubs to take part in UEFA's competitions. The model's aim is to promote the long-term development and financial transparency of clubs, and Financial Fair Play was included within the model following its introduction.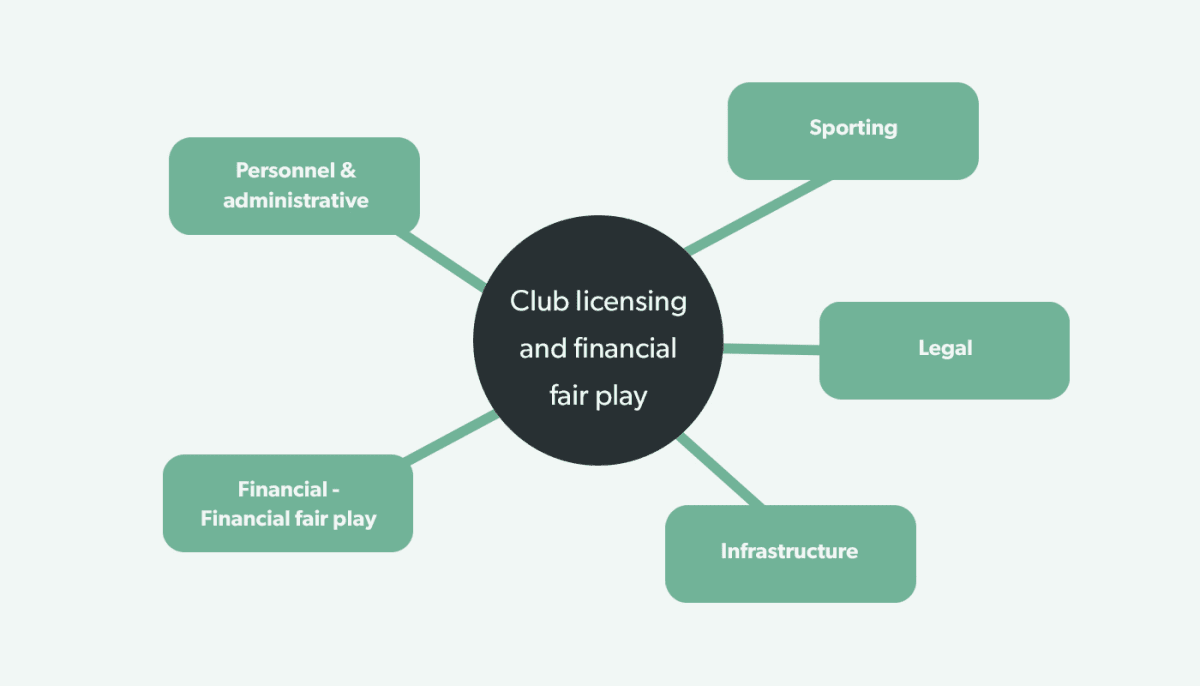 Amongst the requirements, all clubs must have a youth development programme. Investment in youth facilities is highly prioritised with the requirements of providing a safe and educational environment. The roles of supporter liaison officer and disability access officer were made mandatory by UEFA to encourage social inclusion. Additionally, UEFA has focused on ensuring that roles throughout clubs are filled by properly qualified candidates to improve performance and the quality of the environment for all individuals involved. While the rules are strictly applied in most cases, UEFA gives each nation some flexibility to meet licensing agreements so that they can make relevant changes to better suit their needs and adapt to the changing football market.