The emergence of rumours over the potential formation of a new European Super League has shone the spotlight once again on competitiveness (or lack of it) in the biggest league competitions on the European continent.
In the last piece, we looked at the extent to which the "Big Six" of the Premier League are moving out of reach of the rest of the division, opening up clear water between themselves and "the rest" in commercial and financial terms. While there are clear signs of unassailable gaps opening up "off the pitch" in that division, the league remains perhaps the most competitive on the continent and no single club has won the Premier League more than three times in a row.
We cross the channel now onto the continent to examine the "one-horse race" phenomenon of three of Europe's top divisions: France's Ligue 1, Italy's Serie A, and Germany's Bundesliga, all dominated for the best part of the last decade by Paris St Germain, Juventus, and Bayern Munich. These clubs have won their league titles seven, eight and nine times respectively, the latter two in uninterrupted runs stretching back to the beginning of the decade. The big question is whether the self-reinforcing effects of on-pitch success and off-pitch revenue growth and purchasing power mean that real competition is being squeezed out of these divisions.
Domestic dominance
Bayern Munich, Juventus and PSG have together won 24 of a possible 30 titles in their respective divisions in the past decade, and 23 of 24 in the past eight seasons. Interestingly, they all started the push to dominance at similar times, with Juventus winning the first title of their current winning run in the 2011/12 season, to be joined at the top of the podium by PSG and Bayern in 2012/13. Since winning that year, their first title in three years, Bayern has held the strongest command of the three clubs with an average of 14.4 points gap to second place, which has most frequently been held by Borussia Dortmund although other challengers have staked a claim. Juventus has won by an average of 9 points in the same period, holding off a variety of pretenders to their crown, while PSG managed an average winning margin of 11.6 points as their astonishing 31-point margin in 2015/16 was offset by the dramatic fall to finishing as runners-up to AS Monaco in 2016/17.
Significant revenue leadership
Amongst the "one-horse race" leagues, it is in France's Ligue 1 where the leaders have pulled furthest away from their rivals. While PSG's revenue stood at 198% of that of Olympique Lyonnais in 2018/19 compared with 239% in 2017/18, in absolute terms the gap was at its highest: €438m. Meanwhile in the Bundesliga, Bayern Munich held a €280m revenue advantage (+75%) over Borussia Dortmund in 2018/19, though this is down from a larger gap of €312m the prior year (an advantage of 98%). In Serie A, the gap between Juventus and Inter Milan is the smallest of the three mega clubs at only €125m or 34% and has been steadily declining over the past years, down from €154m in 2016/17.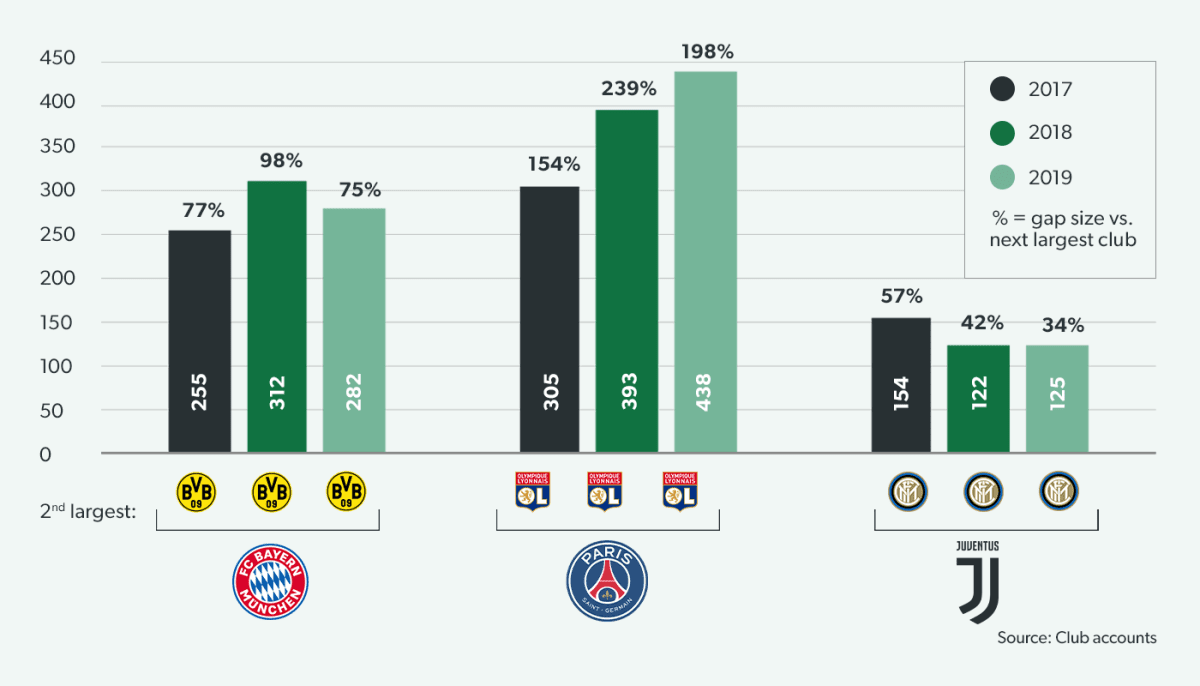 PSG's lead in matchday (€9m) and broadcasting (€35m) revenues is modest. However, the club enjoys a seemingly unassailable advantage of nearly €400m in commercial revenues, almost 8x those of the next highest club Olympique Lyonnais, much of which comes from highly lucrative sponsorship contracts. Bayern Munich's key advantage is also in commercial revenues, where the club holds a lead of €130m, over 80% higher than Borussia Dortmund. The clubs are separated by smaller gaps in broadcasting (44%) and matchday (€44m) – although the latter is over twice Dortmund's matchday revenue despite the latter's higher capacity and attendance, indicating a significant premium enjoyed in the pricing of – and balance between –ticketing and hospitality. For Juventus, broadcasting represents the biggest revenue advantage at €62m vs. AS Roma, due in part to recent Champions League performances. Commercial revenue is a relatively small €42m ahead of Inter Milan – a modest gap of only 29% when compared to the other two leading clubs.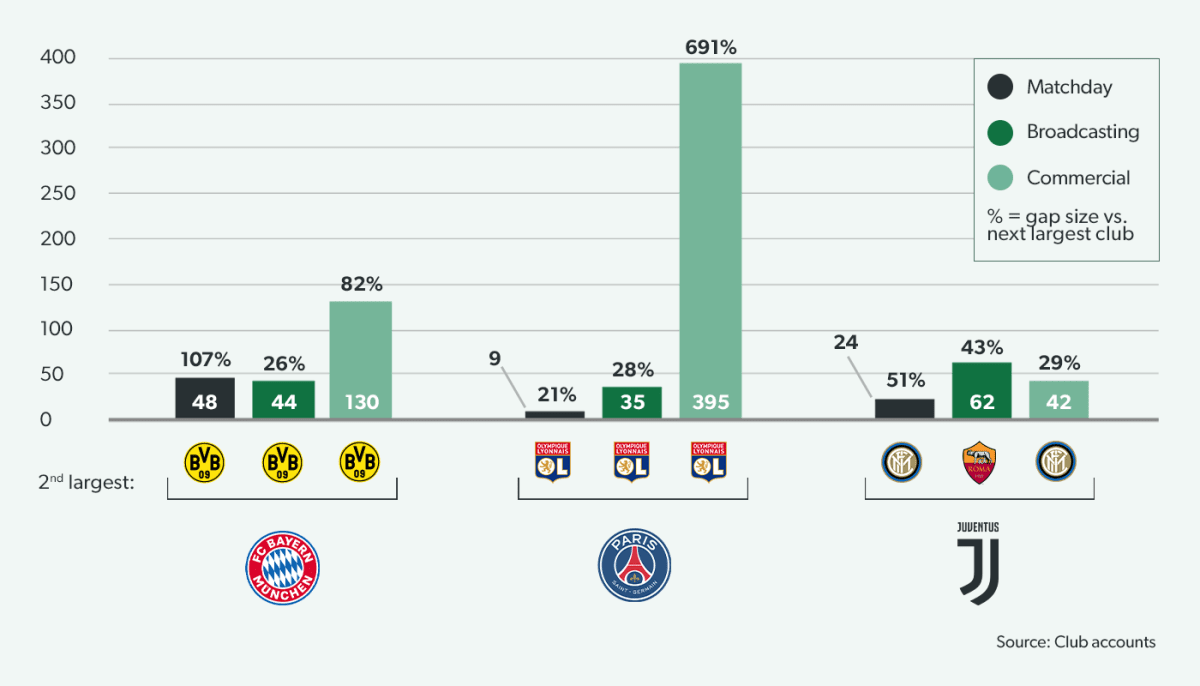 Elite clubs dominate digital channels
Given their dominance at the top of their divisions over the fastest period of social media adoption to date, the European mega clubs have unsurprisingly amassed the largest following in their respective leagues across all major platforms – and can be expected to continue investing into these and emerging new platforms. PSG had the largest cumulative gap, most notably on Instagram where their tally of 31.6m followers towers over nearest rivals Lyon & Marseille with 1.7m followers each. They also enjoy a huge advantage on Facebook, as do Bayern Munich in Germany, while Juventus has built a significant lead on Instagram in Serie A. Juventus also has the narrowest gap versus a nearest rival with relatively modest leads over Inter Milan on Twitter and Facebook. Importantly, the graph shows only the followings on native language accounts; all of these clubs have also built international followings, catering to an average of 6 international languages and extending their reach significantly as a result.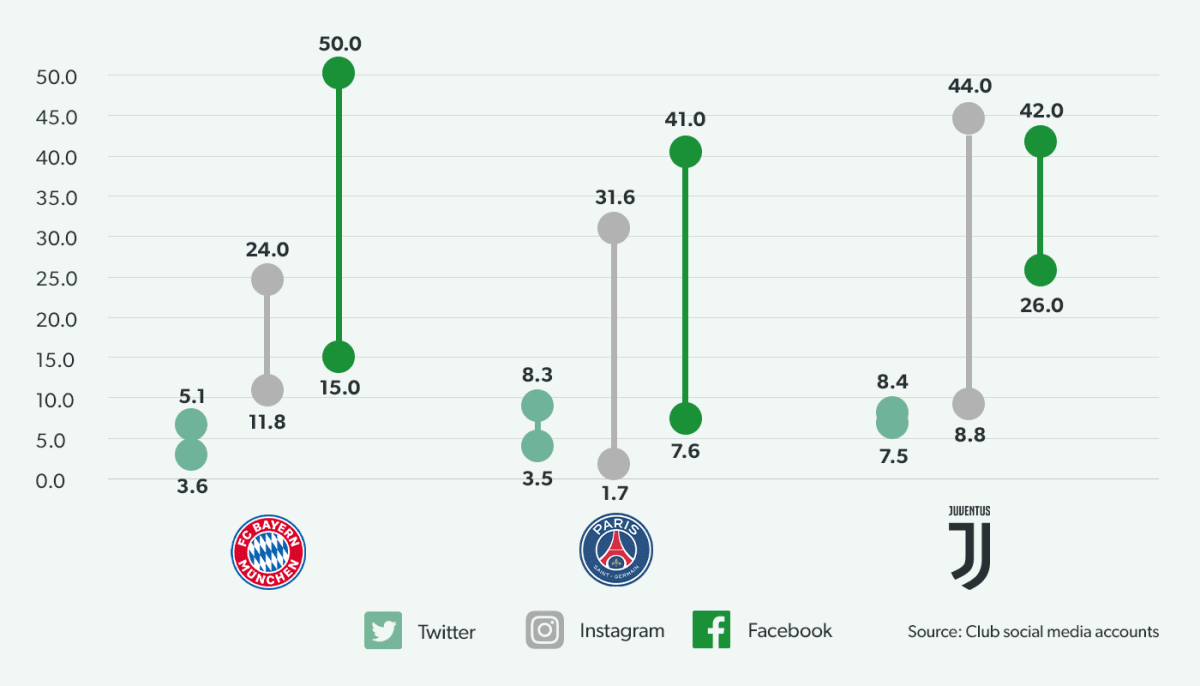 Top clubs continue to outspend rivals
Bayern, Juventus & PSG spend more each year in wages than their closest counterparts, with the gap between themselves and the second-highest spenders widening every year. PSG stands out particularly, converting their huge revenue advantage into squad dominance with an increase in yearly wages of 36% between 2016/17 and 2018/19, widening the gap between them and the second largest from €163m to €224m in that period. Bayern Munich also continues to grow the spending gap vs. closest club Borussia Dortmund, up from €87m in 2016/17 to €131m in 2018/19, while in Italy Juventus have reasserted their wage advantage over Inter Milan by 22% since 2017 after a slight closing of the gap in 2017/18.