The lockdowns imposed by Covid-19 during 2020 have given rise to a lot of focus and discussion on eSports, which has become a significant element in the global sports industry.
In this piece we scratch the surface by deliberately looking only at the football side of eSports (an in-depth piece on the broader eSports sector is planned for early 2021) and take a look at the steps taken by the clubs of the Big 5 football leagues on the development of teams, talent and social media presence.
Football eSports has accelerated in the past 3 seasons
We turn now to eSports, where professional teams associated to clubs in the European Big 5 – defined as those with (a team of) established players either directly employed or on a contract from a gaming partner – have formed at a rate of 10 per year on average, since the foundation of Wolfsburg's eSports team in May 2015. For the 2020/21 season, 62 of the 98 clubs in the Big 5 have established professional eSports teams. Despite the relatively late foundation of the official eSerie A, over the past two seasons Italy has accelerated into the lead with the 17 professional teams, followed by Germany with 13.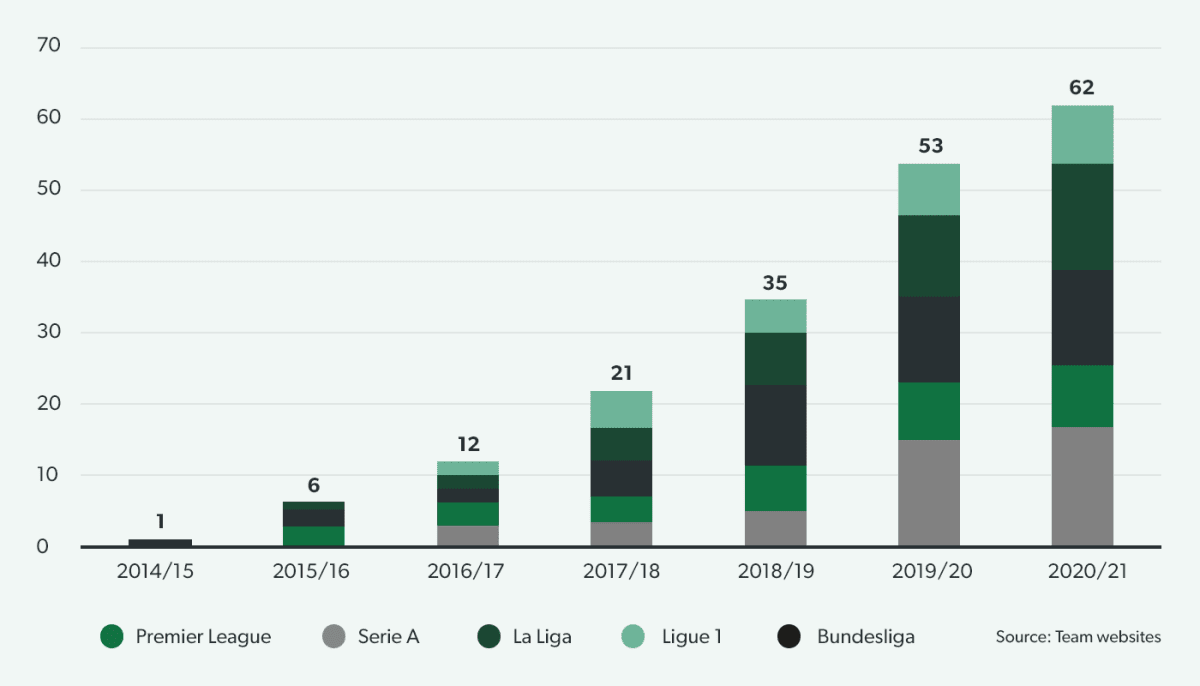 While the earliest known formalized video game competition took place in 1972 and large-scale competitions – some televised – were becoming established in the 1980s and 1990s, it has only been in the last few years that official league-endorsed eSports competitions have come into existence in football. The first of the Big 5 leagues to formally establish its eSports division was France's e-Ligue 1 in 2016, while Italy's eSerie A was only founded in 2020. All leagues are played on EA Sports' FIFA platform, with the eSerie A also played on Pro Evolution Soccer. UEFA joined the party in 2019 with the launch of the eChampions League, also on FIFA. All of the Big 5 eSports leagues now have title sponsors except the ePremier League.
While the earliest known formalized video game competition took place in 1972, official league-endorsed eSports competitions have come into existence in football only in the last few years.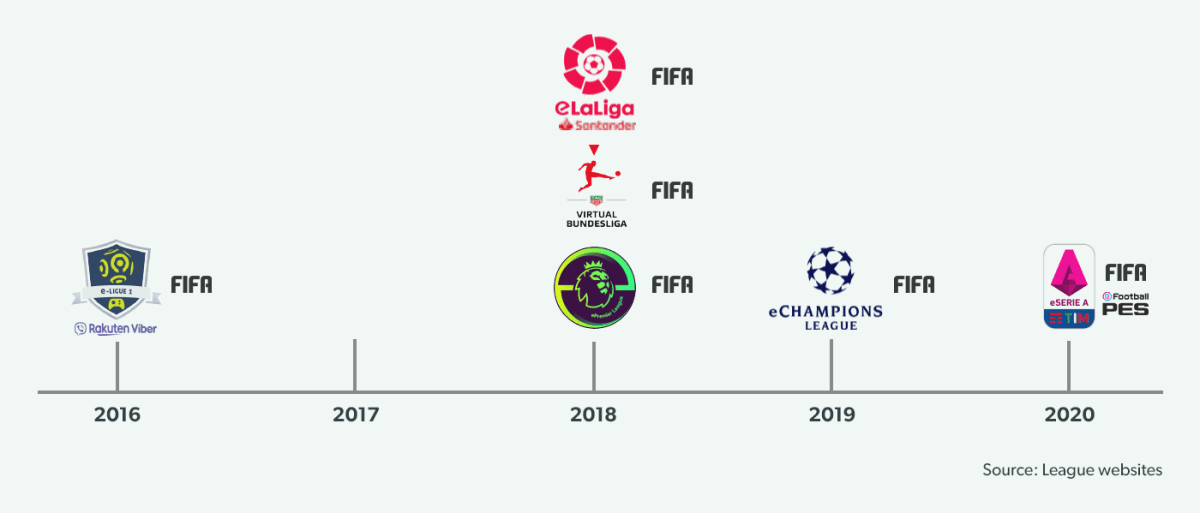 Professional teams investing in talent
Rather than build from within, some clubs have turned to gaming partners to recruit players. 52% of clubs have taken this route, with the highest number in Italy (9 of 17 teams) and highest proportion in France (7 of 8 teams). Several gaming partners have built links with multiple clubs, such as Qlash (both Milan teams in Italy, and Villareal in Spain), STARK eSports (Wolfsburg, Werder Bremen and Hertha Berlin in Germany) and Bundled (West Ham and Wolves in England). Some clubs have also started academies to develop talent, though not necessarily as an alternative to a gaming partner. Germany leads the way with 3 academies, all at clubs which use gaming partner talent.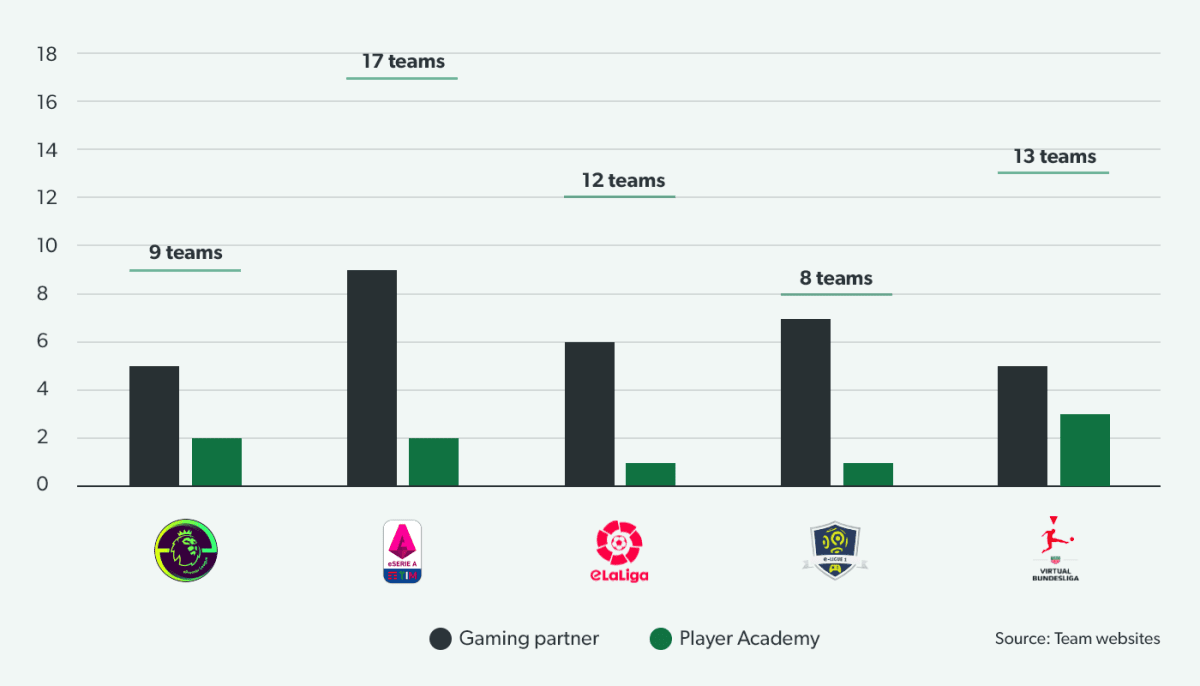 Football eSports underdeveloped on social media
While 74% of women's top division clubs have established a dedicated Twitter account and have an average following of 51k, in eSports only 62% of teams have launched accounts which have reached an average of just 12.5k. Spain's eLaLiga is the most advanced, with all 12 teams having a dedicated account with an average following of around 17k, led by Barcelona, Valencia and Real Betis. In Germany 12 of 13 teams have an account but the average following is 7.5k and only Schalke 04's team has a significant following. France's five teams have the highest average following at 25k, heavily driven by PSG, while AS Roma has the only significant following of eSerie A, where five teams have less than 5,000 followers on average. In England, home of the most commercially developed men's football league, only three eSports teams are on Twitter at all, with an average following of 13.7k led by Manchester City.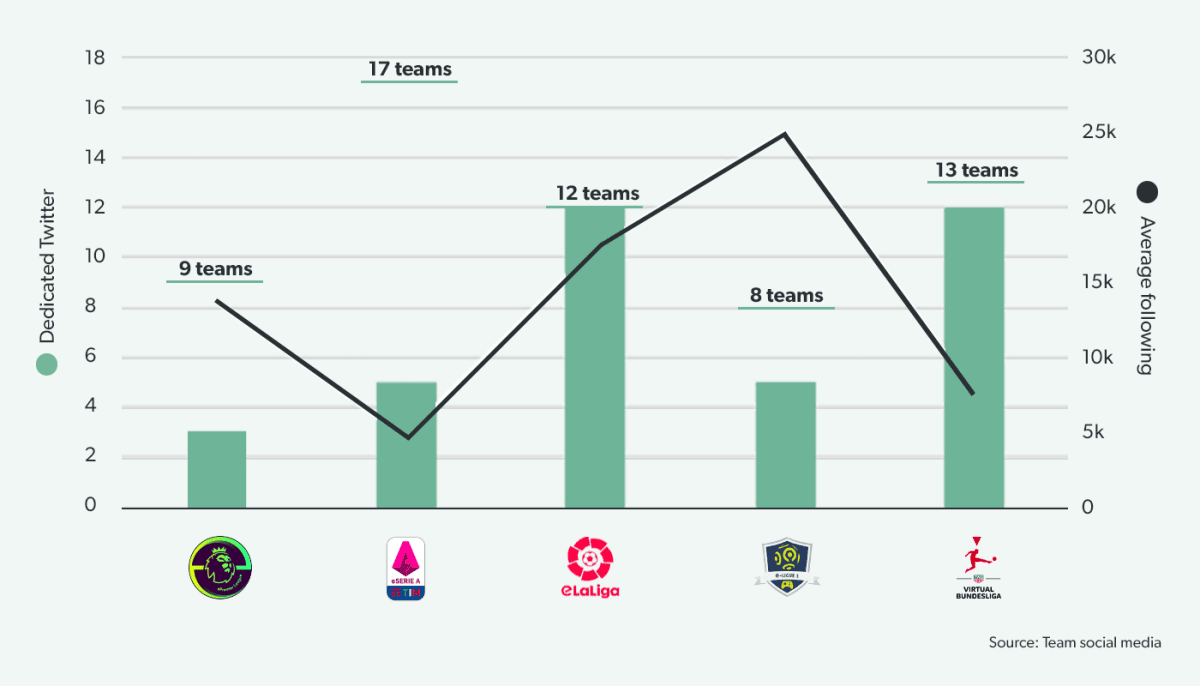 Some teams playing other eSports
15 of the 62 Big 5 professional eSports teams have expanded beyond playing football games such as FIFA and PES, which form a relatively small part of the eSports industry, to play some of the biggest games in the world, which are largely battle or shooting games. The most popular game (played by eight teams in the eSports football leagues) is League of Legends, a multiplayer online battle arena game which regularly tops charts for players, audience and prize money. This is followed by Rocket League (six teams), a football variant with rocket-powered cars as players and Fortnite (five teams), another hugely popular battle royale game.