At the start of Formula E's eighth season, which opened at the Diriyah ePrix in Saudi Arabia at the weekend, expectations are high for a return to growth.
Since its debut in 2014 Formula E remains the only sport to be certified with a net zero carbon footprint and markets itself as one of the fastest-growing sports properties in the world. The race series primarily targets a younger audience than other motorsports, with Gen Z viewers more socially conscious and preferring to view shorter sports formats. As a result, Formula E is often seen as the emerging sport for future consumers and the property has been successful in attracting well-known car brands, constructors, and sponsorship revenue.
Structure & format
Formula E is similar in structure to Formula One in many respects, where two drivers race for a constructor team in a series of "ePrixs" across the globe. As in F1, there is a drivers' and a constructors' championship. The ePrixs themselves also follow a structure that includes practice, qualifying and the race itself, however, unlike Formula One, these all occur on the same day.
In a bid to create a faster, more action-packed experience, races run for a period of 45-minutes, at which point it is a sprint to the finish with all cars required to complete the lap being driven by the lead car plus one further lap. Elements akin to gaming have been introduced such as "Attack Mode", which allows drivers to earn an additional 30kW of power (13.6% increase) for a limited period of time if they arm their car and drive through a specified "Activation Zone" on the track, off the racing line. The location of the Activation Zone is announced shortly before the start of each race to limit prior strategizing.
To build audience engagement, "Fanboost" allows fans to actively influence race outcomes by voting for their favourite driver over social media over the three days prior to the race. The five drivers with the highest votes are granted an extra power boost for five seconds of extra speed in the second half of the race.
Much like Formula One, Formula E's race calendar takes place across various locations around the world. As part of their strategy to remain carbon neutral, Formula E races take place primarily in city centres to reduce fan travel and expand audience visibility. Street races provide narrower and shorter racetracks, resulting in tighter contests between the drivers. Furthermore, shortened practice sessions and qualifying and time-limited races allow for two rounds to take place on the same weekend, thereby reducing team travel and improving track construction efficiency.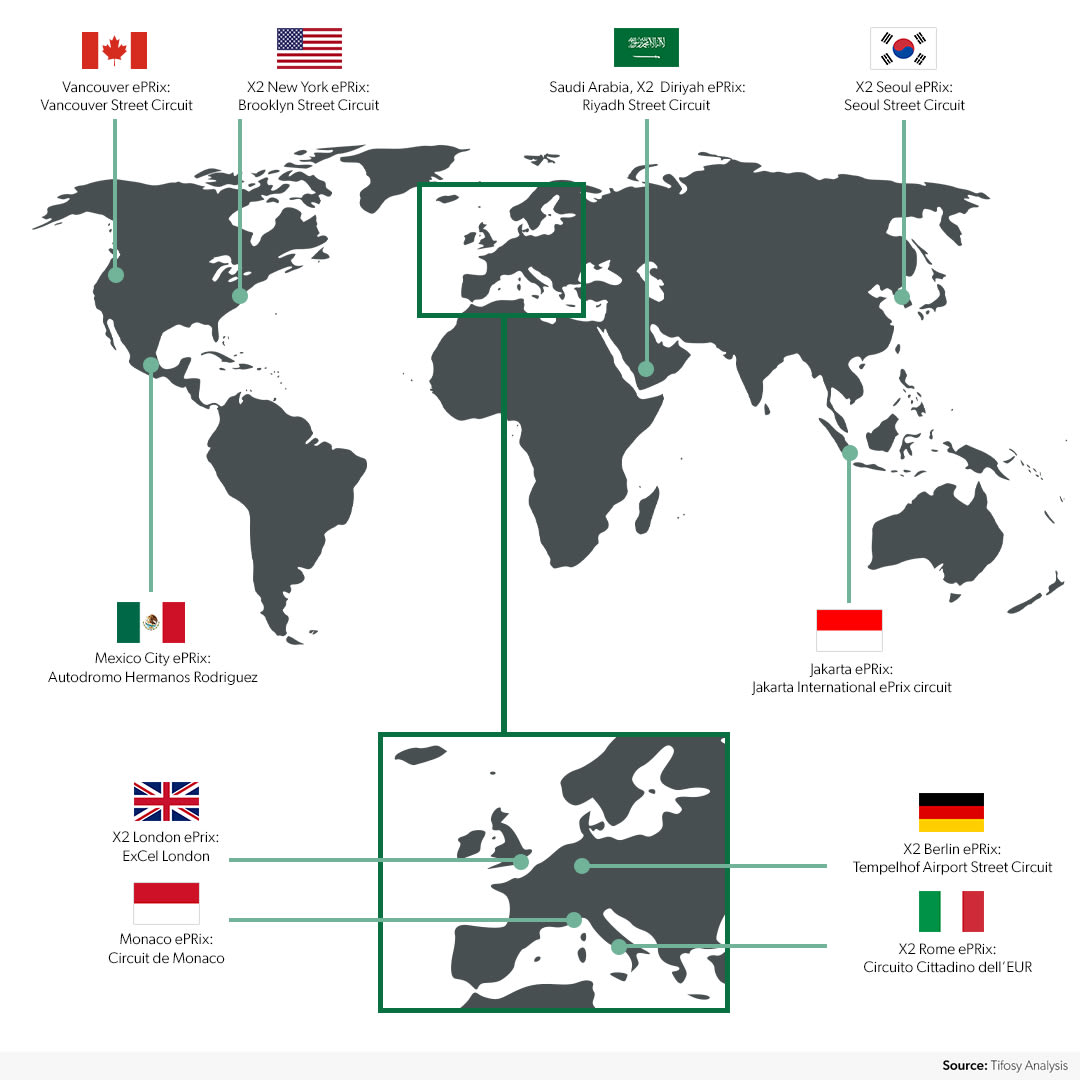 While Formula One tends to be dominated by wealthier constructors able to spend more than their rivals on their vehicle, Formula E cars are mostly standardised across all teams. The current car is the second generation (Gen2) vehicle called the Spark SRT05e, constructed by Spark Racing Technology and featuring a 56kWh battery developed by McLaren Applied Technologies. Teams can develop their own powertrains, which some do in partnership with other manufacturers, as in Formula One.
The 2022 season will be the final season for the Gen2 vehicle, with the Gen3 Formula E car to be introduced in 2023. The new car will produce at least 40% of the energy used within a race by regenerative braking and contains a motor capable of converting over 90% of the electrical energy into mechanical energy, compared to approximately 40% in high efficiency internal combustion engines. FIA President Jean Todt has called the new car "a machine created at the intersection of high performance, efficiency and sustainability."
Formula E cars are not as quick as Formula One, but have a similar acceleration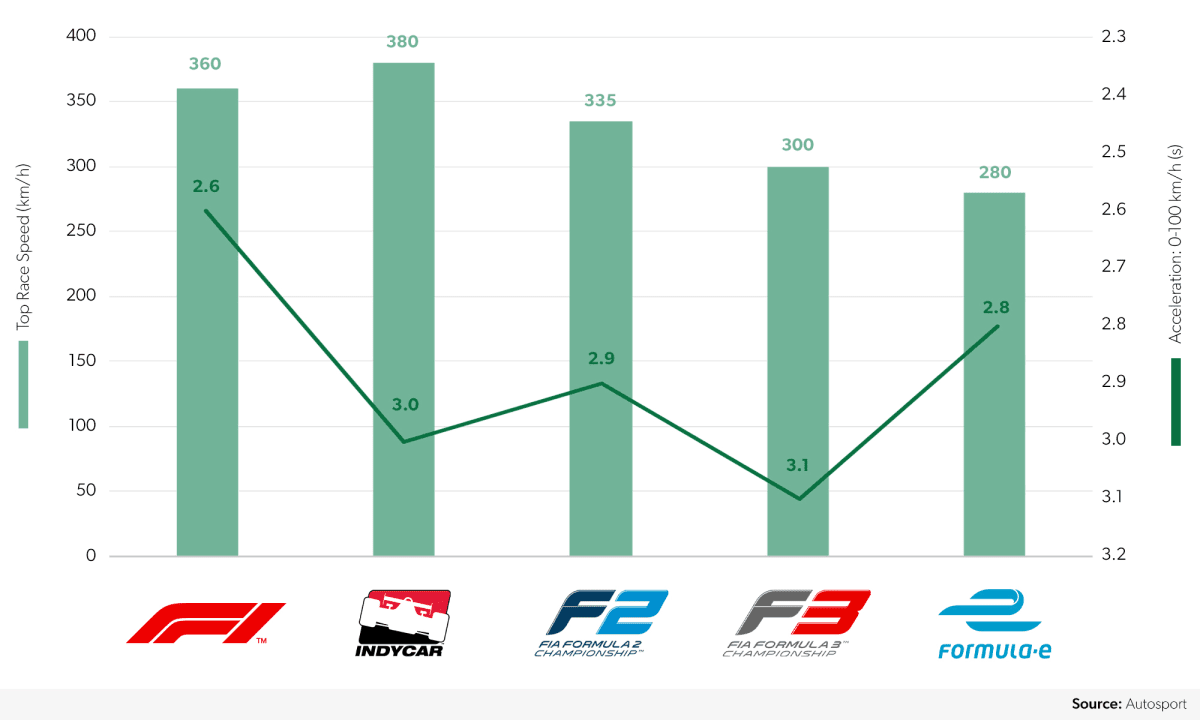 An EV technology showcase
Formula E has attracted several high-profile car manufacturers to the tournament, providing them with an opportunity to test their electric motors and compare performance with their competitors. Formula E allows car manufacturers to develop positive brand associations, particularly their commitment towards electric vehicles and carbon neutrality.
As well as being a positive branding opportunity, Formula E's relatively low operating costs, coupled with high and growing visibility and engagement levels, attract teams to the tournament. Formula E's spending cap of €13m is less than 10% of the F1 cost cap of $140m in 2022; F1 teams Mercedes and Red Bull had previously spent up to $400m per year each. As an example, Jaguar TCR Racing's operating costs for the year to March 2021 were just £11.7m.
In addition to traditional car company owners such as Jaguar, Mercedes and Porsche, automotive companies with a focus on electric vehicles (EV) such as NIO and DS Automobiles use Formula E to demonstrate their capabilities, while energy companies and multinational conglomerates such as Envision and Mahindra respectively also use Formula E to complement their primary business strategies. Andretti Motorsport competes across a wide variety of racing including the IndyCar Series and Extreme E, although naming rights for their Formula E division were sold to the blockchain company Avalanche.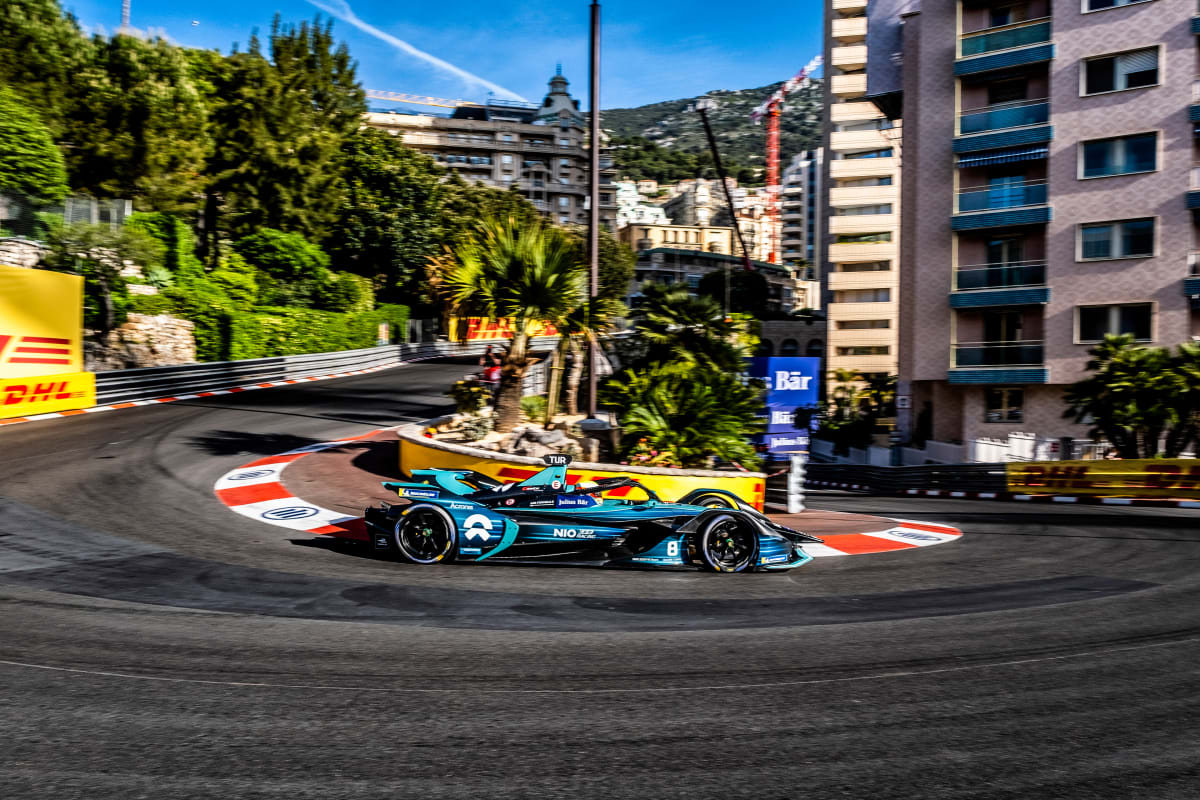 Despite some multinational car companies competing in the race series, Formula E has suffered several high-profile departures from the sport, which has damaged its global reputation somewhat. Audi Sport and BMW left Formula E at the end of 2021 (though both remain powertrain suppliers to Envision Racing and Avalanche Andretti respectively), while the 2022 season will be the last for Mercedes, despite their constructor's championship last year.
More positively, Maserati will return to single seater racing for the first time in 60 years by joining Formula E from the 2023 season onwards and become the first high-profile car company to join the Gen3 era. Formula E remains the racing series to feature the highest number of automakers. 
Formula E contains more automotive companies than any other racing series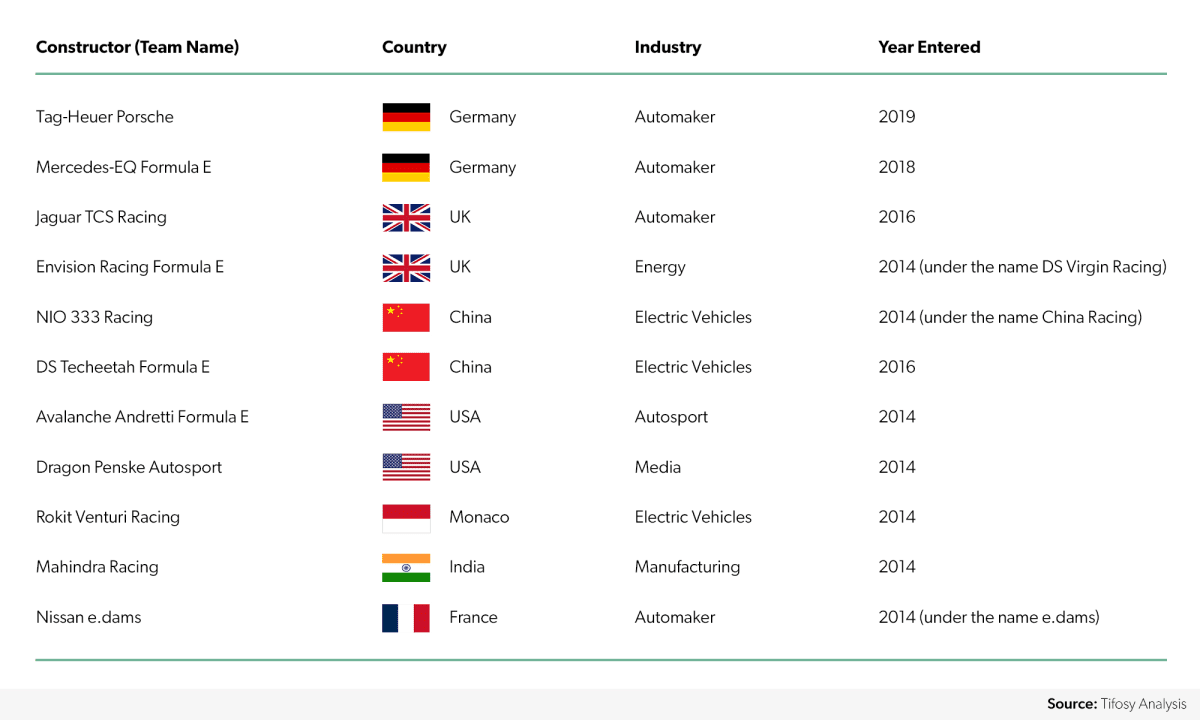 Formula E almost broke even in the 2020 season
Formula E was founded in 2012 by Spanish businessman Alejandro Agag and owned and organised by Formula E Holdings based in Hong Kong and London. Formula E Holdings boast Liberty Global and Discovery Communications Inc as major shareholders, as well as Swiss bank Julius Baer and New-Wave, parent company to Chinese social media platform Weibo.
The series generated losses over its first six years, but the deficit shrank year on year as revenues grew steadily (CAGR: 158%) up to 2019, driven by the addition of races providing increased hosting and licensing fees and attracting more sponsors. The cancellation of seven of the 18 planned races in 2020 led to a fall in revenues of -11.6%, but the operators were able to keep losses for year under €40k before tax by slashing administrative expenses.
Formula E almost broke even in 2020 despite lower revenues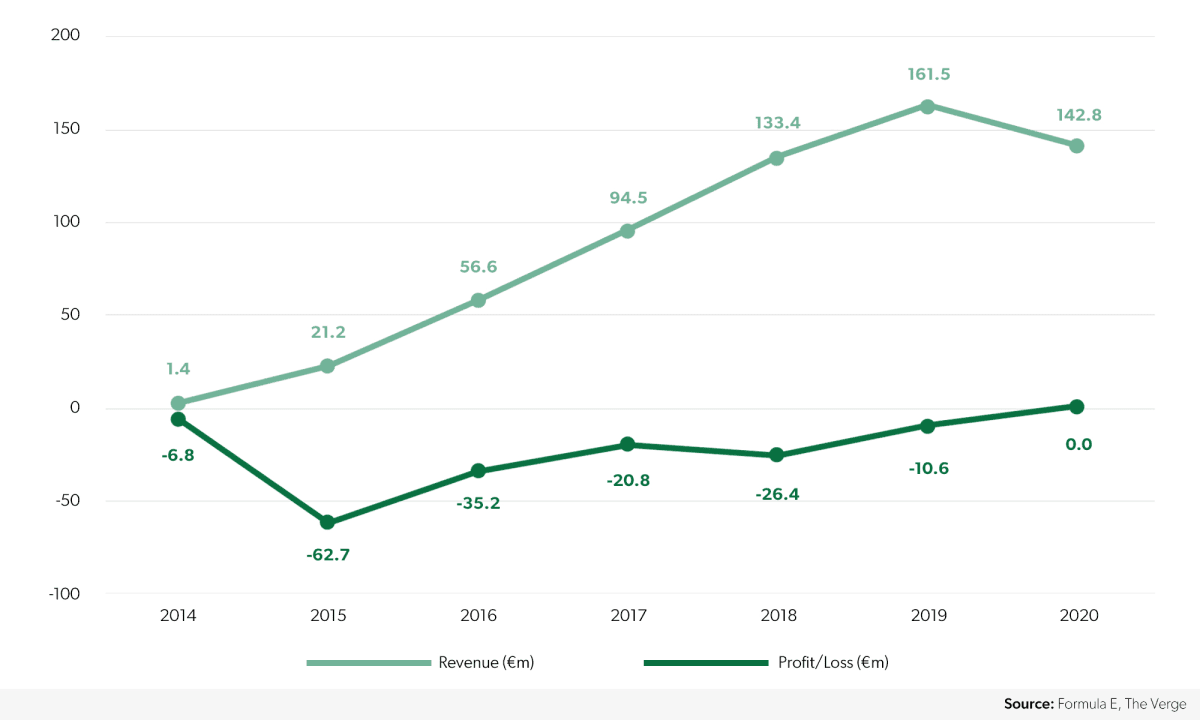 Sponsorship revenues are Formula E's highest source of income over hosting fees, media rights and ticketing. Although they have been increasing, they are perhaps not growing at a rate commensurate to a sport pitching itself as one of the world's fastest-growing. In 2021, SportBusiness estimates the total value of the 15 central sponsorships at $93m (an average of $6.2m per sponsor). While Covid-19 impact played a role in delivering only 2.2% growth over 2020, the more established Formula One and Moto GP achieved 15.4% and 18.9% respectively in the same year. A large proportion of the sport's sponsorship revenue stems from a four-year deal with primary sponsor ABB worth €20m per season. There remains an opportunity for Formula E to expand its roster of sponsors.
Formula E's sponsorship revenue is growing at a slower rate than other racing properties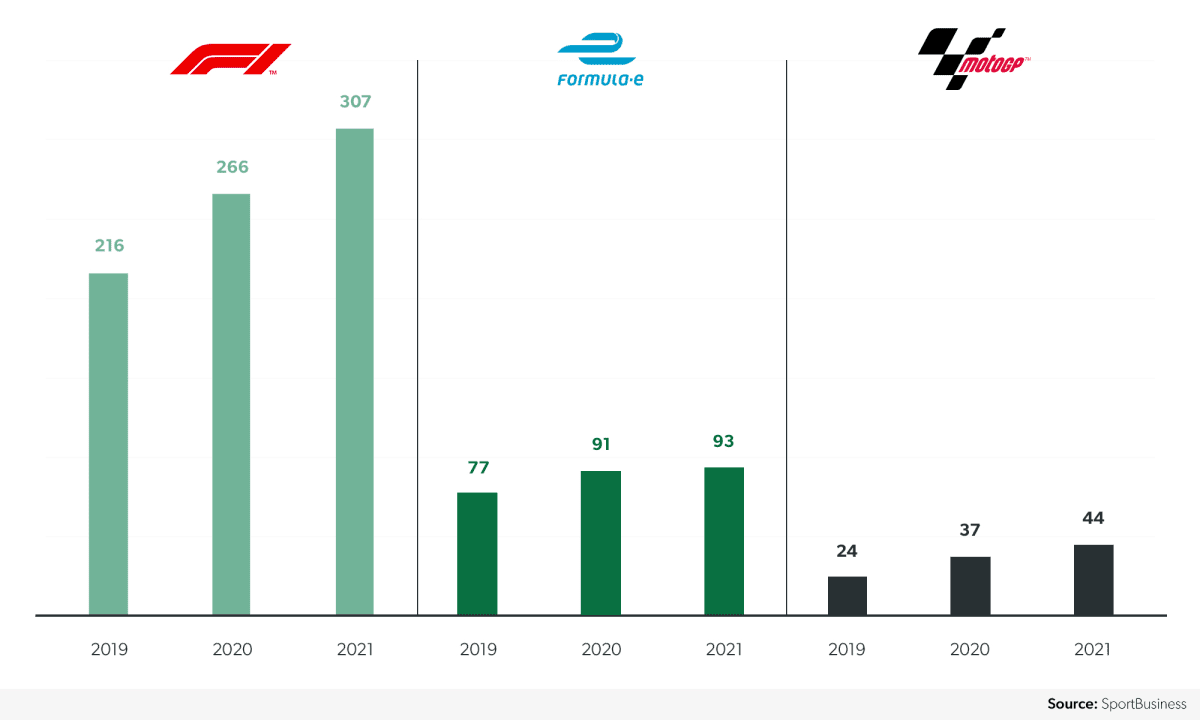 When comparing sponsorship income by industry, Formula E demonstrates itself to be an entirely different asset to Formula One and MotoGP. Although the lack of an oil & gas sponsor is unsurprising, the fact that betting sponsors and cryptocurrencies are not represented perhaps indicates a desire from Formula E to position itself away from the brands considered less suitable for a younger audience. 
Formula E has no betting or cryptocurrency sponsors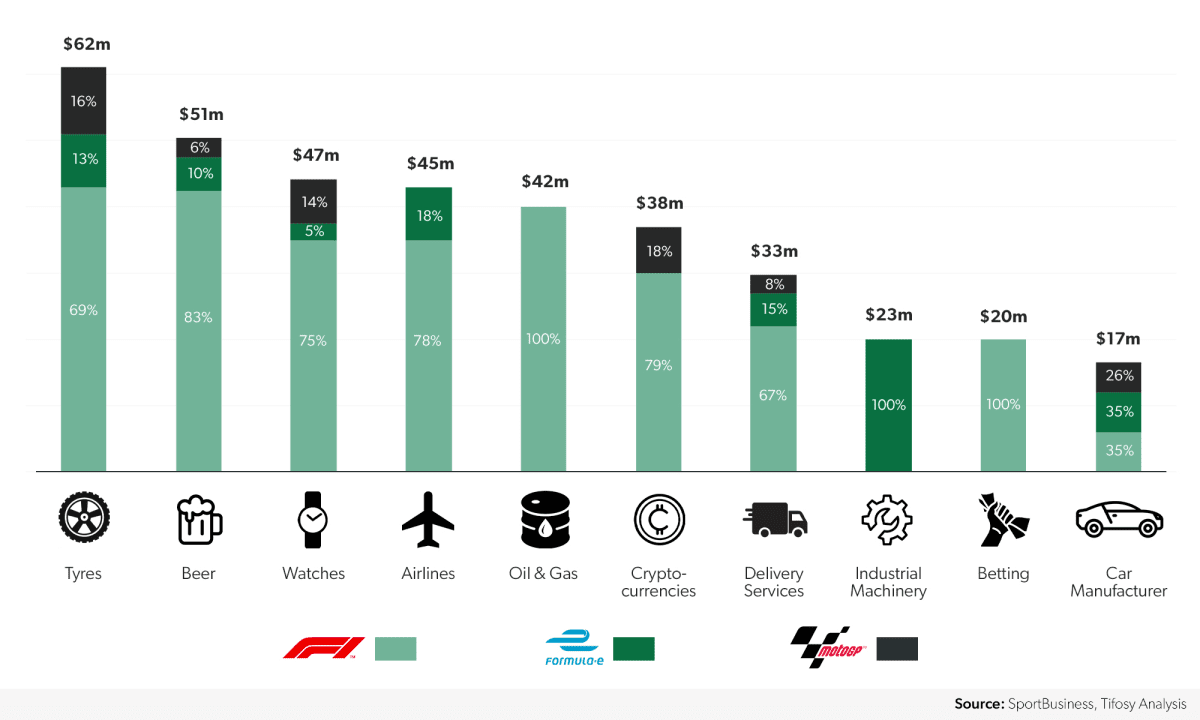 A worrying trend in viewership?
Cumulative audiences had been growing rapidly pre-pandemic, reaching a peak of 411m cumulative viewers in 2019, an average of 31.6m per race. A drop to 239m in 2020 was primarily the result of the shortened race calendar, however a fall of 9.8m in average audience per race to 21.8m will have been of greater concern. Four additional races in 2021 saw overall audience recover to 316m, but average per race fell further to 21.1m, the lowest since the 2017 season.
This is all the more concerning given Formula E's strategy of delivering maximum exposure and growing audiences by offering races through free-to-air broadcasters. This is true of key markets such as France, Germany, Brazil and the UK, where Channel 4 recently secured broadcasting rights, all available without subscription, although some deals with some broadcasters have been on a pay-tv basis. In addition, Formula E offers free OTT streams for practice, qualifying and races over YouTube and their official website for viewers in markets unable to access traditional broadcasts, as well as highlights globally. Furthermore, Formula E's behind-the-scenes docuseries 'Unplugged', a similar feature to Formula One's "Drive to Survive" is released globally on YouTube and Facebook for free, once again, providing accessible content to current and prospective fans.
Formula E broadcasting viewers had grown significantly pre-pandemic