In Denver, Colorado on the 12th of November 1993 in front of a half-full arena, the first official UFC event took place. This was the subdued beginnings of a 29-year rollercoaster ride to the top of the sports industry.
The Ultimate Fighting Championship (UFC) is the largest and most recognised mixed martial arts (MMA) brand in the world, following the Unified Rules of Mixed Martial Arts. Based in the United States, the UFC holds tournaments across twelve weight classes (eight men's divisions and four women's divisions) and has delivered over 500 events in more than 156 cities around the world.
The UFC roster has more than 620 active athletes representing 70 countries, featuring some of the sport's top fighters and consequently producing some of the most famous names in sport in recent years. For a long time, the sport was very U.S. focused, which is reflected in the 74 division champions from the United States, almost four times as many as Brazil in second place with 19. However, an expanded global presence has led to recent increased diversity amongst the competition's champions, with nine of the 12 current belt holders from outside the U.S.
9 of the 12 current UFC champions are from outside the U.S.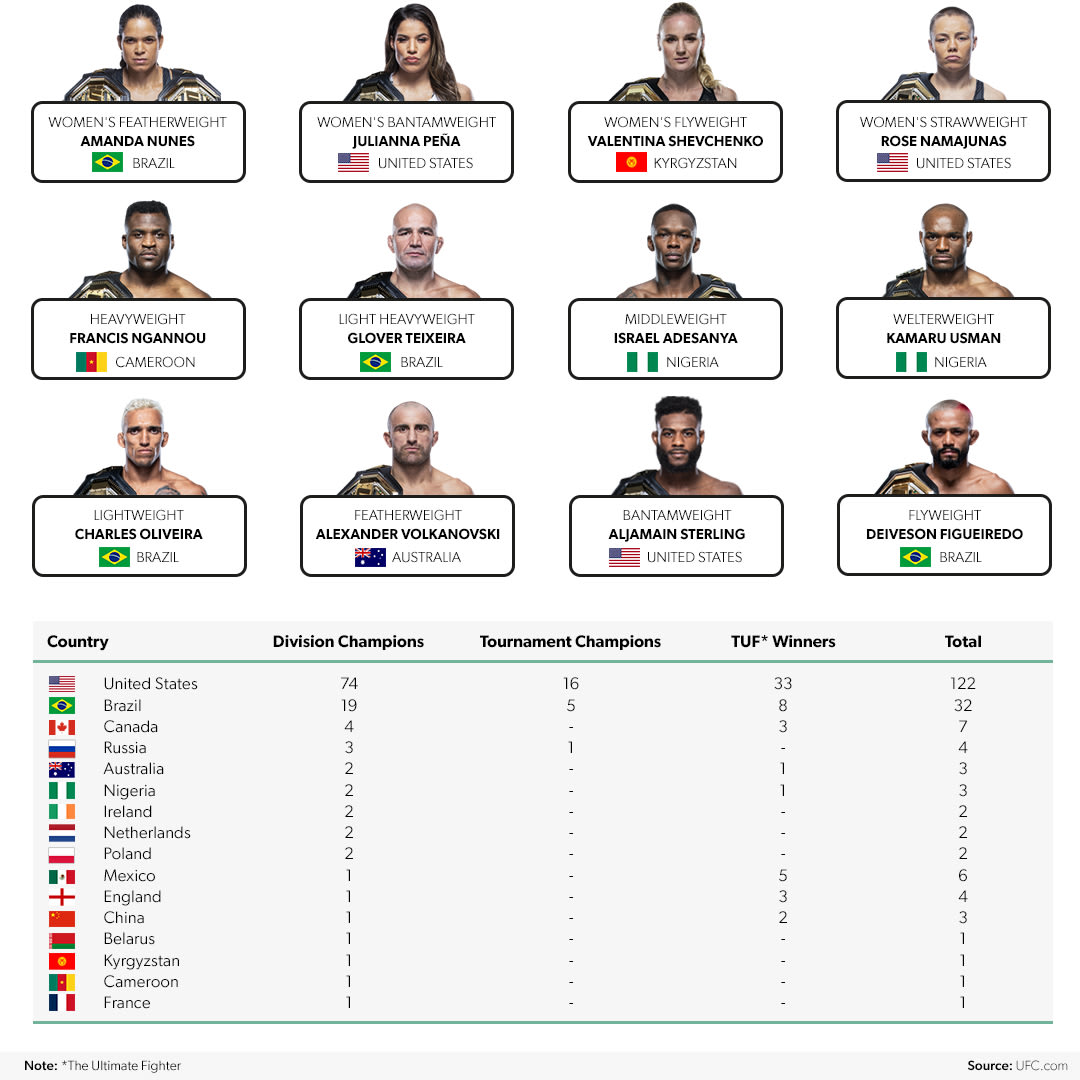 Ownership history of the UFC
In 1996, Senator John McCain led a campaign to ban the UFC due to its violent nature and sent letters to the governors of all 50 US states asking them to prohibit the sport. As a result, 36 states enacted laws that banned "no-holds-barred" fighting, resulting in a major setback for the sport. In an attempt to reverse perceptions, the organisation increased cooperation with state athletic commissions and modified its rules, and the first sanctioned UFC event took place in November 2000. Due to the long battle to secure sanctioning and it's impact on revenues, then UFC owners Semaphore Entertainment Group (SEG) found themselves on the brink of bankruptcy.
Frank and Lorenzo Fertitta, along with their business partner Dana White, approached SEG with an offer to purchase the UFC franchise. The deal was executed in January 2001 for $2m, creating Zuffa, LLC as the controlling entity. The UFC saw increases in popularity and value after the Zuffa purchase under the guidance of Dana White, who was installed as president in 2001 and has been in the role since. Popularity grew due to greater advertising, corporate sponsorship and larger live gates at venues such as the Trump Taj Mahal and the MGM Grand Garden Arena and as a result, the UFC secured its first television deal with Fox Sports in 2002.
However the UFC was still experiencing financial deficits and by 2004, Zuffa had reported losses of $34m since purchase. To combat this, the UFC stepped outside the bounds of pay-per-view and made a foray into traditional television. After being featured in reality television series, American Casino, the Fertitta brothers developed The Ultimate Fighter (TUF), a reality television show featuring up-and-coming MMA fighters in competition for a six-figure UFC contract. In January 2005, Spike TV launched The Ultimate Fighter 1 in a time slot piggybacking the popular WWE Raw, this transformative move is credited by Dana White for saving the UFC. With increased visibility the UFC's pay-per-view buy numbers exploded, rising from a mere 45,000 buys on average per event when Zuffa took over, to pulling in 620,000 buys for UFC 60 in May, 2006.
The UFC continued its transformative rise, and was subsequently acquired by US sports marketing and talent company Endeavor in July 2016 (together with their strategic partners Silver Lake Partners and KKR) for a reported $4.025bn, making history as the largest ever sports asset sale at the time it happened. At the time of the deal, the price paid was roughly seven times gross revenue ($600m in 2015).
Parent company Endeavor Group Holdings Inc, went public with an initial public offering (IPO) in April 2021 at the high end of its target range to raise $511.2 million at a valuation of $10.3bn (21.3 million shares at $24.0 per share). As of the 10th of February, the stock price sits at around $32.0 but peaked at $34.89 on the 31st of December, finishing 2021 more than $10 above list price.
UFC's parent company Endeavor's stock price ($24.00 at launch) peaked at $34.89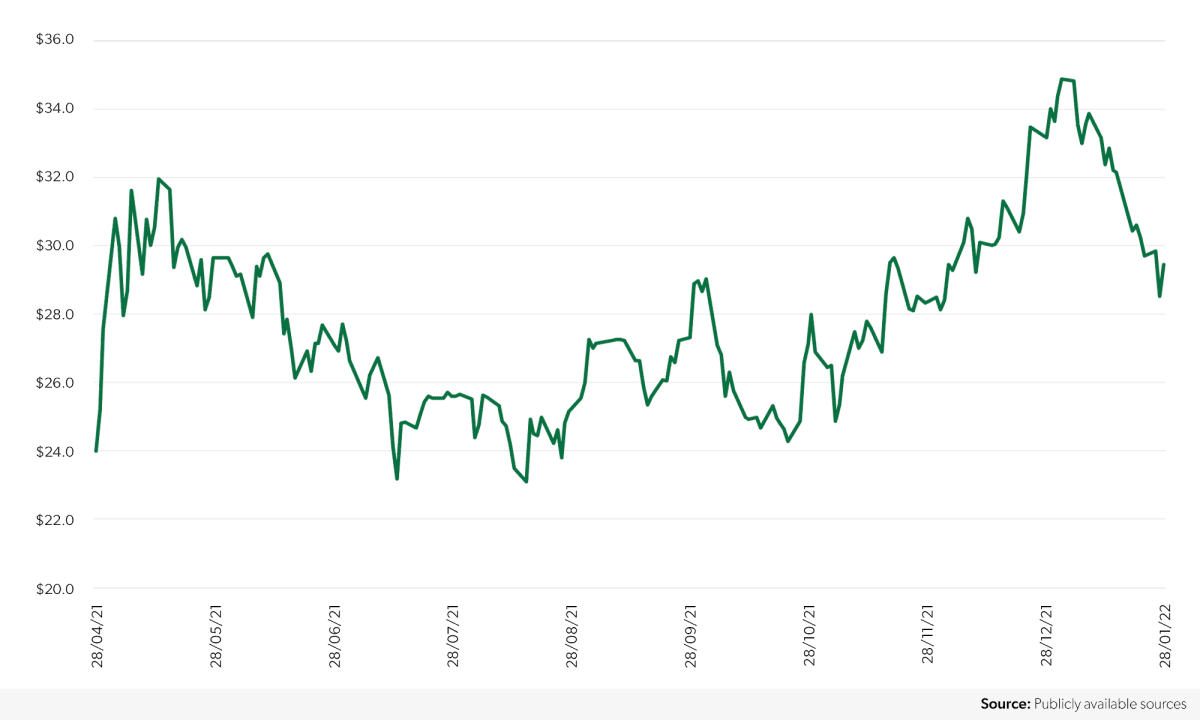 Competiton revenue breakdown
Since Endeavor took charge in 2016, UFC revenues have increased steadily, climbing 35% between 2016 ($690m) and 2021 ($930m), an increase of $240m.
The UFC was one of the first sports to resume a regular schedule of events during the Covid-19 pandemic, hosting 41 events in 2020, only one fewer than 2019 despite five cancellations. This is reflected in their 2020 revenue figure ($890m): although slightly impacted by loss of gate-receipts, the year still exceeded 2019 revenues by $30m.
In 2021, the UFC hosted more events than ever before and recorded record revenues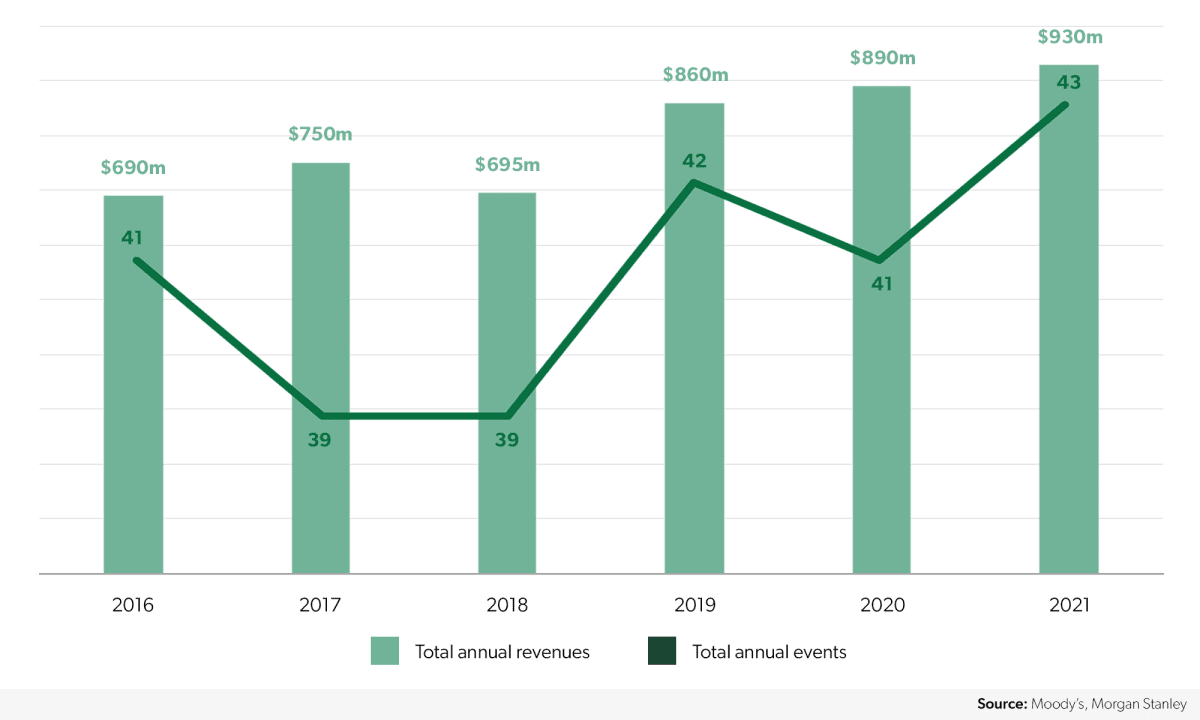 Taking a closer look at the UFC's 2021 revenues, shows live events held domestically ($57m) and internationally ($15m) combined made up only 7.7% of total revenues.
Almost half (48.1%) of the $930m total came from core domestic content rights ($447m), with a further 11.7% from core international content rights ($109m). The domestic content figure is boosted significantly by the five-year ESPN broadcasting deal worth $300m+ annually ($1.5bn in total across the full term) for the UFC, which kicked off in 2018.
Almost half (48.1%) of UFC revenue comes from core domestic content rights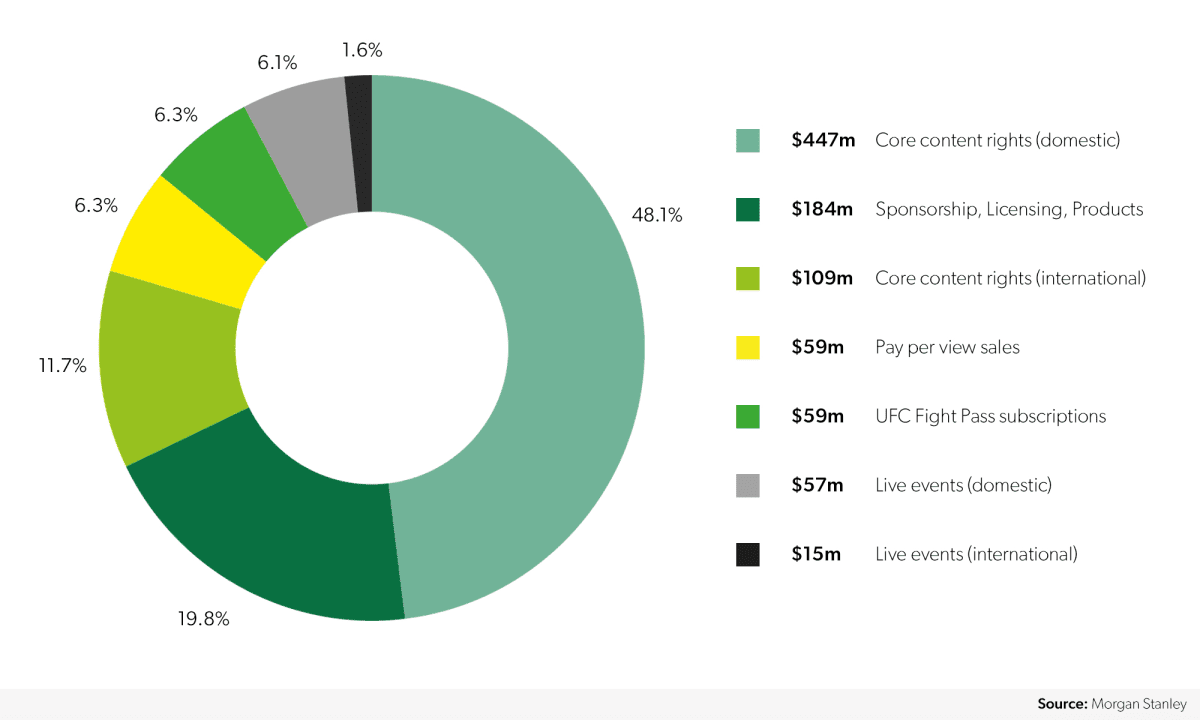 Tapping into global appeal
The UFC has one of the highest concentrations of millennial fans in sport, with 43% of UFC fans between 18-34 years old, boasting one of the youngest fan bases of any competition with a mean age of 40 years old. The UFC estimates its audience to be around 625m global fans, additionally they boast approximately 166m total followers across all UFC social platforms (across their primary and dedicated regional accounts).
The UFC estimates approximately 900m TV households can be reached worldwide, in 40 different languages. Despite this global appeal, the 5-year domestic deal with ESPN worth $300m+ annually ($1.5bn in total) remains by far the largest of all the UFC's broadcasting contracts. This is approximately 10 times the size of the deal with BT Sports, which brings in around $30m for UK coverage of both pay-per-view and normal events.
Additionally, the competition promotes its own UFC Fight Pass subscription, which is available in all countries without a third-party broadcasting deal. The UFC Fight Pass brought in $59m revenues in 2021, with the cost to the user depending on their territory.
More territories are attaining exclusive rights to replace the UFC Fight Pass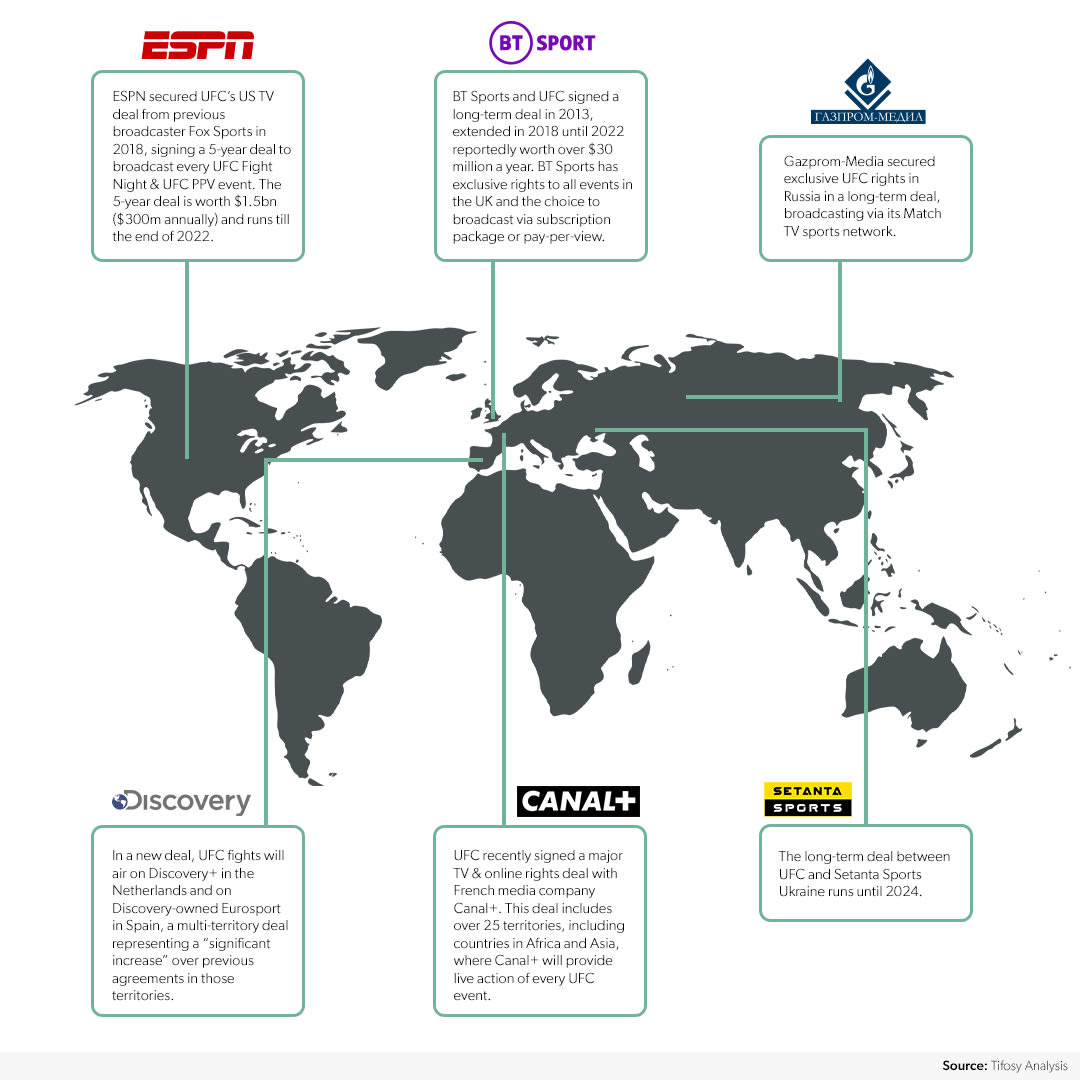 How do the PPV viewing figures compare to other sports?
15 of the top 20 pay-per-view (PPV) buys of all time are in boxing, while the UFC has five, of which four featured the most marketable name in the sport, Conor McGregor.
With a record 2.5m PPV buys, UFC 229 which was headlined by Khabib Nurmagomedov and Conor McGregor on October 6th, 2018, stands as the highest ever UFC event and third in all time PPV buys across all sports.
The only UFC event pre-2015 to make the top 20 was Brock Lesnar v Frank Mir II which took place in July 2009, at the Mandalay Bay Events Center in Las Vegas, pulling in 1.6m PPV buys, a UFC record which stood for seven years until August 20, 2016 (Nate Diaz vs. Connor McGregor II).
5 of the top 20 PPV buys of all time are UFC promotions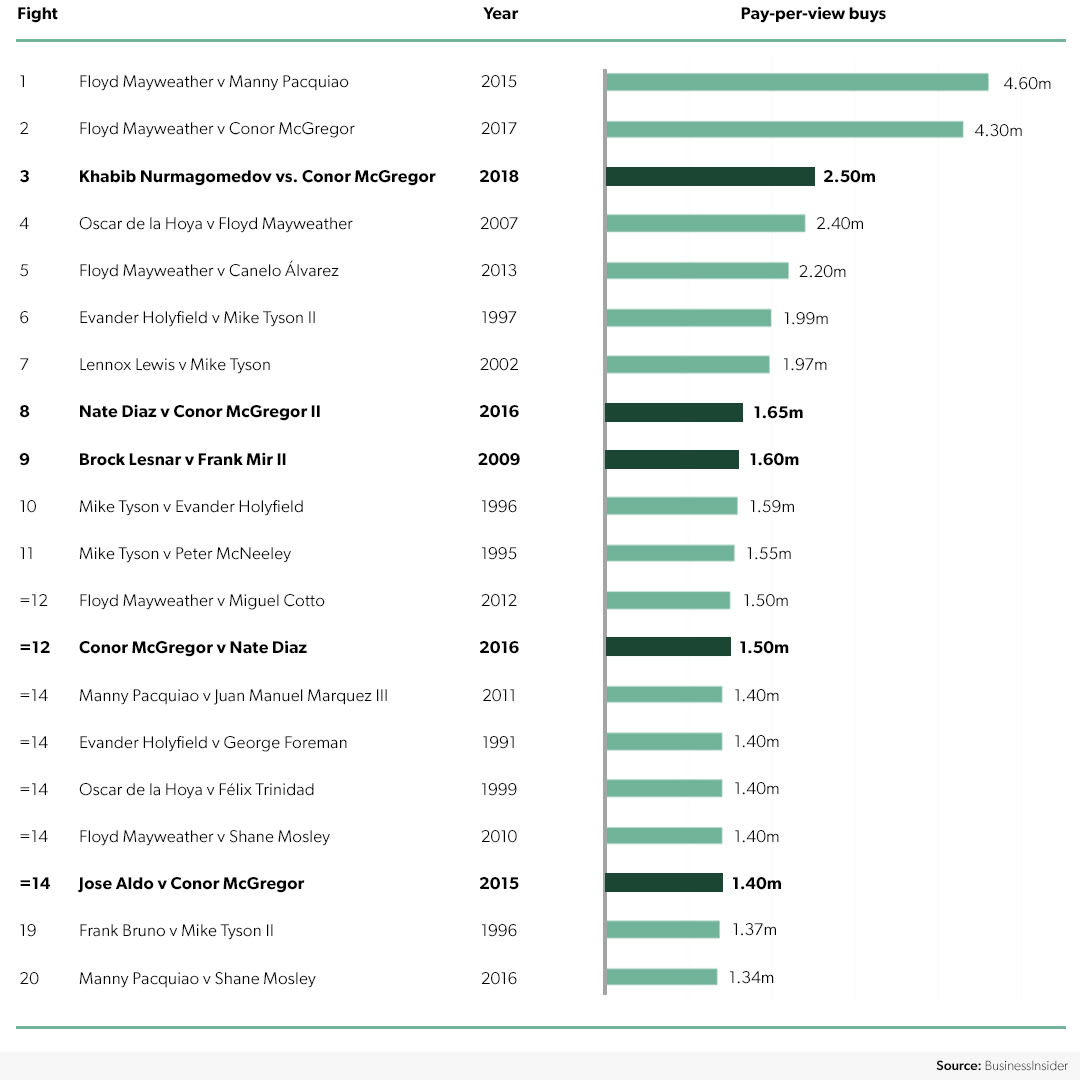 The promotion had six consecutive PPV event sellouts from April through September has been busy building out consumer products and commercial deals. In March 2021, the UFC inked a five-year $350 million deal to make DraftKings its official sportsbook, followed up in July with a 10-year $175 million kit deal with the Crypto.com. This was followed by the launch of NFT project UFC Strike alongside Crypto.com, insuring a long term partnership between the two. The UFC continues to adapt and grow in spite of the pandemics impact on most sports, 2021 was their strongest year to date, will we see them exceed this in 2022?