The transition to online sports consumption has pushed illegal streaming further into the path of the mainstream sports fan.
Access is a key factor in driving users to stream sports illegally. When no legitimate providers in a country have rights for an event, consumers feel they have no legal viewing alternative. While many sports leagues provide access to watch all matches, some do not – perhaps most notably the Premier League whose domestic contracts currently allow for the broadcast of only 200 games per season (increased to 220 for 2020/21).
Dedicated sports fans are consistently more likely to view content illegally than lighter followers, mostly to access games not included in Pay TV packages. Other drivers include limited or restricted streaming options for use on mobile or tablet devices, as well as a desire to sidestep contracts and hassle of installation.
Finally, cost is also key in determining why users choose illegal alternatives. Lighter users may not value a particular sport or event sufficiently to commit to a full legal subscription, while lower-income consumers may seek cheaper alternatives, particularly for a secondary service for sports not covered by their main TV package.
How big is the illegal sports streaming market?
Research from Synamedia found that 51% of dedicated sports fans watch illegal sports streaming services at least once a month, while only 16% say they never watch via illegal sources. Nearly a third (31%) of those who watch content illegally regularly claim they do so because the event they watch isn't shown locally.
The survey of 6,000 sports fans found that 74% would use a legal service if a legitimate alternative were available and illegal streams became unreliable. Over a quarter of those using illegal sites and services (29%) have paid for access, with 52% of those most likely to switch to legal platforms pay for illegal streaming services already.
Illegally streaming Premier League matches made up 4% of streaming use in 2020 (UK)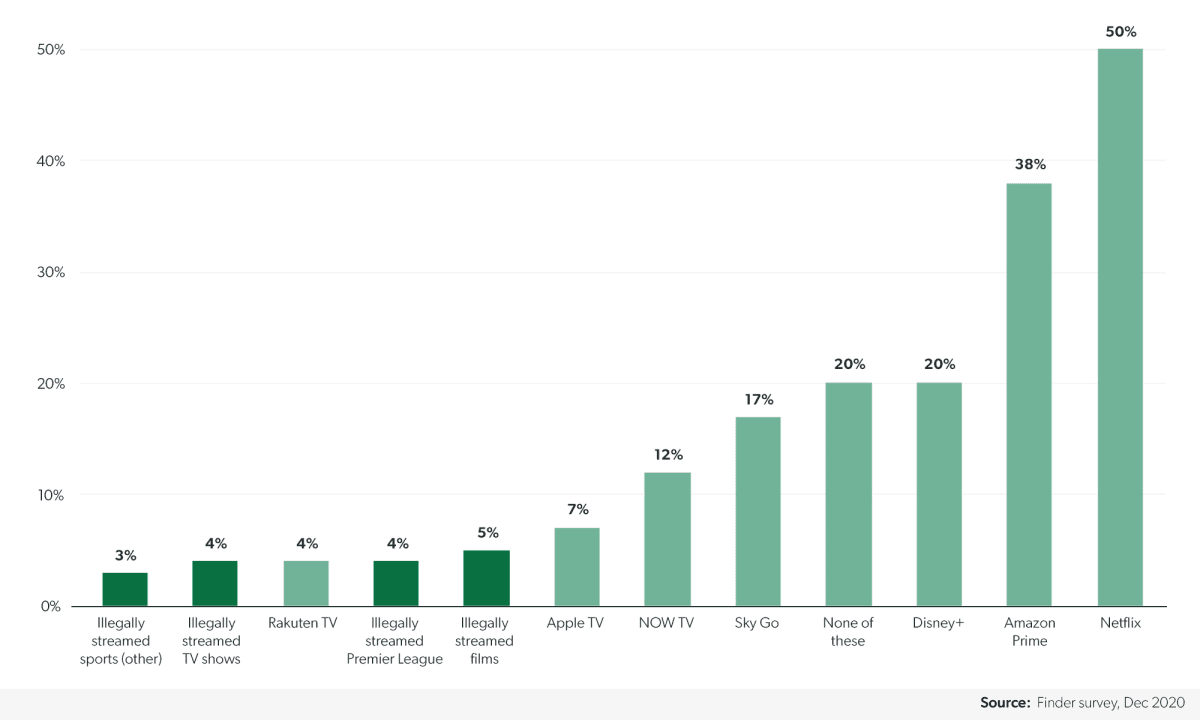 According to a survey from Finder, at least 5.8 million Brits watched content illegally in 2020, of which almost 2 million people admitted to using an illegal stream to watch a Premier League match.
Findings from the Intellectual Property Office (IPO) show that 15% of overall consumers have engaged with live sports (i.e. either by streaming or sharing) in the three months to December 2021, which is almost twice the figure for the same period in 2020 (8%). However, the overall level of infringement (i.e. anyone who had used an illegal source for live sport in the past three months) actually decreased, from 37% in 2020 to 29% in 2021, though this does remain above the average infringement levels of other content types (25%).
Only 70% of live sport consumers do so in a completely legal manner
Football is by far the most illegally accessed sport, accounting for 27.4% of illegal downloads and views in sports. Other notable sports include basketball (just behind football at 25.5%), mixed sporting events such as athletics championships (13.0%), tennis (10.5%) and motor sports (8.5%).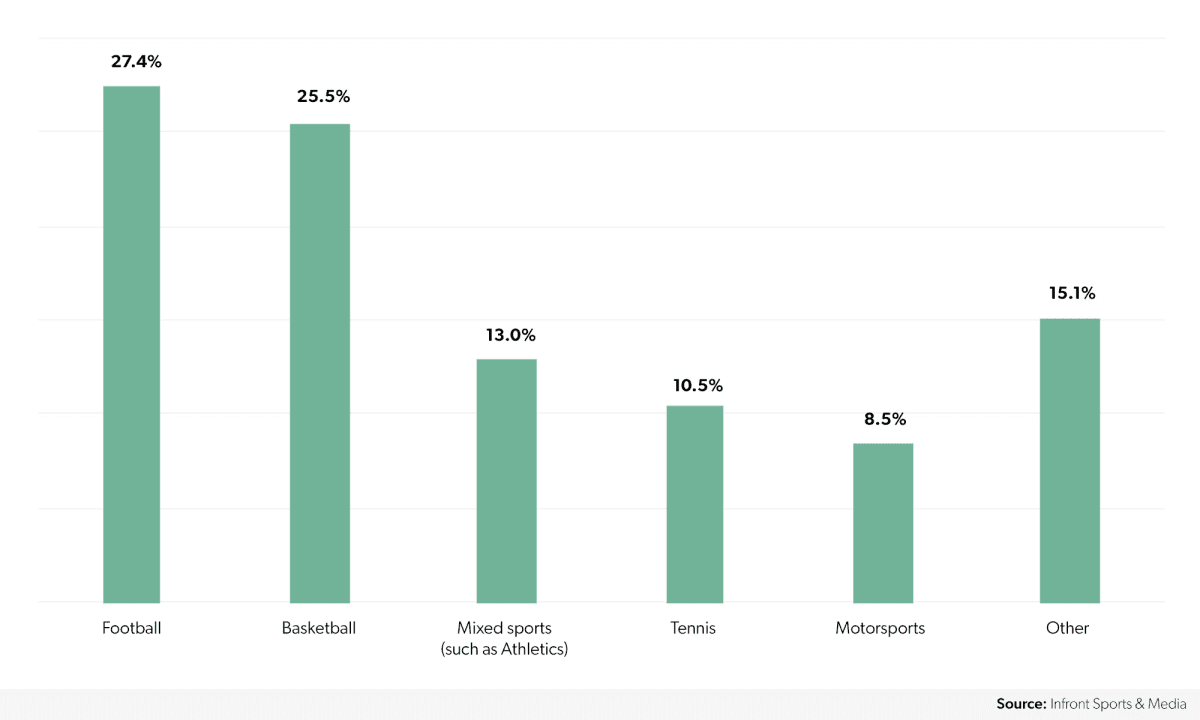 Last season, the Premier League blocked more than 200,000 pirate broadcasts with the financial damage estimated to cost the market around £1 million in revenue per game.
What are the risks to users?
The negative implications of illegal streaming does not sit just with the broadcasters or sports clubs, but also with users themselves. According to Crimestoppers data, approximately 3.4 million illegal streamers across all markets are infected with computer viruses per year, while 1.5 million had personal details harvested, 1.3 million were hacked and 0.9 million had money stolen online. According to research commissioned by the Federation Against Copyright Theft (FACT), nearly half of all respondents said they would be willing to share their personal email address in order to gain access to an illicit stream.
Cybersecurity firm Webroot recently found that 92% of illegal streaming sites over a single weekend were promoting a range of Bitcoin and mobile app scams, as well as containing malware threats. Some recorded examples crimes carried out by hosts of illicit streams include using a viewer's device to mine cryptocurrency, stealing personal information leading to fraud and hijacking webcams by tricking users into downloading fake video players.
As well as to being targeted by the host sites of illegal streams, users can also be targeted by the providing organisations in conjunction with law enforcement officials for breaching piracy laws. A recent court judgement highlighted that consumers risk criminal prosecution by using a modified box or stick, unauthorised website, app, add-on or other illegal source devices to illegally stream content.
What is being done to combat illegal streaming?
Leagues and broadcasters are trying to strengthen their response to illegal streaming. In May 2021, European Parliament urged Member States to enable legal measures to support crackdown efforts. European legislators adopted a proposal to combat online piracy of live sporting events that includes the option to block illegal broadcasts within 30 minutes. MEPs said the new rules should not target consumers, who are often not aware that the content they are watching is illegal, but insure the issue is confronted at source.
Additionally, they called on the European Commission to amend the legislation on intellectual property rights in regard to live sporting events, which are not protected by the bloc's copyright rules.
This has resonated at league level, with a recent ruling through the Spanish courts granting La Liga and Movistar+ authorisation to request directly to major internet providers that they block domains that are streaming illegal sports content. They requested judicial authorisation to obtain an "agile and immediate tool" to fight against piracy of exclusive sporting events, in line with what was approved by the European Parliament. With league and club revenues under renewed pressure it seems likely that further developments will come.