The women's transfer market is a fraction of the size of the equivalent in the men's game. But it is growing – and will continue to grow as the popularity of the sport (and the creation of star players) continues to increase.
Unfortunately, many women's league competitions had to be called off entirely as the first wave of the pandemic gripped the world, unable to fund the continuation of competitions with additional safety measures. The 2020/21 season kicked off as usual for the major leagues, however, with new players installed at many clubs.
For the last three years FIFA has been including data on the women's game in its annual report on the global transfer market, so the latest edition – covering 2020 – is the first in which we can start to read some trends and patterns in the data. The major findings in the report are distilled here.
Women's international transfers rose in 2020 despite COVID disruption
Spending on international transfers increased in 2020 by ca. 70% to $1.2m (vs. $700k in 2019), at a time when men's football saw a decline in spending for the first time eight years. Meanwhile the number of transfers rose by 23% to 1,035, a less significant increase, as the average fee per transfer also increased by ca. 40% with the growth of engagement in the sport and consequent impact on player profile and value.
There is no doubt that Covid-19 will have had an impact on these numbers – not least because women's leagues were not protected from stoppage in the same way as the elite men's game was – and it is not unreasonable to suggest that increases in number of contracts and transfer spending would have been significantly larger if 2020 had been a "normal" year.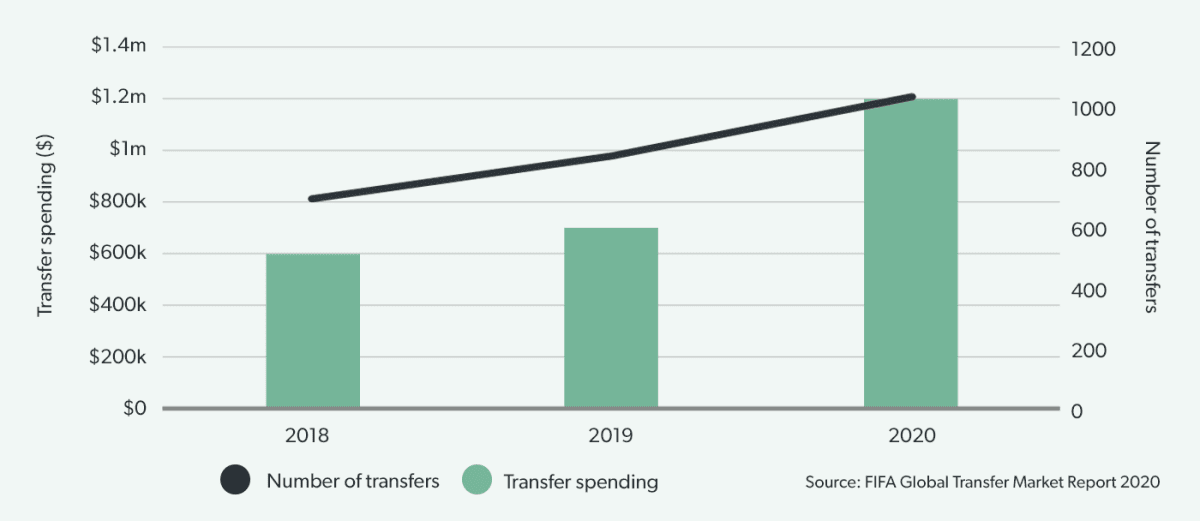 The female player transfer market was less disrupted than its male equivalent
The seasonal picture in the women's international transfer market was not as dramatically disrupted by the COVID-19 pandemic as it was in the men's game. Nevertheless, transfer windows were somewhat delayed and extended, meaning that the traditional July peak spilled over mainly into August and September; the three months from August saw 427 transfers, up 82% vs. the same period in 2019.
January 2020 saw international transfers up 85% on the previous year, suggesting that stronger growth might have taken place were it not for the disruption and financial challenges to global women's football.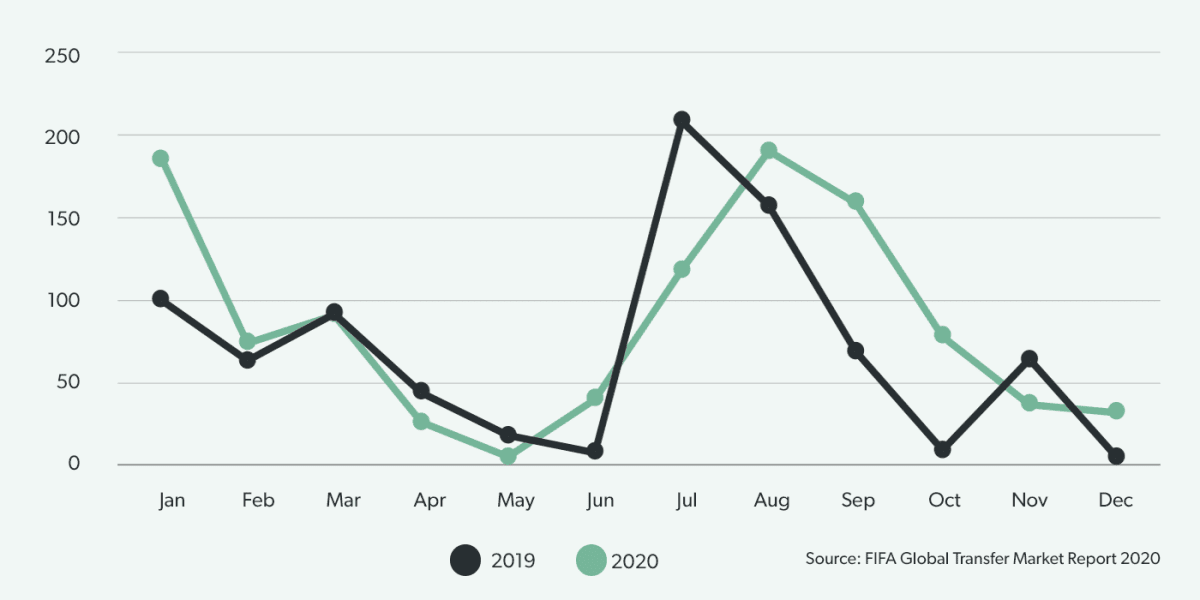 Out of contract transfers dominate women's football
In women's football, 87.6% of international transfers involved players who were already out of contract when signed by their new club; this compares with a lower figure of 62.5% in men's football. Permanent transfers from one club to another accounted for only 3.9% of deals (vs. 11.6% for the men), while players moving out on or back from loans made up 8.5% vs. 25.9% in men's professional football.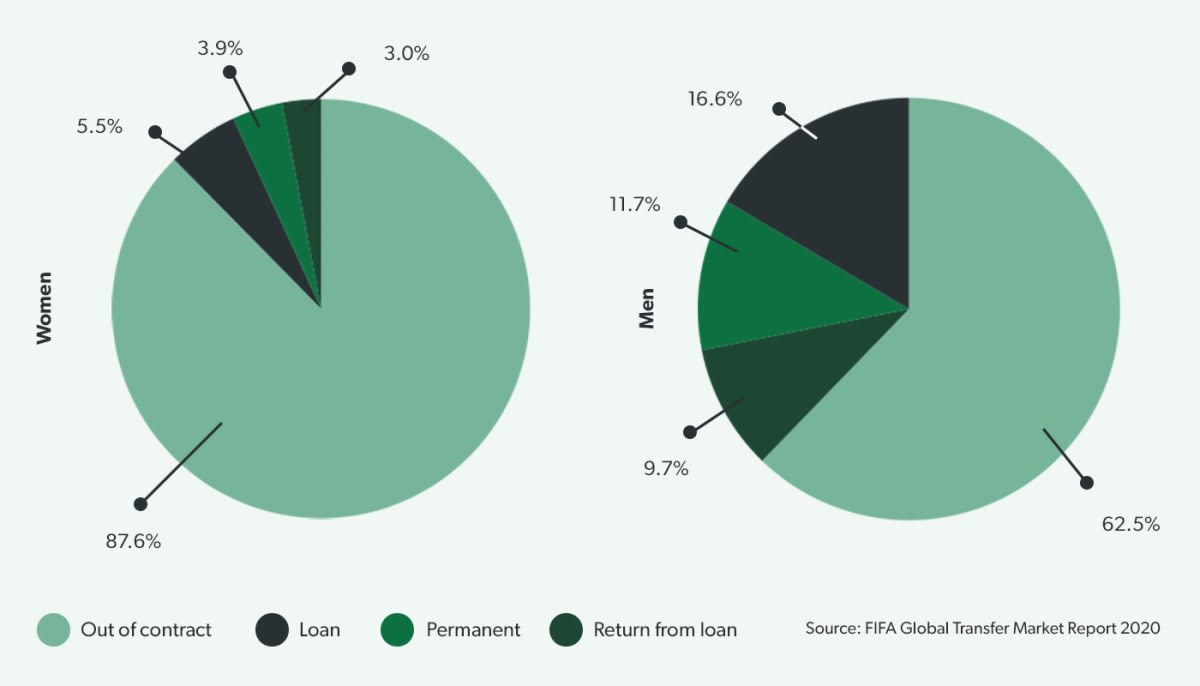 Players aged 18-29 account for 89% of transfers and over 90% of spend
Within permanent international transfers, unsurprisingly it was players in the peak years of their career who accounted for the highest number of moves and the majority of spend. Indeed, only 3 international transfers took place for under 18s and only 8 for over 35s, and none of these moves involved a fee. In the men's game, 231 under 18s moved in 2020 for a combined spend of $108.5m, or $458k per player. The average fee paid for a female player in an international transfer was around $11k in 2020, compared to $381k in the men's game.
Only 3 international transfers took place for under 18s and only 8 for over 35s, and none of these moves involved a fee. In the men's game, 231 under 18s moved for a combined spend of $108.5m, or $458k per player.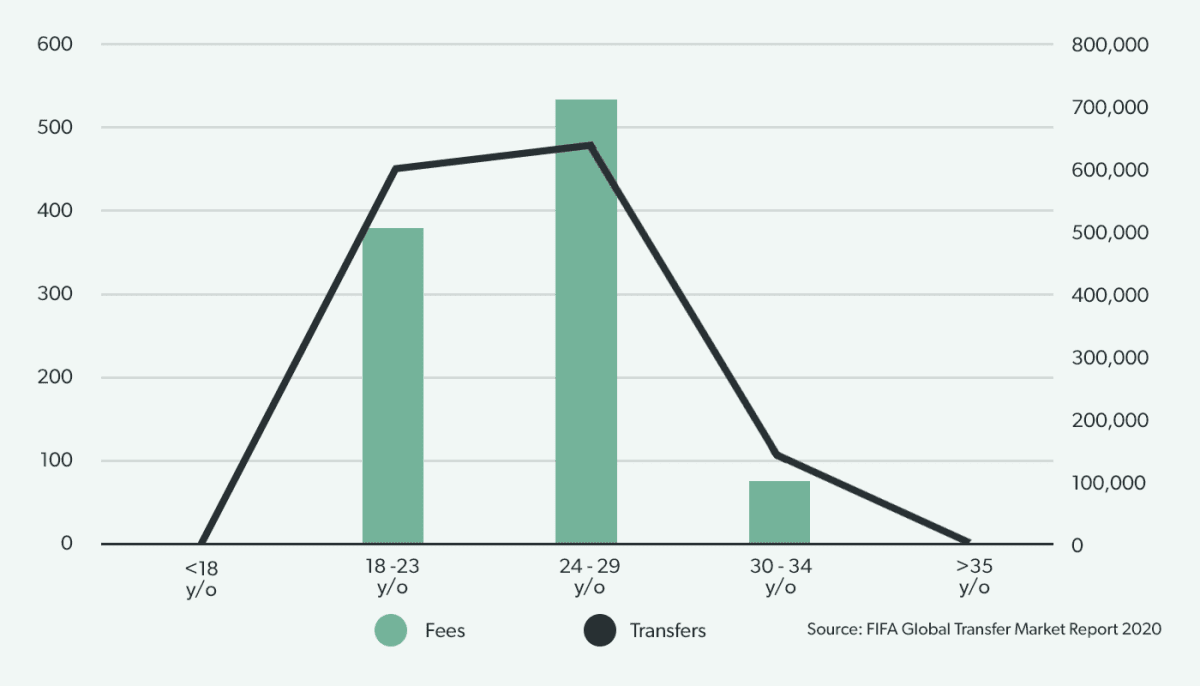 More than 70% of women's international contracts are for 12 months or less
Most international transfers for (70.5%) professional female players were made on the basis of contracts with a duration of 12 months or shorter. Contracts of between one and two years are awarded to 23% of players moving country, with only 6.3% make a move for a term of two years or more (of which 0.5% are three years or more).
The shape of this curve is different to that in the men's international transfer market, where fewer players (53.6%) are offered contracts under a year in length, and 25.8% of moves involve a contract of two years or more.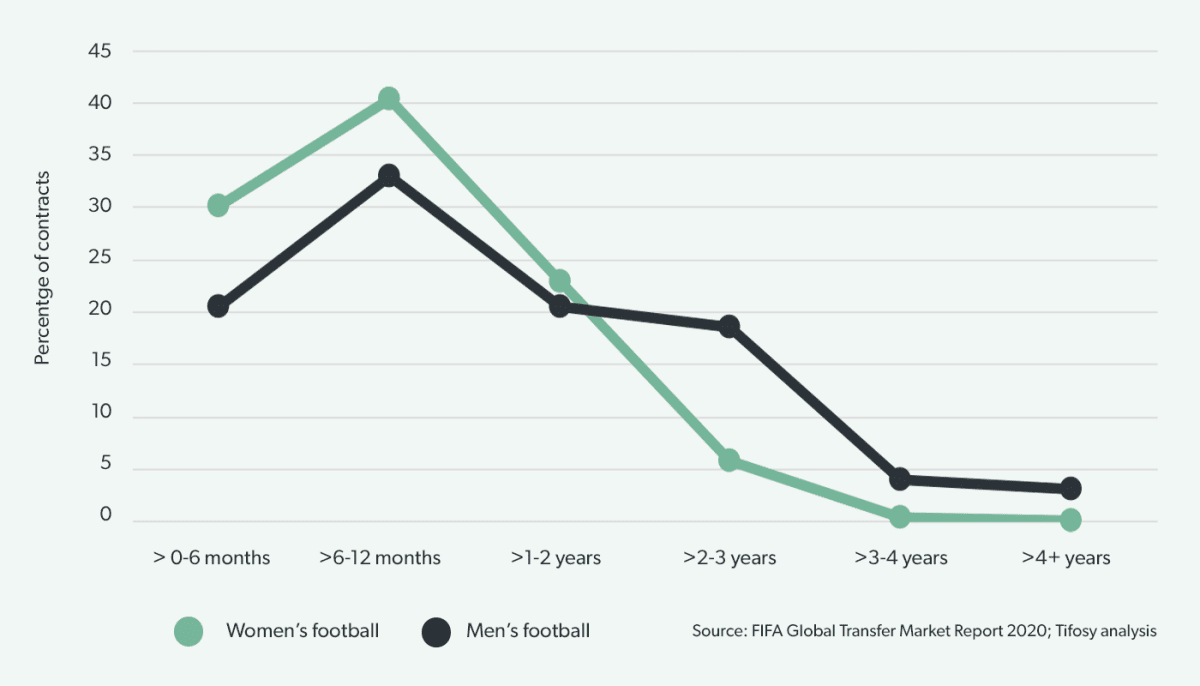 American women players make up 20% of transfers
In 2020, players from the United States accounted for 20% of all transfers globally, almost three times as many as Brazilians in second place. This contrasts with the men's game where Brazil is the overwhelming powerhouse of player development and the USA does not feature on top-10 lists, and is a testament to American investment into development of female talent at younger ages, and the showcasing of that talent at the World Cup in 2019: transfers of American players increasing by more than 30% since the that competition took place.
Meanwhile, the other nations rounding out the top five are Australians (in decline), British (in decline) and Canadians (in slight growth), all of these nationalities a long way distant to the USA.