As public life ground to a standstill following the imposition of Covid-19 lockdowns, customer acquisition accelerated for digital media services, especially in paid streaming video, music, and gaming subscriptions.
People have had more time to watch, listen, and play games, and they are adding new services to get new content. Social viewing, livestreaming, and first-run movies that release directly to digital services have all shown strong engagement during lockdowns. But it is also true that many of these trends were already established and have only been accelerated by the pandemic. Digital viewing had already put down firm roots.
In sports, broadcasters are required to bid for a limited number of premium multi-year match packages made available in fixed cycles. These restrictions coupled with high fixed costs have contributed to the gradual entry of major digital players into the sports arena, but the infiltration may accelerate as the growth driven by lockdown measures has strengthened and solidified the position of many leading providers. Meanwhile the recent collapse of the Premier League's £500m contract with China's PPTV (the fallout from which continues through the courts) and the four-season €3.25bn deal between Ligue 1 and Spanish communications group MediaPro hint at a potential changing of the guard from previously dominant linear broadcasters.
Over-the-top or OTT media services (streaming services offered directly to viewers via the internet, bypassing cable, broadcast, and satellite television platforms) have given viewers the power to watch sports at any time, on any device, on the go or at home. With traditional television viewership for major sporting events falling but overall viewership steadily increasing, OTT is emerging as a core driver of league revenues. The advent of direct-to-consumer services has been perhaps the most transformative shift in sports broadcasting in recent times.
Digital taking a larger share of a growing sports viewing market
Digital services have been disrupting consumption patterns across media and entertainment for some time. According to Deloitte, US households have an average of seven digital devices with screens—smartphones, tablets, smart TVs, and laptops, and can pick services from an increasingly crowded marketplace. Pre–COVID-19, the average US consumer had 12 paid media and entertainment subscriptions (across video, music, gaming, audiobooks and news/magazines), with streaming video services such as those provided by Netflix, HBO and Amazon accounting for the largest share.
The number of people viewing live sports in the US grew by a modest 700,000 between 2018 and 2020, but more rapid growth is anticipated in coming years, with the addition of 5.1m projected over the three years to 2023 (1.1% CAGR), taking sports viewership to 159.2 million, just shy of half the US population. Meanwhile, digital live sports viewers almost doubled from 18.6m to 36.5m between 2018 and 2020 and are projected to grow 32% to 48.2m by 2023 (9.7% CAGR). This would mean digital viewers grow from 12% to 30% of overall sports viewers across five years.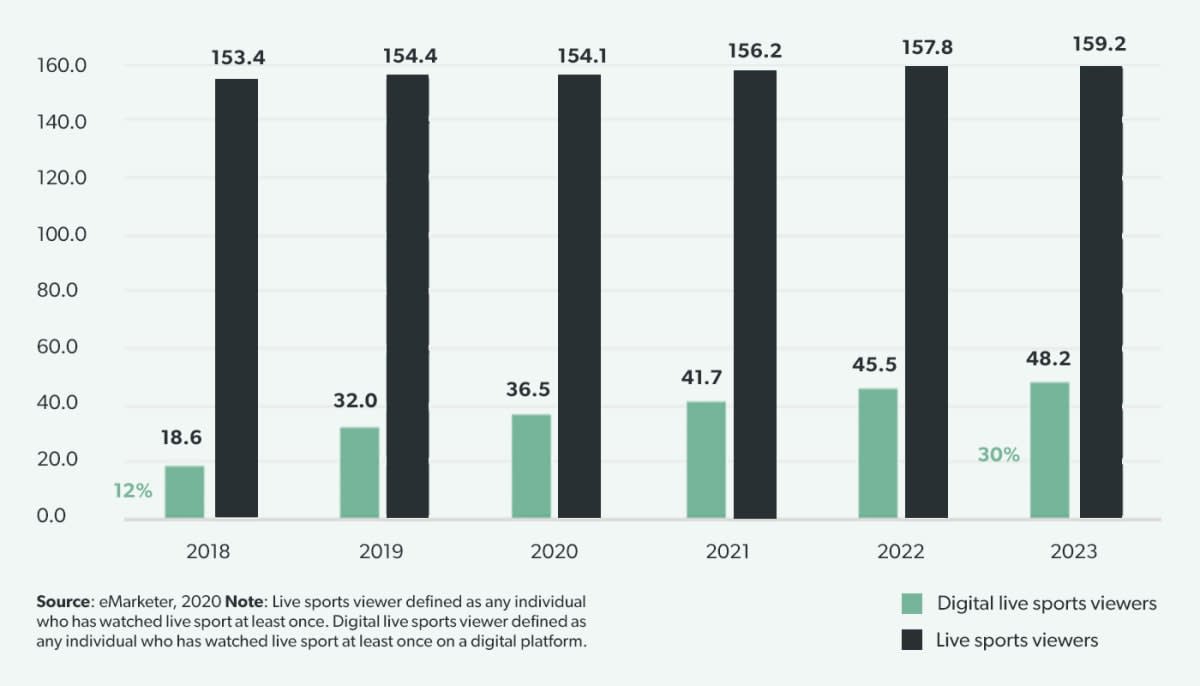 Pay TV, sports-exclusive, clubs and leagues: more opportunities with OTT
The challenge to traditional broadcasters from OTT is a complex one. They now face competition with a variety of new providers for exclusive match rights, from Pay TV services to sports-exclusive OTT services such as Eleven and DAZN. In the European Big 5 2019/20 football season, Amazon Prime (Premier League) and DAZN (Bundesliga and Serie A) broadcast 10.6% of games in the Big 5 on a strictly digital basis. The nature of sports viewing is evolving, as more consumers interact with sports content via tablets or smartphones, watching streaming events or engaging with social media, blogs and other digital channels. A study in the US reported that 50% of sports fans watch supplemental sports programming (i.e. beyond the sporting contest itself), with 60% (mostly millennials) reporting that this is very important to them. The explosion of valuable content around the live action has opened up a vast competitive arena, into which a proliferation of offerings have entered over the past decade.
Rights-holders are perhaps in an enviable position in this regard. Provided contracts are designed effectively, clubs can develop enough hours of proprietary content featuring the highest-prized assets – the players and coaches – to keep even the most avid supporter glued to their screens. Their business model is also different, and well served by the trend: while OTT services are largely monetised through a paid subscription model, the bigger win is arguably the engagement and loyalty built through unique and exclusive content, creating legions of lifelong fans all too willing to build the club's matchday and commercial revenues for years to come. Leagues are getting in on the action too, creating an interesting tension over asset ownership between them and their member clubs.
Provided contracts are designed effectively, clubs can develop enough hours of proprietary content featuring the highest-prized assets – the players and coaches – to keep even the most avid supporter glued to their screens.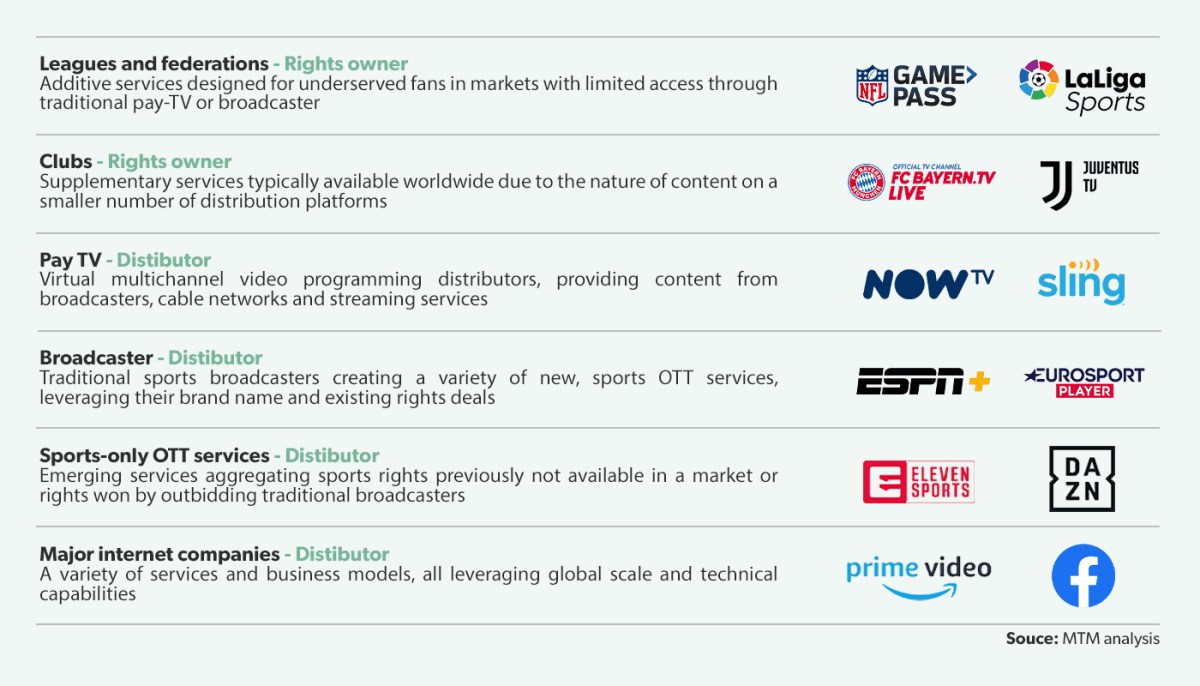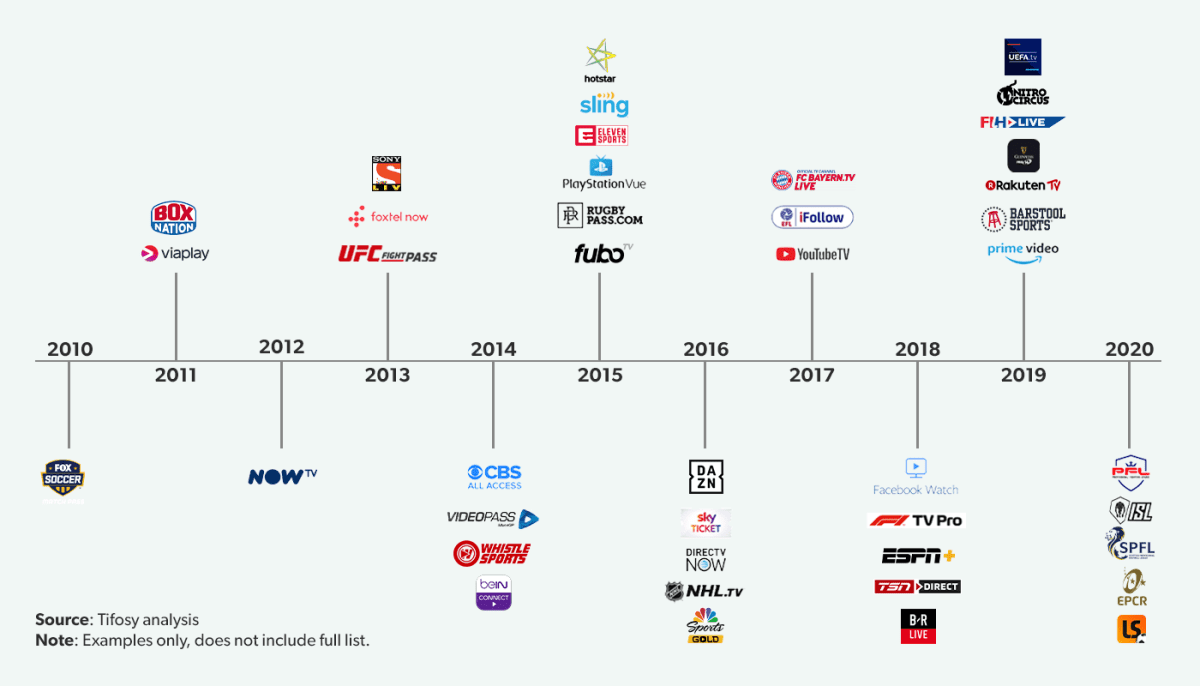 Leagues and clubs getting in on the action
Nearly a quarter of the world's 100 most prominent leagues and federations now have OTT subscription services, with almost half of these having launched over the past two years. Among the top 10, seven have a paid-for OTT offering; UEFA's service is currently free, the Bundesliga has announced a launch in 2021 and the Premier League has indicated that a service is in the works. Pricing varies according to content offered (e.g. whether live matches are included and for how many teams) and domestic availability, with the most premium pricing for the typical package adopted by the NBA at $129.99 for one team's games (an extra $100 buys all games), followed by NFL and NHL at $99.99 and $84.99 respectively (the latter for one team, upgradable to all-access for $15), then Serie A (only available overseas) and MLB at $49.99 (the latter for one team, all access for $5). F1, the MLB and La Liga charge between $18 and $27 for their services. Regional blackouts are imposed to avoid conflict with existing broadcasting deals. For many leagues there is a difficult balance to be struck, between the revenues they can achieve through selling exclusive match rights to third-party broadcasters and building their own premium subscription service to sell direct to viewers.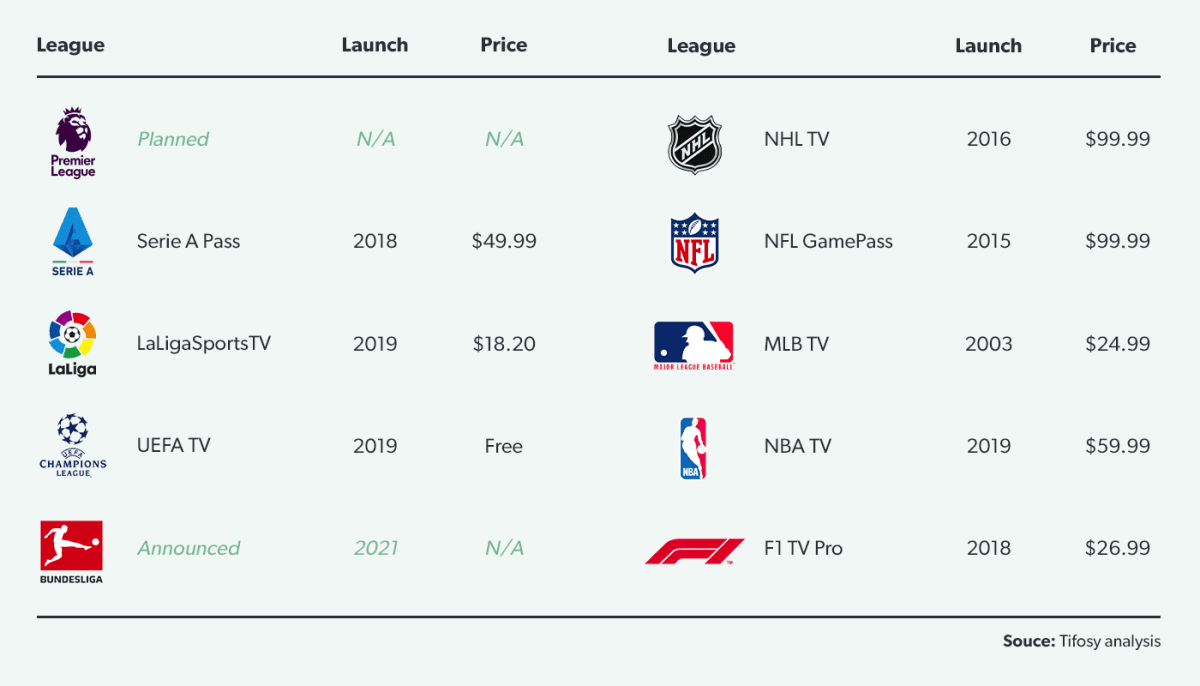 Turning to the Big 5 in Europe, an increasing number of clubs are activating subscription-based digital platforms, with 39% of clubs now offering an OTT subscription service at the time of writing. This rises to 100% in the Premier League, Europe's wealthiest and most followed football competition, with only two clubs (Tottenham and West Ham) not currently charging a fee to subscribe. The second most developed league is the Bundesliga where 9 clubs (50%) offer an OTT service, all on a paid subscription basis except for RB Leipzig. Lagging the region are La Liga and Ligue 1 with 25% of clubs having an OTT service (all paid-for in Ligue 1, only 2 of 5 paid-for in La Liga), while only 20% of Serie A has an offering (all paid-for).