Sponsors have become a defining visual feature of a club. A partnership between a brand and a football club provides an invaluable opportunity for marketing, and a welcome source of revenue for the clubs.
Due to their global popularity and visibility, the Big Five leagues have been able to develop increasingly lucrative sponsorship agreements with local and global brands seeking exposure and association with clubs and their rosters of star players. According to an estimate from KPMG, sponsorship and kit production deals exceeded €3.3 billion in 2020 across these five leagues.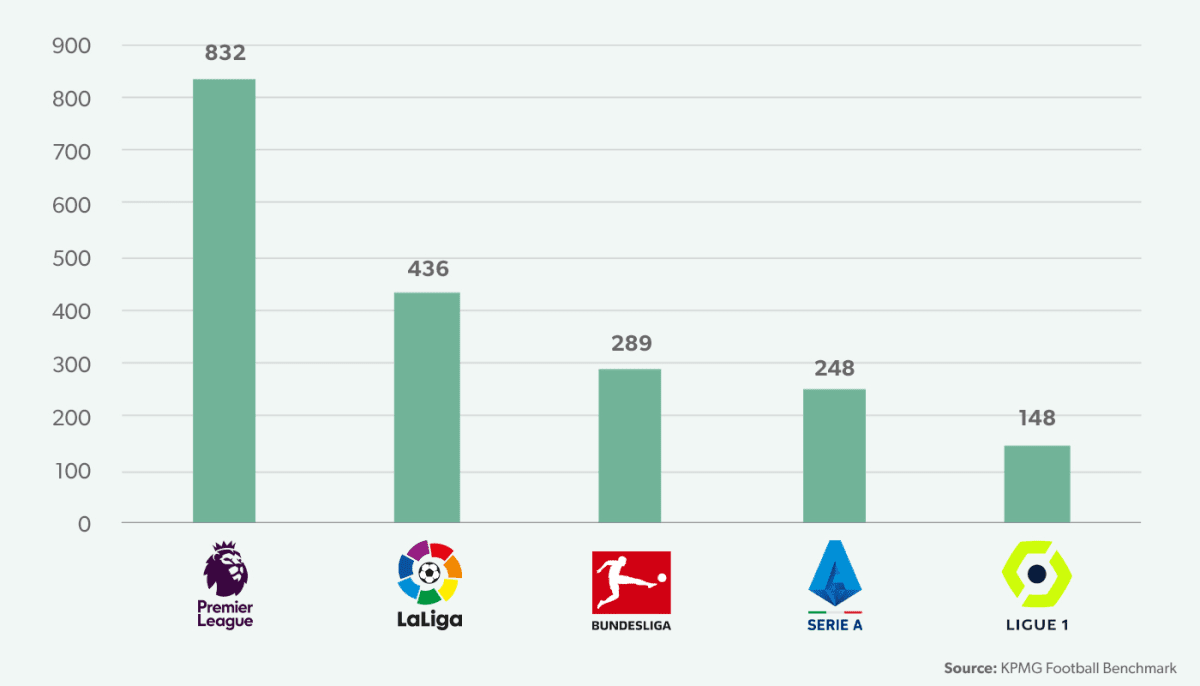 The Premier League generates significantly more revenue from sponsorship deals than the other leagues, and within each league it is the larger clubs which dominate. In 2020, the Big Six in the Premier League received 83% of all annual shirt and kit sponsorship revenues, whilst Real Madrid and Barcelona accounted for 80% of the sponsorship value in La Liga, according to SportsPro Media.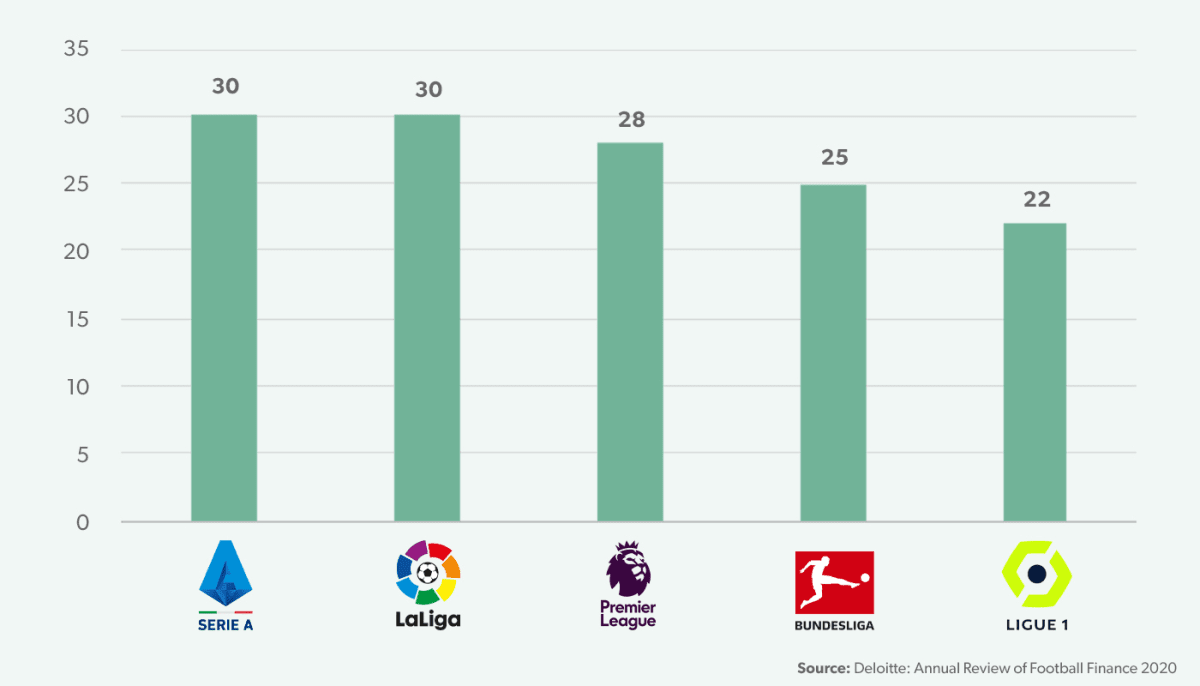 Shirt Sponsors:
UEFA's 2021 European Footballing Landscape Report reveals that 86% of teams across all European Leagues have a sponsor on the front of their shirt, and 24% of top division teams replaced their shirt sponsor in the 2020/21 season. This reflects the constantly changing nature and opportunity for sponsorship in the football industry.
Real Madrid boasts the largest income per year from their primary sponsor, Emirates, paying €70million for front of shirt rights. Reports estimate that the club saw a 55% increase in sponsorship and advertising between the 15/16 and 19/20 seasons, with this deal expecting to continue the positive trend. Both Bayern Munich and Tottenham Hotspur chose to accept longer sponsorship deals but receive less per year than some of their European counterparts.
Sleeve sponsors have become common since their inclusion in the 2017/18 season by the Premier League, with all of the Big Five leagues approving them the following season. The 2020/21 season set records in terms of sleeve sponsors, with 52% of top division clubs utilising them as advertising opportunity, according to the UEFA report. Meanwhile SportsPro Media found that Manchester United, Arsenal and Chelsea boast the highest sleeve sponsor deals, with each club earning €11.5million per year from their partners. How these sponsorship opportunities are monetised is determined by the league, with some leagues selling the rights collectively whilst others allow clubs to sell the rights individually.
Kit Sponsorships:
Another sponsorship revenue source for clubs is their kit suppliers. These deals usually span longer periods than primary sponsorship agreements and prove to be significant sources of revenue. Nike and Adidas typically dominate these larger kit supplier deals, collectively spending €679million per year, accounting for 68% of total kit sponsorships as revealed by Inside World Football.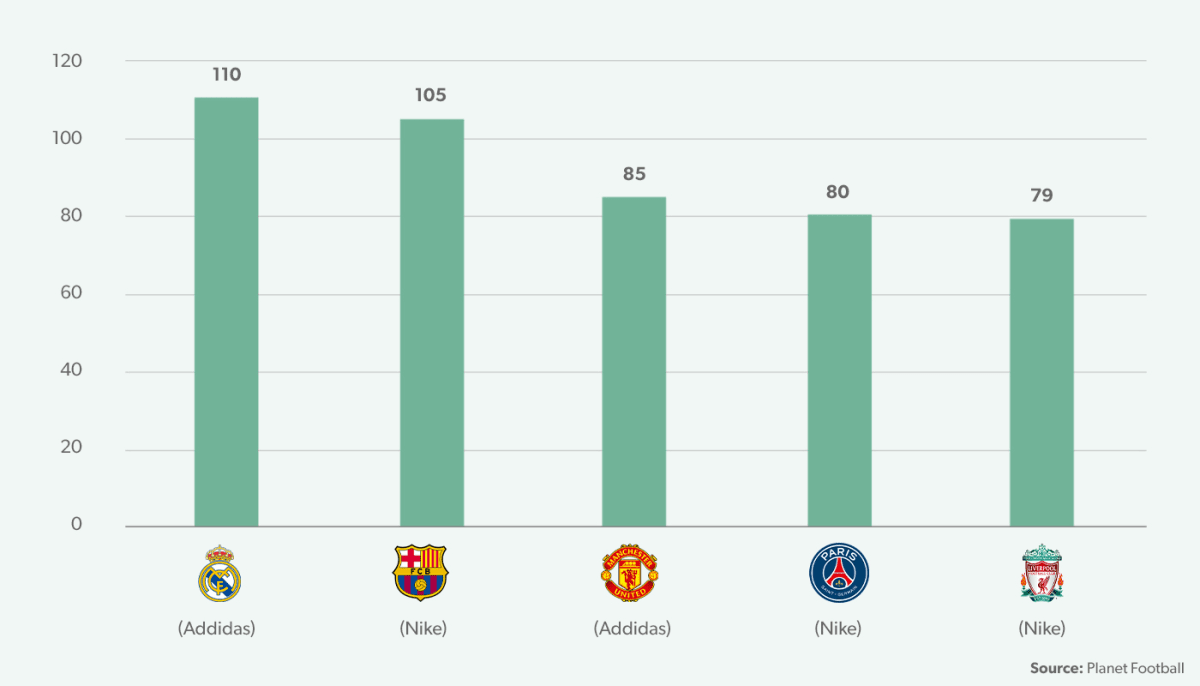 Once again, Real Madrid has the highest paying deal, receiving €110million per annum on a ten-year contract. The 2020/21 season will debut Nike as the new Liverpool kit supplier. As noted by Planet Football, Nike offered €17.5million less than the current providers New Balance, but they guaranteed the club a 20% royalty fee for each shirt sold.
It is estimated that the value of sponsorship and kit production deals in the Big Five leagues exceeds €3.3 billion.
Main industries involved in sponsorship:
UEFA's report states that the most frequent sponsor partnerships are with sports betting and gambling companies, which account for 17% of shirt sponsors, being the most common in 11 UEFA member countries. In the Premier League alone eight clubs are sponsored by gambling companies, with only the Bulgarian top division having more betting sponsors, with 9 out of 14 teams affiliated with the industry.
The second most common industry for shirt sponsorships is retail, accounting for 15% of European teams. Certain industries dominate some leagues, for example, financial companies sponsor 10% of teams around Europe, but 12 out of 14 teams in Norway.
League and Stadium Naming Rights:
The prevalence of betting and gambling companies in sponsorship also applies to the naming rights of leagues. Of the 38 UEFA member leagues in UEFA that sold their naming rights, 29% of them were purchased by sports betting companies.
Only 30% of clubs in the Big Five leagues have sold their stadium naming rights, with prevalence varying from league to league. KPMG highlights that 78% of Bundesliga stadiums are sponsored while in the Premier League, Serie A and Ligue 1 only 20% of clubs have sold stadium naming rights, with this number dropping to 15% in La Liga.
Once again, financial firms are heavily involved with sponsorship. In Germany, 28% of sponsor-named stadiums are named for a financial company, with car manufacturers accounting for 21%. These industries are also prevalent in the naming of stadiums in the MLS, in which almost 80% of teams play in a sponsor-named stadium.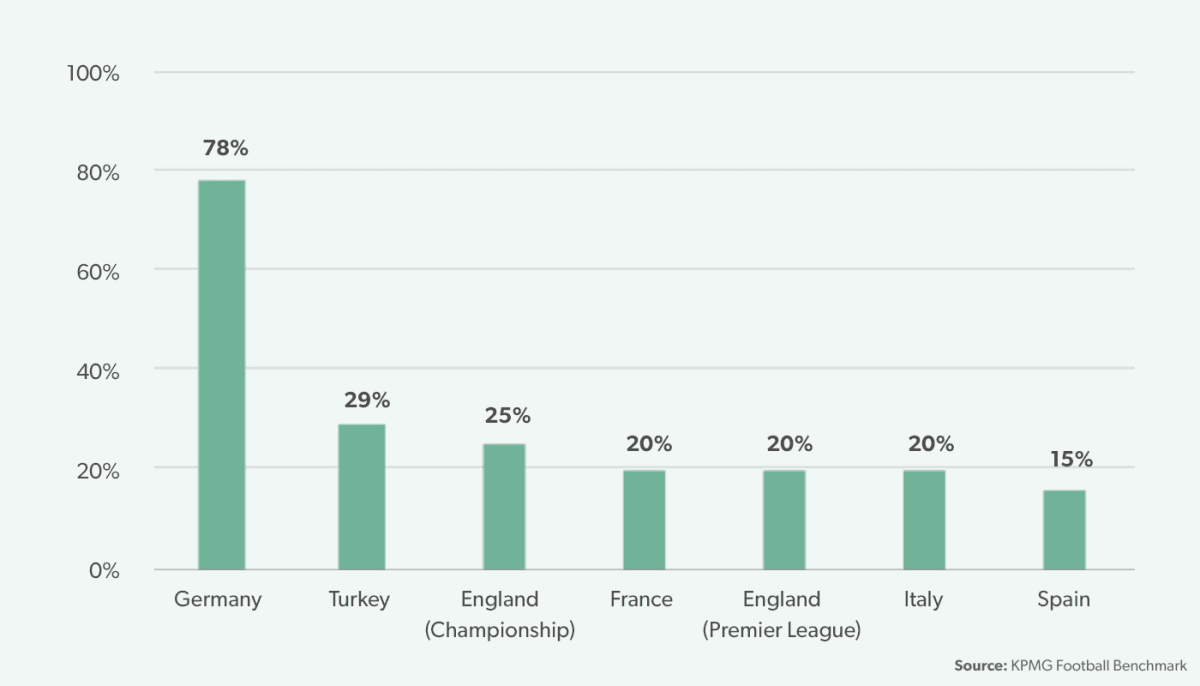 The BBC reports that the estimated value of Premier League stadium naming rights increased by 5% from €157million to €165million between 2018 and 2019. Stadium naming rights are an underdeveloped source of revenue in most European leagues: Old Trafford stadium has a potential sponsorship value of up to €31million per year for Manchester United.
Sponsorship Bans/Restrictions
Some nations have certain requirements for sponsors, for example 16 leagues have active bans on sports betting sponsorships. These restrictions vary from country to country, with some such as the Netherlands, Turkey and Slovenia approving state-regulated gambling companies' sponsorship.
Sponsorship bans and restrictions are not just limited to the betting industry. In UEFA, 21 leagues forbid sponsors related to alcohol, tobacco, and politics, whilst others restrict a company from sponsoring more than one team in the league. These leagues often adopt these standards because of societal and governmental pressures to avoid the promotion of certain industries. Ultimately, the qualifications for sponsorship are dependent on national football associations in their attempt to balance their social responsibilities and profit margins.
Projected losses due to Covid – 19/20 and 20/21
The inability to play or attend matches had a significant impact on sponsorship deals and will consequently impact revenue. Deals lost value due to the delays in the completion of the season and reduced stadium capacities meaning that, in some cases, clubs received less payment from the sponsors. A report by UEFA, estimated that the projected loss of sponsorship and commercial revenue may range between €2.4bn to €2.7bn.
It appears increasingly likely that fans will return to stadiums for next season and the formation of new sponsorship deals is vital for clubs to re-establish their financial security, providing a unique opening in the market for brands and companies looking for the exposure provided by major players in the sports industry.