The Summer 2020 transfer window was always going to be unusual with Covid-19 causing significant financial disruption to football leagues and clubs across Europe.
With matchday revenues decimated, commercial revenues severely impacted and ongoing uncertainty over the future of broadcasting contracts, many club boards have been forced to reassess spending plans and reconsider coveted transfer targets. That being said, a lot has been made of the unique opportunity for clubs in a relatively cash-rich position or with the backing of wealthy owners to secure the services of highly-paid talent from clubs in a weaker position.
The window has now closed and the numbers are in. The headlines are falls in the number of transfers, expenditure and fees paid vs. player valuation, while free transfers and loans have risen sharply. While all leagues are affected, the Premier League seems to have weathered the storm best, with an increase in the number of transfers completed and spending down by a relatively modest amount. Spain's La Liga seems to have been most significantly impacted.
Player acquisitions down 17%, expenditure down 42%
After three years of consistent growth, the number of incoming transfers completed in the Summer window fell from 1,033 in 2019 to 862 in 2020, a drop of 17%. Indeed, the numbers fell in four of the Big-5 European leagues, with La Liga of Spain dropping most sharply, from 220 to 171 (-24%), followed by the Bundesliga of Germany which fell from 177 to 137 (-21%). France's Ligue 1 and Italy's Serie A experienced smaller drops (-14% and -20% respectively), the latter – being the most active league for transfers in the region – falling to a level higher than any of the other leagues had reached prior to this decline.
By contrast Premier League clubs – which have collectively had the lowest number of incoming players in the last five Summer windows and had seen the number of acquisitions fall from 169 in 2016 to 129 in 2019, actually brought in 5% more players than in 2019 with a total of 135. Given the relative financial strength of the Premier League versus its counterparts on the continent and lower divisions in England, the increase may have been driven by the opportunity to secure cheaper deals from clubs in a position financial distress.
Given the relative financial strength of the Premier League versus Europe and lower divisions in England, the increase in player acquisition may have been driven by the chance to secure cheaper deals from clubs in financial distress.
After a record €5.5bn was spent in Summer 2019, the Covid-19 impact was a €2.3bn reduction in spending, a fall of 42% - effectively meaning that average player sale price came down by about a quarter. Again, the biggest fall was in La Liga, where clubs collectively spent €412m, down almost 70% on Summer 2019 when records were smashed with €1.3bn of spending. Sharp declines were also seen in the Bundesliga (down 60% to €302m), Ligue 1 (down 45% to €394m) and Serie A (down 41% to €702m). Despite a higher number of transfers taking place, the Premier League did spend 20% less than in 2019 (still €1.25bn, accounting for 41% of the total Big 5 outlay), reflecting the better value for money achieved.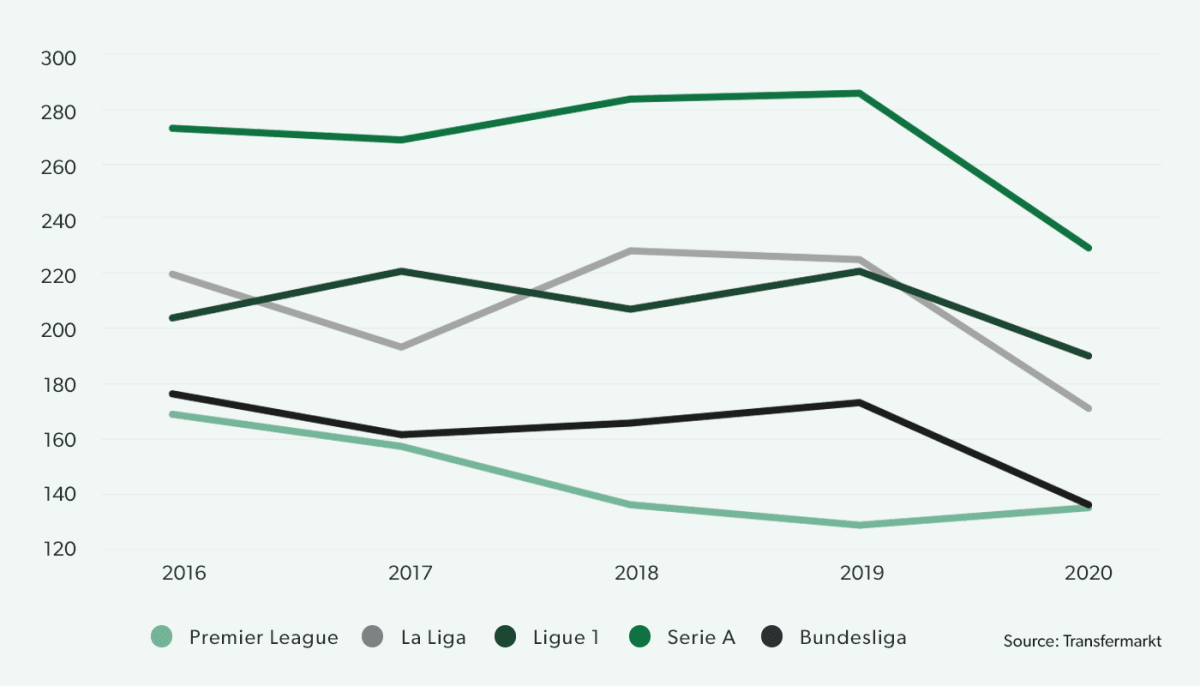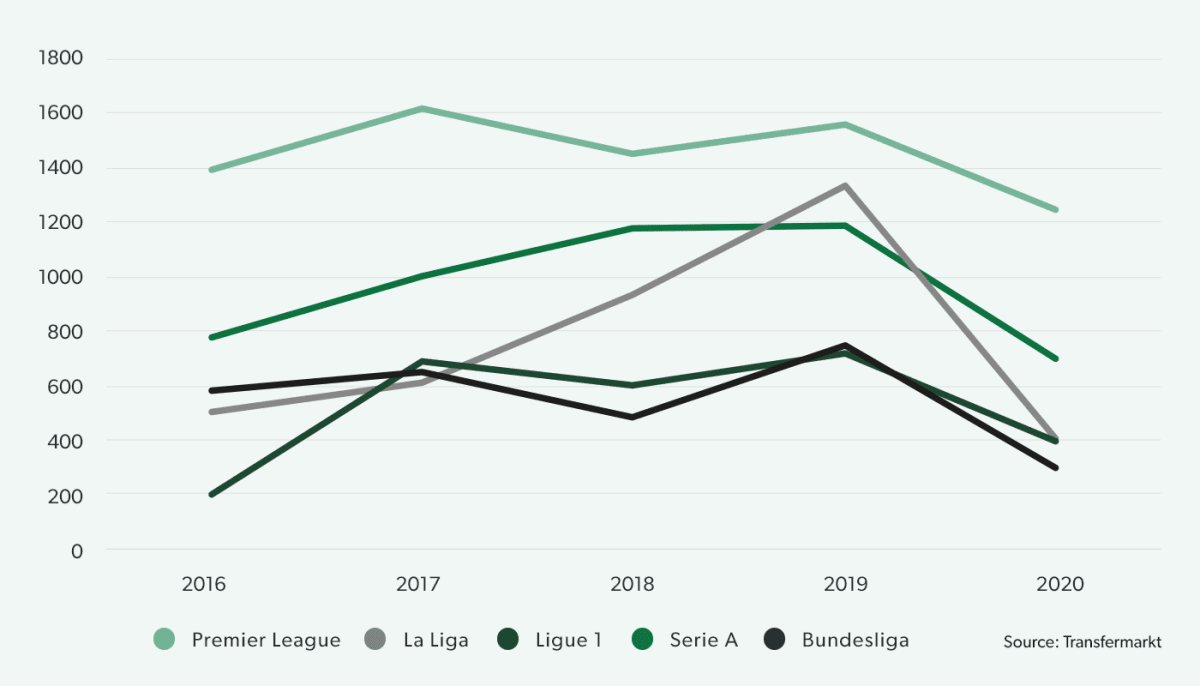 Fees plummeted below valuations
Overall, across the European Big 5 leagues, fees for players acquired fell to a low of 4.4% below valuation, and a massive 26.8% below valuation for departing players. Bundesliga clubs were already buying players cost effectively in 2019 (saving an average of 19.4% vs. player valuation) – this fell a further 16.4pts in 2020 to -35.8%, although a steeper fall was seen in player sales as German clubs moved assets on at an average of 46.1% below valuation.
Spain's La Liga was hit even harder in selling terms, moving from fees of -12% below valuation in 2019 to -51.6% in 2020 – although players were acquired for -15.4% below market value, a deeper discount than in 2019 and second only to the Bundesliga. Meanwhile the Premier League continued to pay over valuation for players coming in, albeit at a reduced 7.5% premium (from 18.7% in 2019), while agreeing transfers at significant discounts to move players on, at -32.7% vs. valuation in 2020, down from -18.2% in 2019.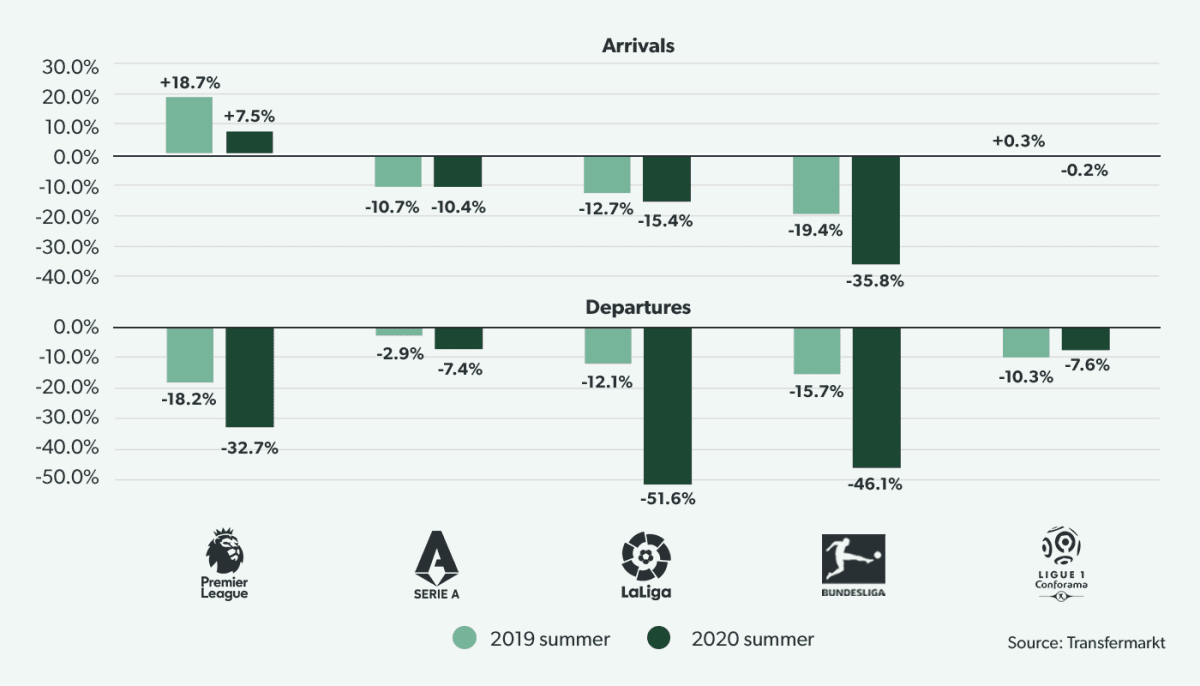 Free transfers and loans rose significantly
The number of transfers without a fee also reached new highs, accounting for 32.3% of all moves to Big-5 clubs. The Bundesliga and La Liga had by far the highest percentage of free transfers, at 45.9% and 44.2%, increases of +15.3 points and +12.5 points respectively vs. 2019 when they already had the highest percentages in the Big 5. More modest increases were seen at Serie A, up 5points to 25.2% and Ligue 1, up 4.4 points to 29.6%. Perhaps surprisingly, the percentage of free transfers fell slightly in the Premier League, down 1 point to 23.5% and now the lowest of the Big 5.
Loans increased even more significantly, up from 23.1% in 2019 to 30% in 2020. Here, Serie A is the clear leader with 40.8% of transfers being agreed on a loan basis, up +12.9 points from 27.9% (already the highest in the Big 5) in 2019. Proportionately, the biggest jump in loan deals was seen in the Premier League, which moved from 13.6% loans to 21.3% loans, a jump of 7.7 points or more than 50%. The outlier was Ligue 1 where loans accounted for 19% of moves, down 1.6 points from 2019.