Amazon Prime has over 200 million members with access to Prime Video. The company plans to expand their streaming of live sports through this service, which is available in over 200 countries.
Amazon's €735 million purchase of Twitch in 2014 provided a useful streaming source. Particularly popular amongst the younger generation, the service accumulated 18.4 billion hours of streaming in 2020. It currently specialises in eSports, demonstrating how Amazon already has a firm position in a fast-growing market that other companies, such as Facebook, are also trying to enter.
However, Twitch is not exclusive to the streaming of eSports, and can also be used to stream other content. In 2020, the company announced deals with Real Madrid, Juventus, Paris Saint-Germain and Arsenal to provide exclusive access. Amazon has and will likely continue to use Twitch to further their sports streaming outreach.
To further enhance the viewing experience, Amazon incorporates their X-Ray technology during games. Primarily used in the NFL, X-Ray provides fans with next generation stats that were previously exclusive to broadcasters and coaches, such as detailed live stats and play-by-play analysis. These statistics are also accessible through Amazon's Alexa smart speaker meaning fans can access them at any time, and not just during the broadcast. Over 100 million Alexa devices have been sold, serving as a useful tool for accessing sports data and other information.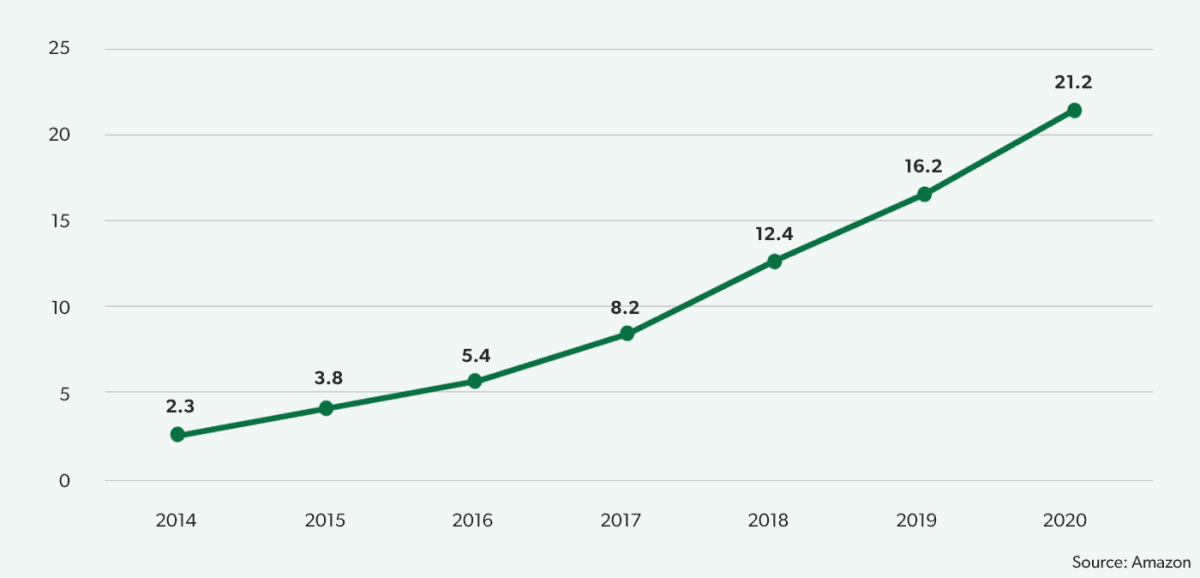 Amazon's exponential increase in revenues has helped to provide them with the necessary funds to invest €8.5 billion into improving their global broadband and streaming potential. This sets the foundation for accessing a wider market for sports streaming.
Amazon has invested $10 billion into improving global broadband and their streaming potential, setting a foundation for accessing a wider market for sports streaming.
Football
Amazon signed a €105 million three-season deal with the Premier League in December 2019. The deal gives the company rights to broadcast twenty games per season through Prime Video, with a focus so far over the popular December/January holiday season.
A promising sign for Amazon was their Prime Video membership growth which rose by 35% over the financial fourth quarter following the announcement of their new Premier League deal. The continuation of this deal until 2025 has been agreed in principle, but not yet finalised.
The rights to broadcast Champions League games in Germany and Italy were also recently acquired by Amazon. The three-year German deal was a total of €270 million with rights to the top-pick of the Tuesday night games. The Italian deal is worth €240 million for three years to guarantee the top-pick matches on Wednesday. Both deals last from 2021-2024.
La Liga TV, covering the top-tier of Spanish football, will be offered on Prime Video UK until the end of the 2021/22 season. All La Liga games will be broadcasted, alongside additional interviews. Unlike the other deals with European leagues, this access will require members to pay an add-on subscription fee for the 24-hour channel.
Continuing their expansion into the football market, Amazon purchased the domestic broadcast rights for France's Ligue 1 and Ligue 2. The deal is an estimated €275 million and will span from the 2021/22 to 2023/24 season, covering 80% of available games, including the top 10 games of the season.
In 2020, Prime Video became the exclusive local broadcast provider of the Seattle Sounders in a three-year deal. This means that when Sounders games are not televised nationally, Prime Video will be the sole broadcaster in Washington state. This was the first deal Amazon made with a football club, rather than just the television providers or the league, and reflects a desire to bring additional value to residents in their home city. To capitalise on this first partnership, custom content for the MLS club is promoted on Prime Video, providing an invaluable marketing opportunity for the Seattle Sounders.
Twitch is also responsible for streaming America's National Women's Soccer League (NWSL). Starting in 2020, a three-year deal was reached to broadcast all 24 games for free. Twitch will also be the NWSL's only international partner, streaming games world-wide. The NWSL and Twitch will also work together to produce unique league and player-based content for viewers.
American Sports
Amazon's largest sports broadcasting deal is with the NFL. Starting in 2022, the company will pay the NFL €8.5 billion over eleven years to stream every game in the coveted Thursday Night Football slot. This is Amazon's most expensive and long-term deal to date.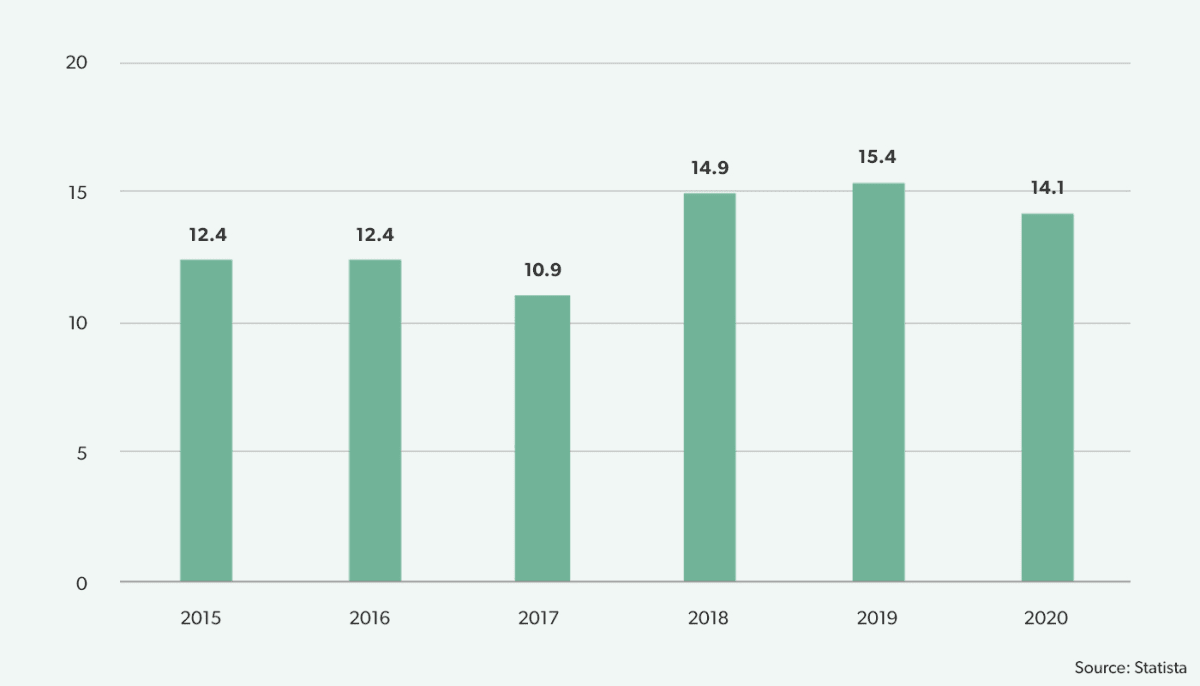 Thursday Night Football's amassed 14.1 million viewers last year, down from 15.4 million the year before. Amazon may be attempting to draw more viewers with their new broadcasting deal.
NBA TV is accessible through Prime Video, through which subscribers can purchase NBA League Pass which includes coverage of all games. NBA G League games, the equivalent to the NBA's minor league, are streamed on Twitch, whilst WNBA games are shown on Prime.
In partnership with the Yankees and Sinclair Broadcast Group, Amazon recently purchased the Yankee Entertainment Sports (YES) Network from Disney for €2.9 billion. The YES Network is the largest regional network in the New York and surrounding states, showing games of the Yankees, the Brooklyn Nets and New York City FC. Prime Video will show 21 Yankees games for free throughout 2021.
Tennis
In 2018, Amazon announced a five-year deal granting them the UK broadcasting rights to the US Open for an estimated €33.5 million. They also obtained the one-year global rights for the ATP Next Gen Finals, again agreeing to produce behind the scenes content and documentaries on Prime Video. Another agreement, running from 2019-2023, will provide Prime subscribers will have exclusive access to the nine ATP Masters tournaments and 37 ATP events. This deal was an estimated €58 million, and like their others will provide Amazon clients with custom content.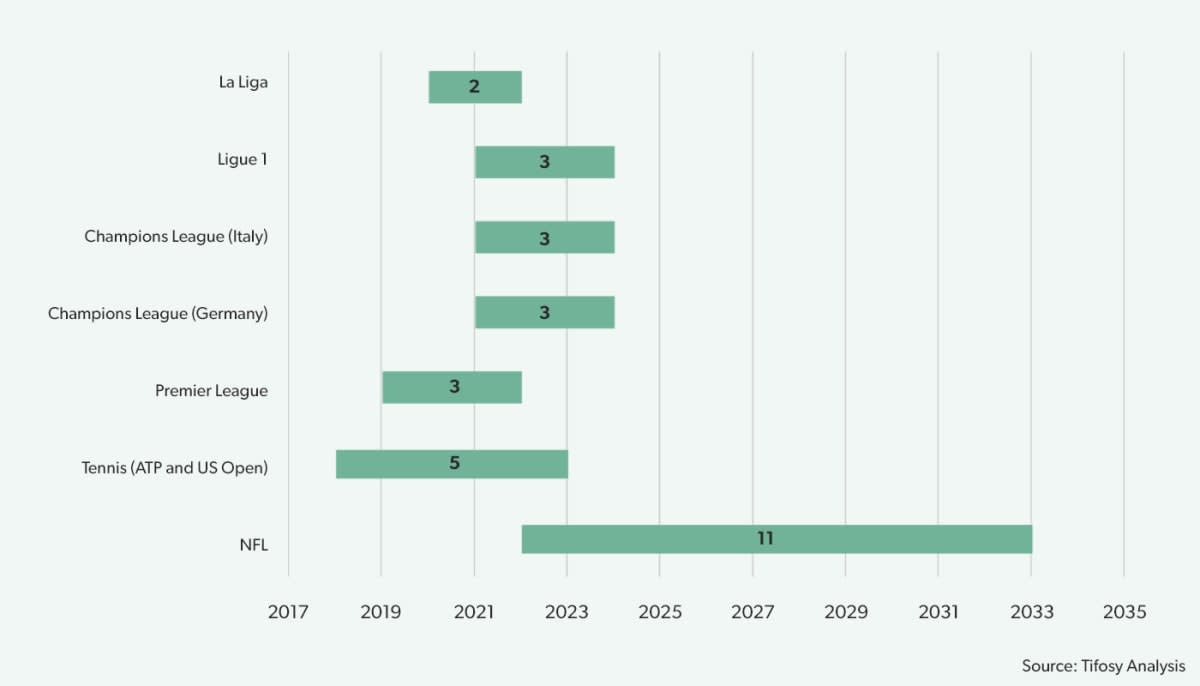 Future Interests
After successfully purchasing the rights to the Rugby Autumn Nations Cup 2020 for an estimated €18.5-23.5 million, rumours have been circulating about the Amazon's potential involvement in the Six Nations 2022 tournament. In another recent development, Amazon has set their sights on F1. The organisations are undergoing talks regarding broadcasting rights and the possibility of an F1 Channel on Prime Video. Amazon already provides F1 with data analytics and has helped design car improvements that will be pioneered in 2022. Using Amazon SageMaker, a cloud-based machine-learning platform, the company can create advanced algorithms for F1 and collect large quantities of data to provide information for both teams and viewers. The acquisition of broadcasting rights would solidify the long-term partnership between F1 and Amazon.
Given their extensive financial resources and expertise, Amazon has a strong foundation to continue exploring sports markets. The company appears to be planning to integrate itself fully into various countries and sports, offering unique promotional access through Prime Video and statistical analysis through their cloud-based machine learning tools. While most of their deals are only a few years in length, it seems as if this is just the start for Amazon and their involvement with the sports industry.