The global sports footwear and apparel markets are worth over $100bn and $175bn respectively, with both growing around 5% annually driven by the increasing popularity of both professional sports and personal fitness, as well as the "athleisure" trend.
This is one of the most competitive sectors of the fashion and apparel market, with high margins and significant growth potential, driven by the multiple secular trends highlighted above and growing numbers of consumers in large developing markets such as China and India. Nike & Adidas have long been the biggest players, while Puma and relative newcomer Under Armour vie for third spot on the podium.
These companies play an important role in the professional sports industry, supporting leagues, clubs and athletes through sponsorship and the provision of equipment, in turn benefiting from sales of products linked to properties and players. Inspired by a shorter piece on kit sponsorship published in January, this article will look in more detail at the companies' operations and their interaction with major sports competitions and top athletes, with the aim of providing just some topline facts and trends on the four biggest sports brands.
Brands with entrepreneurial starts
Nike was founded by Bill Bowerman and Phil Knight as Blue Ribbon Sports in 1964 in Oregon, USA. The company originally acted as a distributor for Japanese shoemaker Onitsuka Tiger but after that relationship ended the company was renamed Nike after the Greek goddess of victory, in May 1971. The famous swoosh device was adopted the following month and the Nike wordmark was dropped from the logo in 1995. Graphic design student Carolyn Davidson was originally paid $35 for the design, although Knight later gave her a gold swoosh ring and stock worth $4.3 million today.
Nike adopted its famous "Swoosh" device in June 1971 and the Nike wordmark was dropped from the logo in 1995. Graphic design student Carolyn Davidson was paid $35 for the design.
Adidas and Puma both grew from Gebrüder Dassler Schuhfabrik, the business founded by German brothers Rudolf (Rudi) and Adolf (Adi) Dassler in July 1924. The business grew steadily until 1948 when the brothers split after their views on how to run the company diverged and their relationship deteriorated. Rudolf moved to the other side of the Aurach River to start Ruda, a contraction of "Ru" in Rudolf and "Da" in Dassler – renamed Puma a few months later – while in 1949 Adolf rebranded using his nickname "Adi" and "Das" of Dassler to establish Adidas. It is astonishing to think that the break between these two brothers led to the development of not one but two of the three largest sportswear companies in the world.
Kevin Plank founded Under Armour in his grandmother's basement in Washington, D.C. in September 1996, after he noticed that his compression shorts stayed dry during American football training and was inspired to develop a T-shirt using moisture-wicking synthetic fabric. Plank opted to use the British spelling "armour" in the company name because the toll-free vanity number was still available for that version.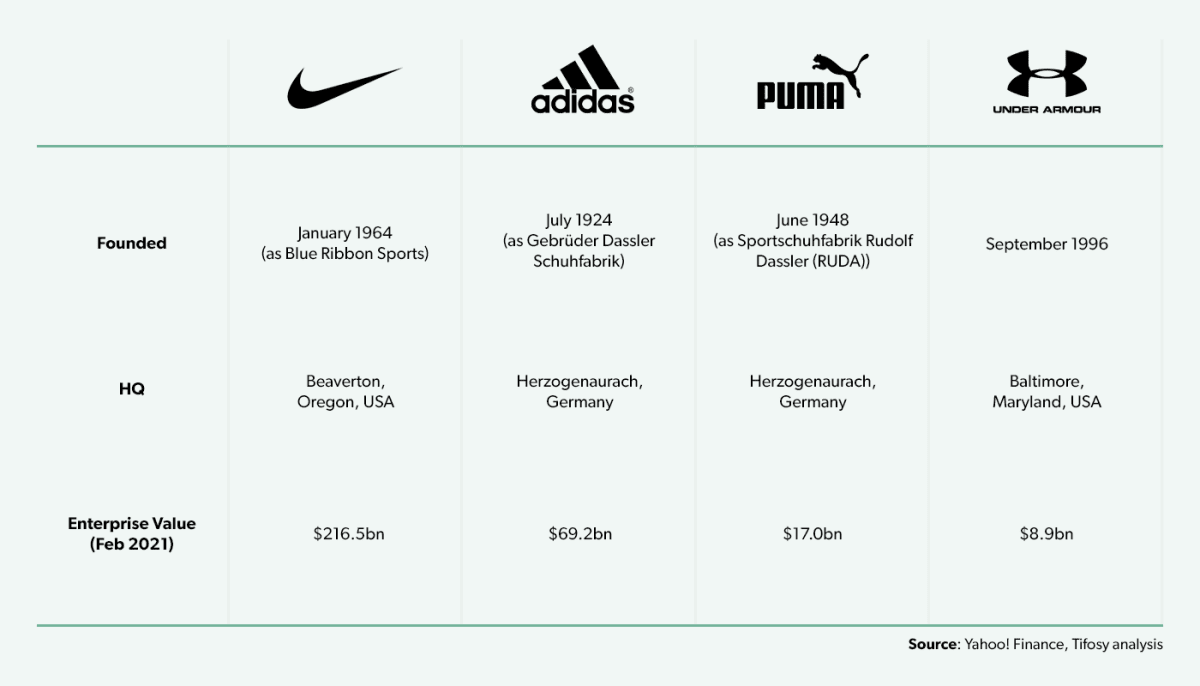 Nike maintains a commanding lead over its nearest rival
With sales of more than $37bn in the fiscal year ending May 2019 and a CAGR of 7% since 2015, the Nike brand holds the number one spot. The impact of Covid-19 was felt in the last quarter of the most recent fiscal year (March to May 2020), when sales fell -38%. According to investor reports for the first half of the current fiscal year, the Nike brand was down -1% in the three months to August but up 7% in the following quarter, meaning an overall result of -10% for the three quarters to November 2020.
Adidas has not quite kept pace with its larger rival, growing 5% per annum since 2015 to reach €23.6bn ($28.8bn) in its fiscal year ending December 2019. The company has been hit harder by Covid, with sales down -20% in the 9 months to September 2020 (including Reebok, which had sales of €1.75bn in 2019).
Puma and Under Armour are similar in size, reporting full year sales of $5.5bn and $5.3bn respectively in 2019, although Puma has enjoyed faster growth at 13% per annum since 2015 vs. Under Armour's 7%. Relative to peers, Puma survived 2020 well, with a full year sales decline of -1.4% as a weak first half was offset by strong recovery in the second half. Meanwhile Under Armour suffered more significantly with a drop of -15% in the year.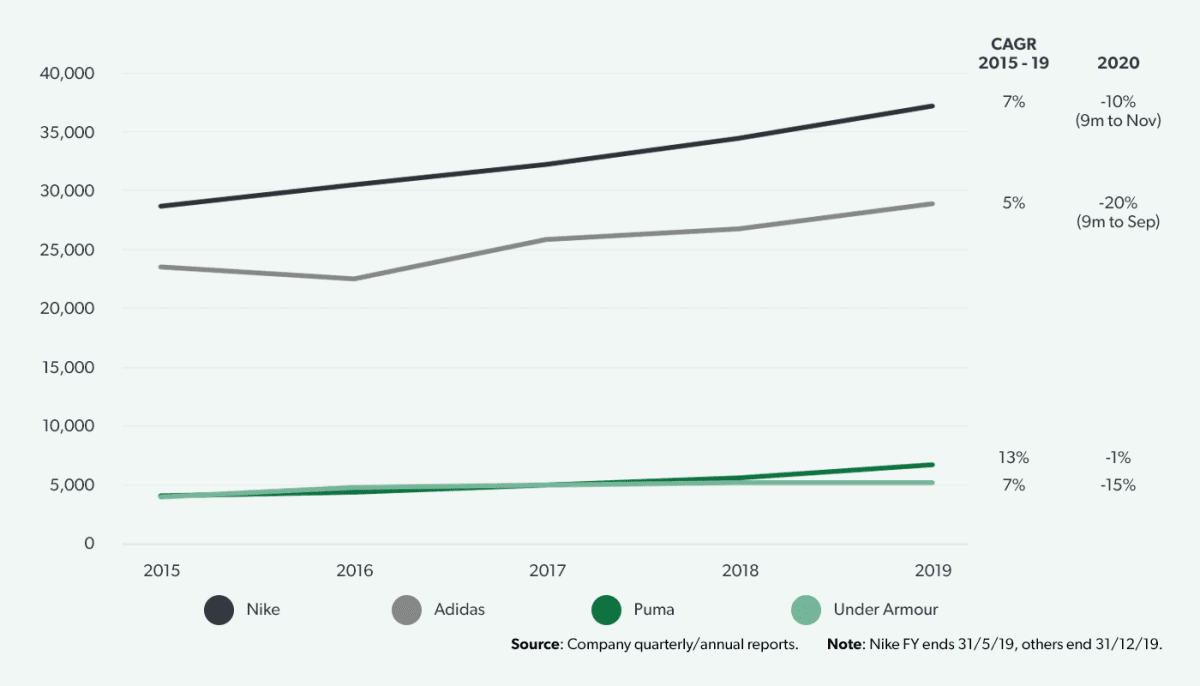 Footwear is the largest product segment for the top three brands
All four companies remain true to their origins: Nike, Adidas and Puma all began by manufacturing sports shoes before adding apparel lines and the footwear segment continues to be the largest for all three at 65%, 57% and 46% respectively. Under Armour went in the opposite direction and continues to make 70% of its sales in apparel. Since 2015, footwear has been the fastest growing product segment for all brands expect Nike where apparel grew marginally faster.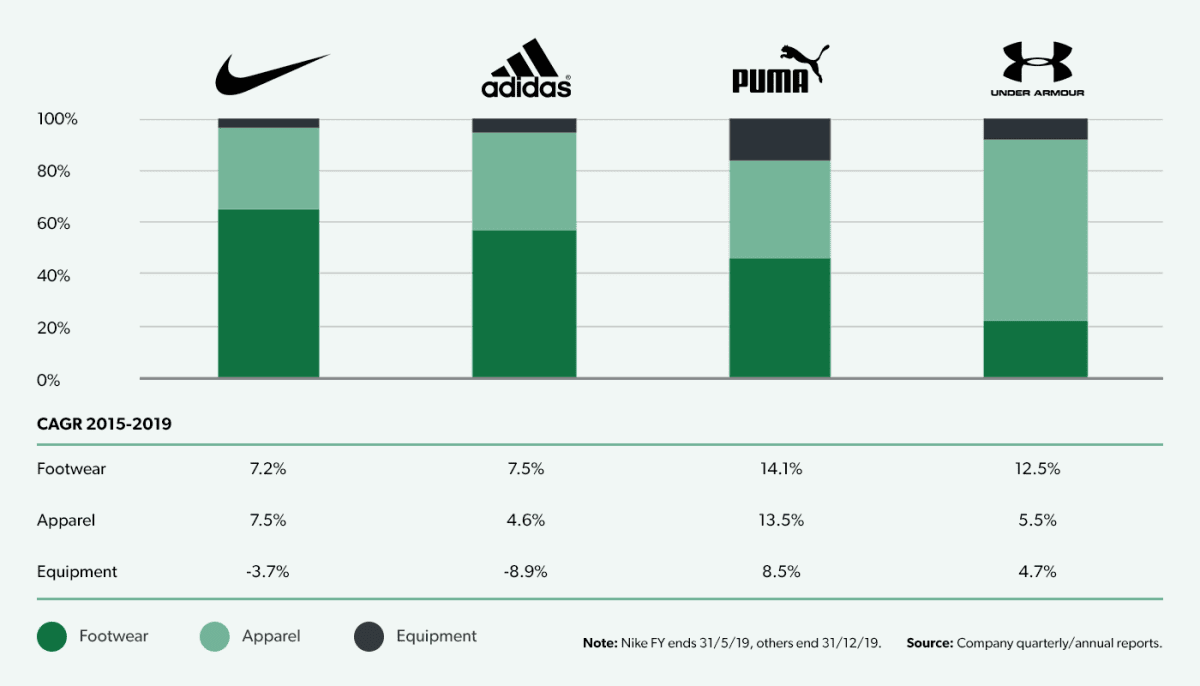 Sportswear is well positioned to benefit from behaviour shifts induced by Covid-19 restrictions, being both a category well-suited to the eCommerce channel and one to benefit from the adoption of new exercise habits. Indeed, all brands reporting sales by channel have seen a significant shift to direct-to-consumer sales, moving from an average of just over 30% in 2019 to just under 40% in the most recent quarterly sales figures. While Adidas does not report these figures, its results presentation for Q3 2020 indicated a similar shift in sales patterns.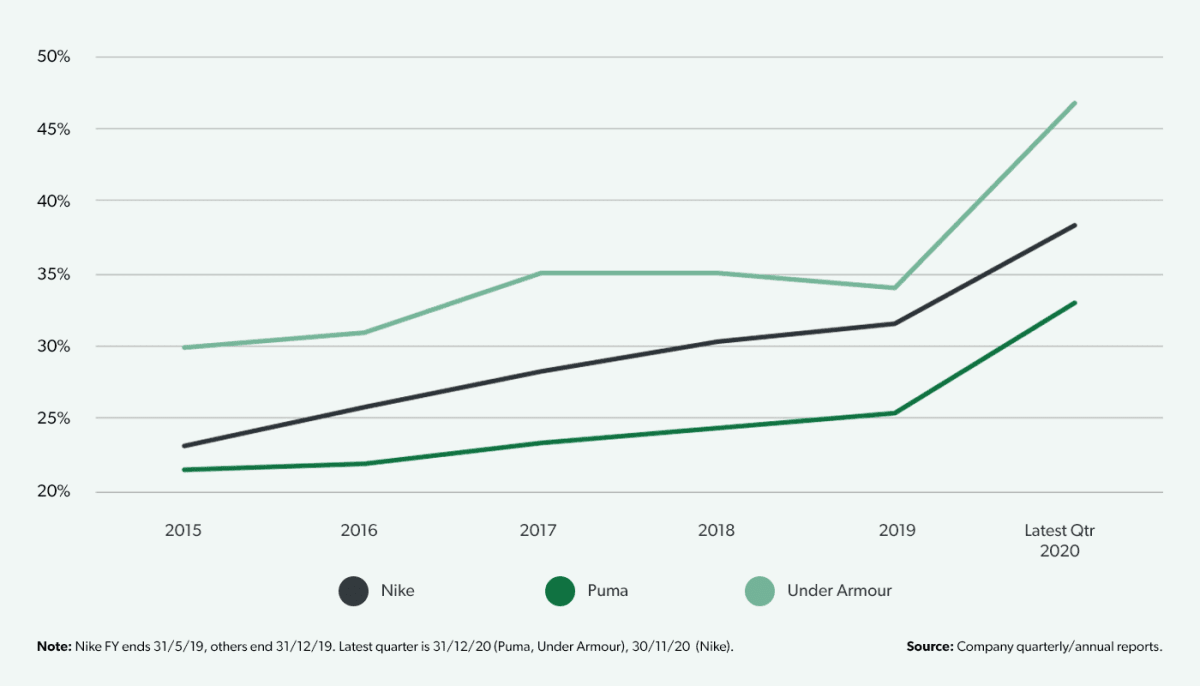 All four brands have 10 sports in common
When it comes to serving the needs of different sportspeople, Adidas has the widest offering, selling apparel and footwear for 22 and 21 sports respectively. Nike has a relatively tight focus with 17 sports for both categories, while Puma offers the fewest at 13 in apparel and 15 in footwear. All brands provide apparel and footwear for only three team sports (football/soccer, basketball and rugby – although Puma only makes boots for the latter), three individual sports (golf, boxing, swimming and athletics), as well as personal fitness and running and casual sportswear. The two sports provided for by only one of the brands are eSports (apparel and footwear from Puma) and hunting (apparel and footwear from Under Armour).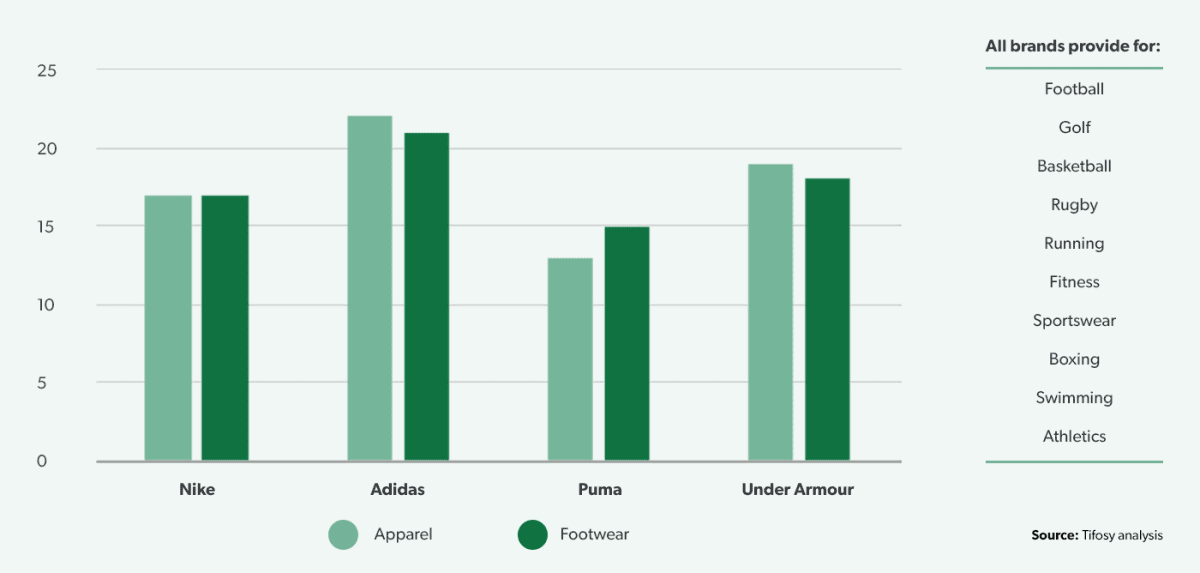 European and national football endorsement contested, but Nike leads in US professional sport
Turning to how the brands interact with professional sports, we start with the football. Nike, Adidas and Puma all have a meaningful presence in Europe's Big 5 leagues, collectively partnering with exactly half of the 98 clubs. Nike seem to be gradually withdrawing (20 clubs in the 2016/17 season down to 17 today), although they have retained high profile clubs including Atletico Madrid and Barcelona, Paris Saint Germain, three of the Premier League "Big Six" and two of Italy's "Big Five". Adidas took leadership in 2020/21 with 20 clubs, adding six mainly mid-table clubs since last season, while Puma have been fairly consistent with 12 partner clubs. Under Armour had three partner clubs in England in the 2016/17 season but since then dropped deals with Aston Villa and Tottenham Hotspur to be left only with Southampton.
At national team level, the three brands account for 80% of the top 50 in FIFA rankings. Adidas used to hold clear leadership with 21 partner nations in 2016/17 but have dropped to 14 in the current season, ceding the sponsorship of primarily smaller nations. Puma picked up three of these contracts and added a further two to go from six to 11 in the analysis period, while Nike have remained constant at 15 countries, again with a focus on premium assets with four of the top five in the FIFA rankings (France, Brazil, England and Portugal) and a further five in the top 25.
On the other side of the Atlantic, where kit deals are organised at league rather than club level, Nike has taken a stronger leadership stance and controls kit production for the three largest sports – NFL, NBA and MLB, taking control of the latter two from Adidas and Majestic respectively since 2016/17.
Nike has the biggest share of player endorsements in all major sports
Nike clearly sees athlete endorsement as a major pillar of its strategy and stands head and shoulders above its rivals in this arena, sponsoring 24 of the 50 highest-earning sports stars according to Forbes, three times as many as Adidas with eight and further ahead of Under Armour with five and Puma with three.
Nike focuses on players of team sports and has the most significant lead in basketball with 40 of the 50 most valuable players, compared to four for each of Adidas and Under Armour and only two for Puma. In American and association football Nike has captured 35 and 34 of the 50 most valuable players – the next highest being Adidas's nine and 12 respectively – while in baseball the number is 27, almost four times the seven held by Under Armour. Nike's leadership of athlete endorsement in individual sports is not as significant, with 10 stars in golf and 11 in tennis, against nine and five for Adidas.