According to Deloitte, sports betting accounts for 45% of the global gambling industry, but until May 2018 it was largely illegal in the United States.
Of course, it was not fully illegal everywhere. Nevada (or perhaps more famously the jewel in its crown, Las Vegas) has always been a famous exception, but in fact the states of Delaware, Montana and Oregon – which alongside Nevada had pre-existing sports lotteries and sports betting frameworks – all allowed some form of sports betting.
It had been illegal under the Professional and Amateur Sports Protection Act of 1992 (PASPA) for most states to authorize legal sports betting. Then in May of 2018, in a case originally brought by former New Jersey governor Chris Christie, the Supreme Court ruled that the 1992 federal ban on sports betting in most states violated their rights. The ruling brought to an end a long-running controversy in the New Jersey, since its voters approved a measure to legalise sports betting to help the casino industry in a faltering economy, a measure which was immediately challenged by professional sports leagues and the NCAA.
The background: US attitudes to sports betting
In the years running up to the repeal of the law – which does not legalise country-wide sports betting but allows states to pass laws on legal status in their own jurisdiction, Americans' attitude to gambling was frequently researched. The summary of the findings of a poll conducted by Fairleigh Dickinson University in 2010 was entitled "US Public: Keep Las Vegas in Las Vegas" and reported that 53% of Americans were against the legalisation of sports betting in all of the United States, while 39% were in favour. Four years later attitudes had shifted: with a Sharkey Institute poll in 2014 finding that 55% of Americans now favoured legal sports betting with 66% of respondents agreeing that it should be regulated by state laws.
Within the industry, viewpoints differed: the NFL had taken a consistently strong stance against any sort of legalisation of sports betting, fearing the rise of match-fixing. While the other major leagues had been active in opposing sports betting law relaxation in New Jersey, the tables gradually turned. MLB Commissioner Rob Manfred advocated a change to the league's stance, arguing that the scale of illegal betting made opposition meaningless. His NBA counterpart Adam Silver stated in 2017 that "legalised sports betting is inevitable", and in August 2018 – 3 months after the repeal of the ban – became the first to announce a marketing, data and gambling partnership with prominent gaming company MGM resorts.
A survey conducted by GlobalWebIndex one year on from the change of rules found that 75% of US adults aged over 21 support the legalisation, rising to 90% among sports fans.
The state of play today
In February 2021, coming up to three years since the federal ban was dropped, sports betting is legal in 24 states and Washington D.C., although it has not yet been implemented in Maryland, North Carolina or Washington. Louisiana's bill to legalise received overwhelming support in county-level voting and is also expected to pass full state legislation in the coming months. A number of additional states have tried to pass bills but have so far failed in that respect, while some states have made no attempt to legalise. As of now, sports bets can be placed 21 states (and D.C.) representing 36% of the US population, as the majority of states to have made laws are smaller than average and only three have a population over 10 million.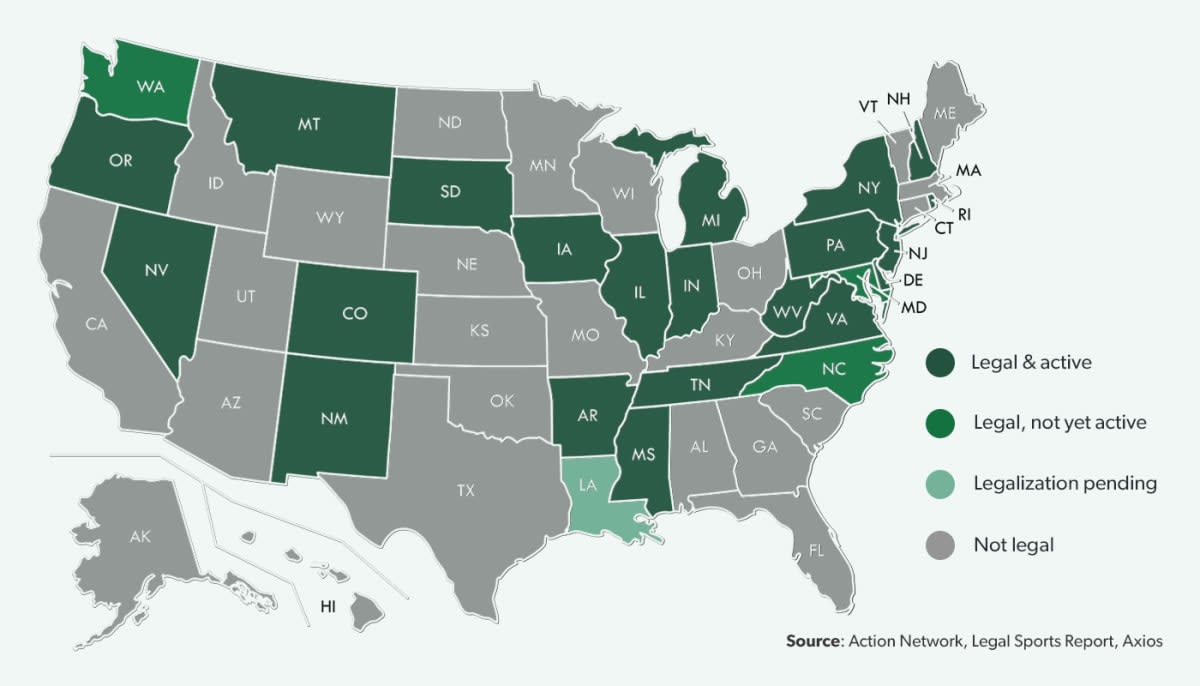 Within the 23 jurisdictions where betting is currently active, retail sports betting (i.e. in a physical location, typically casinos) has been implemented everywhere except Tennessee and Virginia. 17 states offer online betting, although in some cases punters have to register in a retail location first. At the time of writing Arkansas, Delaware, New Mexico and South Dakota have not legalised sports betting online, although this is expected to change for most given the popularity of online services and higher tax revenue opportunity: states offering online betting saw an average monthly revenue per capita of $1.91 compared with retail only states at £0.70. New York Governor Andrew Cuomo has been frustrated that neighbouring states have benefited from his state's inability to legalize online services: close to 20% of New Jersey's online betting total comes from New Yorkers.
Revenues growing rapidly, slowed by Covid-19
Following the historic May judgement, several states were quick to pass state laws and by the end of 2018 eight states were allowing sports betting, including New Jersey which had fought for so long for the right to legalise. In the first half-year (July to December 2020) reported data shows a total "handle" (i.e. amount placed on bets) of $4.3bn rising to $5.1bn (an increase of 19%) in the first half of 2019 although no new states implemented sports betting in that period.
Growth continued in the second half of 2019, when six new began allowing services and the total handle grew 55% to just under $8bn. The shutdowns caused by the Covid-19 pandemic had a significant impact, with total stake falling 37% despite five further states offering legal betting. Betting services stopped completely in six states, with the hiatus ranging from one month in Arkansas and Mississippi to four months in Michigan and five months in New York. By September of last year, however, all active states were operational again and bets surged to $16bn, just over double what had been wagered in the same period of 2019, with two more states activating sports betting in November making a total of 21.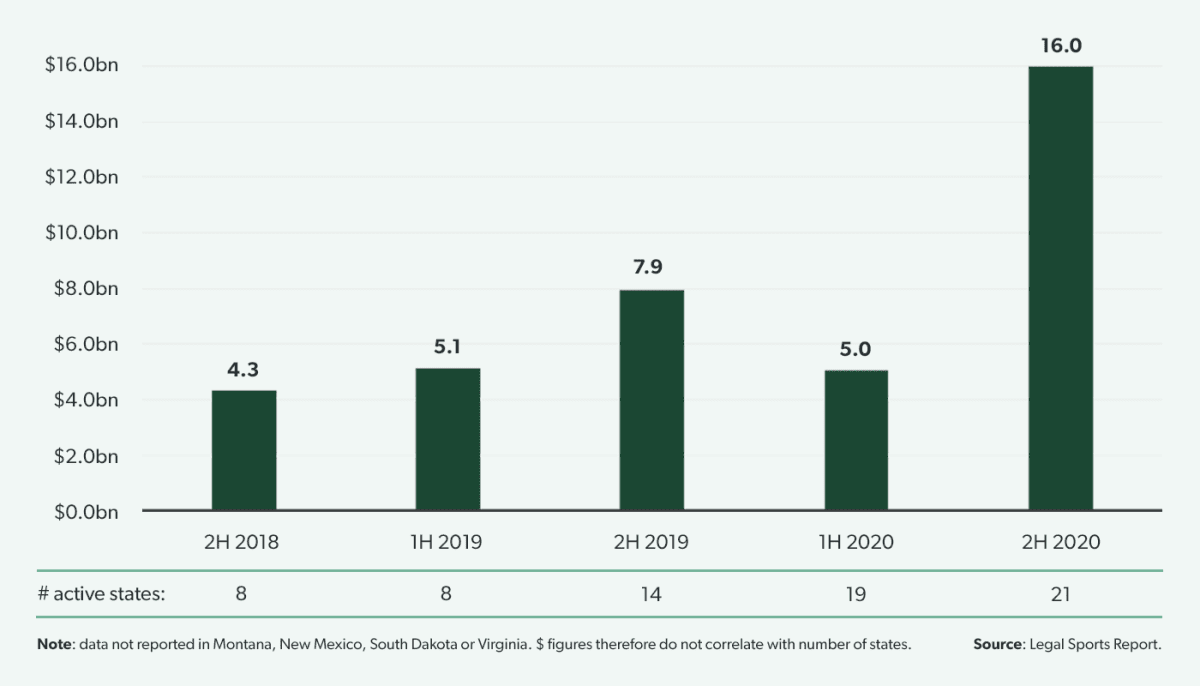 New Jersey takes #1 spot from Nevada
Having been the architect of PASPA's downfall, New Jersey embraced the new opportunity. A month after the Supreme Court decision, NJ Governor Phil Murphy signed a bill legalizing sports betting at casinos and racetracks. The first online sports bet was taken in August, and as of 2020 there are 17 legal online sportsbooks licensed by the New Jersey Division of Gaming Enforcement.
With almost three times the population and momentum brought by the release of pent-up demand, New Jersey's punters placed monthly sports bets totalling more than their Nevada counterparts for the first time in May of 2019. The two states were then neck-and-neck for much of the next year before New Jersey accelerated ahead coming out of the first Covid-19 shock, growing by an average of $117m per month (a monthly CAGR of 44%) to fall just shy of £1bn placed on sports bets in the month of December 2020.
The two states were neck-and-neck before New Jersey accelerated, growing by an average of $117m per month to fall just shy of £1bn placed on sports bets in the month of December 2020.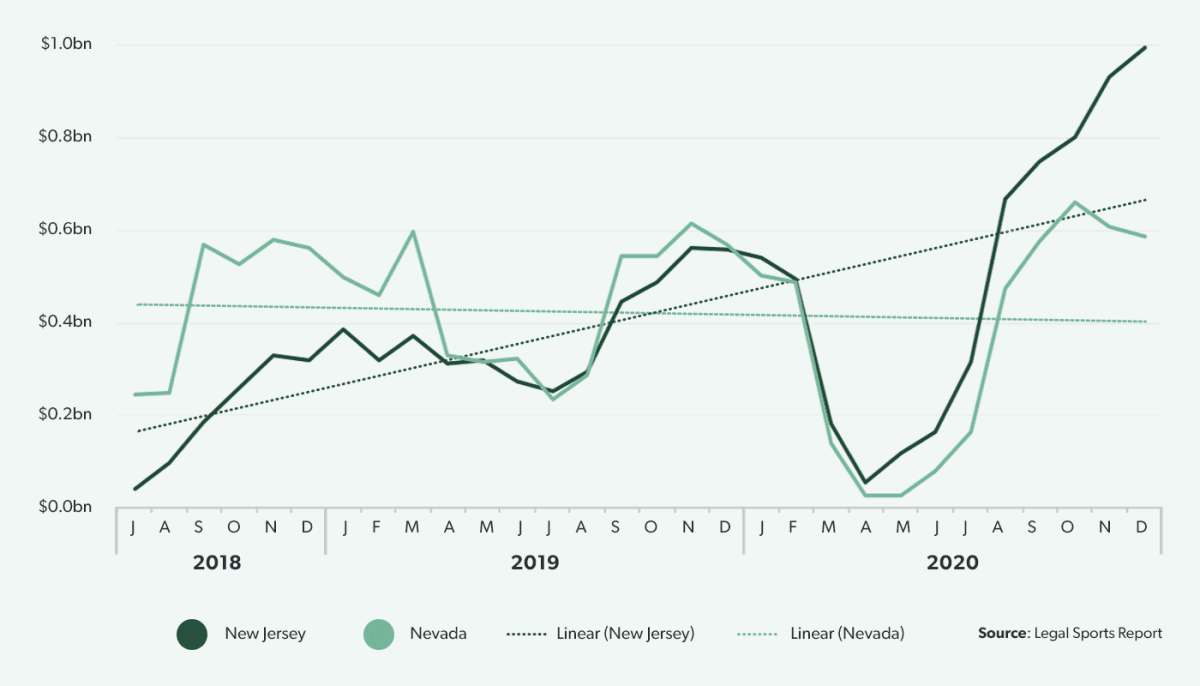 Significant variation in revenues and taxation between states
Sports betting has not been adopted evenly across the United States. Some states have established gambling facilities, for example Atlantic City in New Jersey, while others have limited or no retail outlets at all. The number of licenses granted to online operators (of which market Draft Kings and FanDuel are the current leaders) has varied between states, depending on cultural attitudes and administrative efforts during a busy period for governments.
The amount bet per capita therefore shows significant divergence between states, from $8.77 per head in Nevada to only $0.11 in Arkansas. Operators – whether commercial or state-run – are taking an average revenue margin (or "hold") of 9% on bets, with the two largest states by handle running at 7% and the smallest states achieving between 12% to 15%.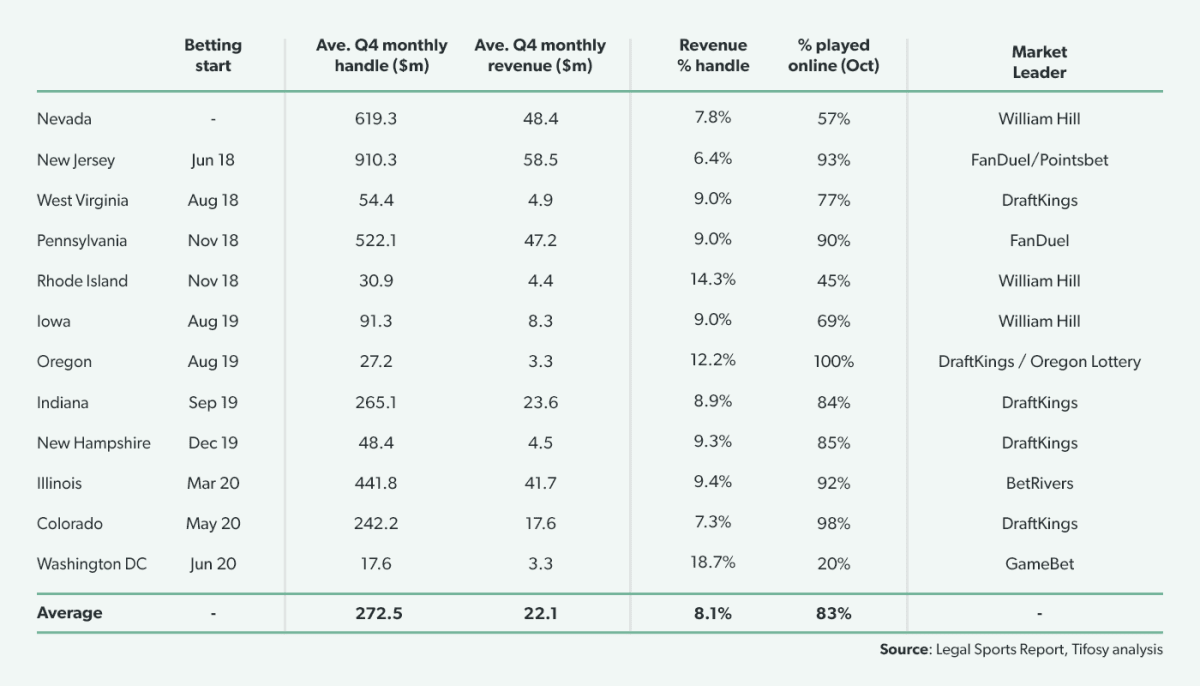 Sports betting is expected to boost industry revenues
While many sports did originally oppose legalised sports betting, now that it is being implemented in more and more states there could be significant upsides, if data from a GlobalWebIndex survey of April 2019 is to be trusted. According to this survey of over 1,000 sports fans, placing a bet would make punters 60% more likely to watch the game on TV and 40% more likely to attend in person. News and gambling apps, text services and radio might all expect to see increased audience numbers. In all likelihood people's actual behaviour will prove to be a little different – and will most likely vary a great deal between sports, but the figures nevertheless provide an encouraging boost ahead of the next round of broadcast contract negotiations.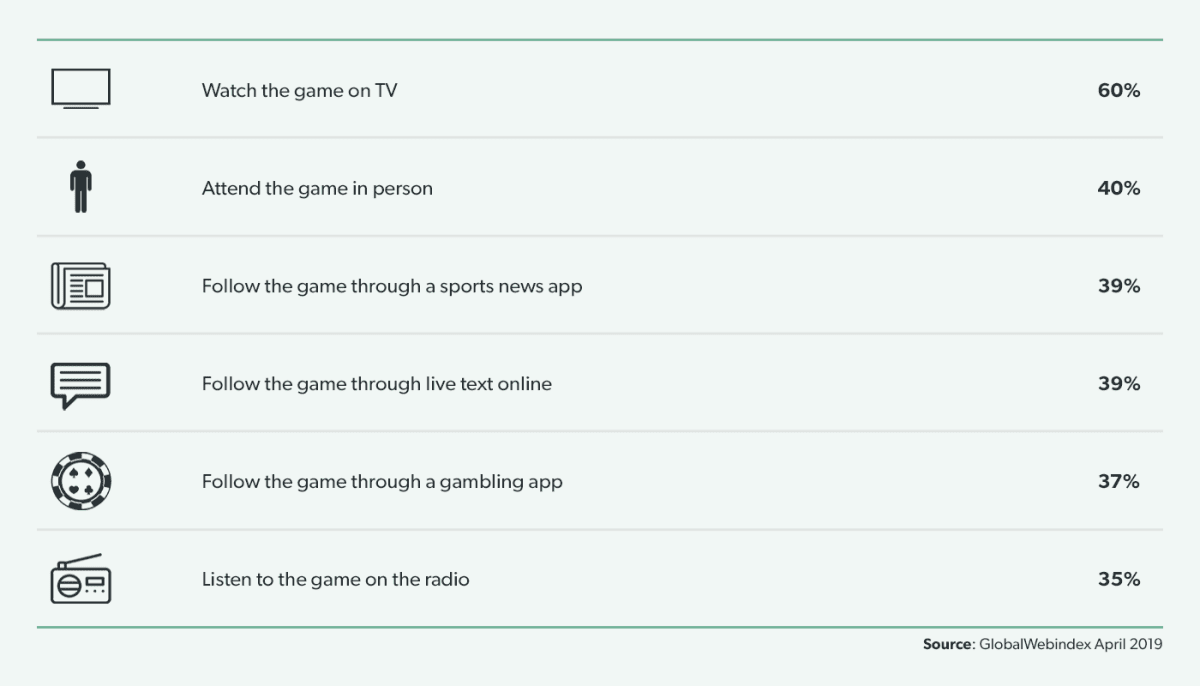 M&A on the cards?
At the end of September last year, it was reported that US casino operator Caesars Entertainment had agreed to purchase British-based gambling group William Hill for $3.7bn, to improve its capabilities in the sports betting and wider online gambling industry. William Hill is ranked fourth in the British gambling market with 2019 revenues of just under £1.6bn and has the widest international reach of any betting brand, including US operations established in 2012. The deal has passed anti-trust checks and is expected to be completed in March.
Meanwhile, news emerged in early January of a bid from MGM Resorts – owner of the Bellagio in Las Vegas – for Entain Plc, the second-largest British player and owner of the Ladbrokes and Coral brands. The bid was rejected and MGM have decided making a follow-up offer, but it seems reasonable to expect that there will be more activity as the sector opens up further.