Recent research estimated the value of the global sports betting market at $69.9bn and suggested that its growth could continue at an annual rate of over 10% up to 2028.
The report, by Grand View Research, estimates that 30% of global sports betting is in football (soccer), despite the sport being a relatively minor focus in the US, where gambling is in rapid growth since laws banning its practice were struck down in May 2018.
With such attractive growth on offer, a flood of sponsorship deals has been agreed by clubs and leagues with a proliferation of gambling companies in recent years. However, growing concerns over the potential harm caused by betting has resulted in government intervention in some countries. 2021 has seen the introduction of a gambling sponsorship ban in Spain, while in Italy there have been calls for existing bans to be reversed due to financial pressures caused by Covid-19.
English clubs could be forced to drop gambling sponsors from their shirts from 2023 as a result of the UK government's ongoing review of the 2005 Gambling Act. Also under examination is a loophole which currently allows overseas betting brands without a UK licence to partner with 'white label' companies, often based in territories such as the Isle of Man or Malta, effectively to "rent" their license and benefit from the global popularity of English football to advertise to consumers in markets where the promotion of betting services is illegal. Such a move in the UK would follow similar bans in Spain and Italy which have come into action in the recent years.
How big is gambling sponsorship?
Given its visibility and the amount of media attention, it is perhaps suprising that partnerships with gambling companies made up just 1.7% of the global sports sponsorship market in 2020.
Gambling is the 9th largest sector in global sports sponsorship
Within European football the picture is significantly different. Despite bans on gambling sponsorship in La Liga and Serie A, the sector makes up 12% of all principal shirt sponsorships in the European Big 5, making it the largest in front-of-shirt sponsorship.
Gambling is the biggest sector in football front-of-shirt sponsorship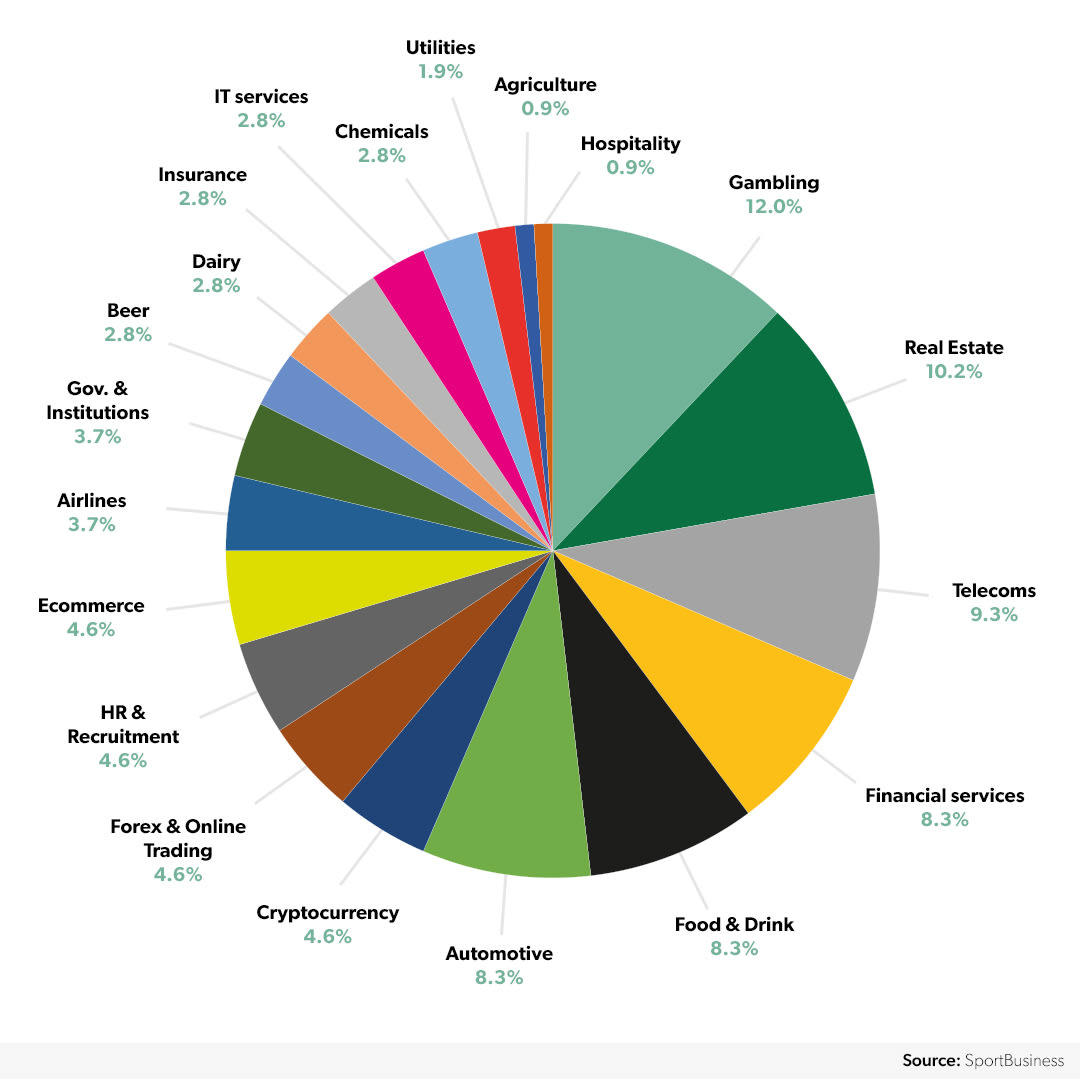 Serie A and La Liga bans have resulted in financial losses
The Italian government implemented new regulations in 2019 including a blanket ban on all gambling-related sponsorships and advertising partnerships for Italian sports organisations domestically. However, they are still free to do deals covering overseas markets. Regardless, the Italian Football Federation (FIGC) has urged the country's government to suspend the ban to help clubs recover financially from the losses incurred during COVID-19.
More recently, the Spanish government implemented a ban ahead of the 2021/22 La Liga season. Prior to its enforcement, gambling companies made up seven of 20 principal shirt sponsors in La Liga in the 2020/21 season, down from eight the previous season. Regulations also include the limiting of gambling advertising across TV, radio and other video media outlets to one hour per day between 1am and 5am. Plans to extend the ban to advertising in stadia are under discussion. As a result of the moves by the Spanish government, six teams (Alaves, Levante, Mallorca, Real Sociedad, Cadiz and Granada) began the 2021-22 La Liga season without shirt sponsors, while Real Betis managed to agree a deal with telecoms company Finetwork before the season got underway. Deals have now been agreed by all clubs except Granada whose shirt remains bare four months into the season. The 2020/21 betting sponsorship agreements were worth an estimated €16.5m collectively.
Front of shirt sponsorship deals with betting companies were worth an estimated €16.5m in 20/21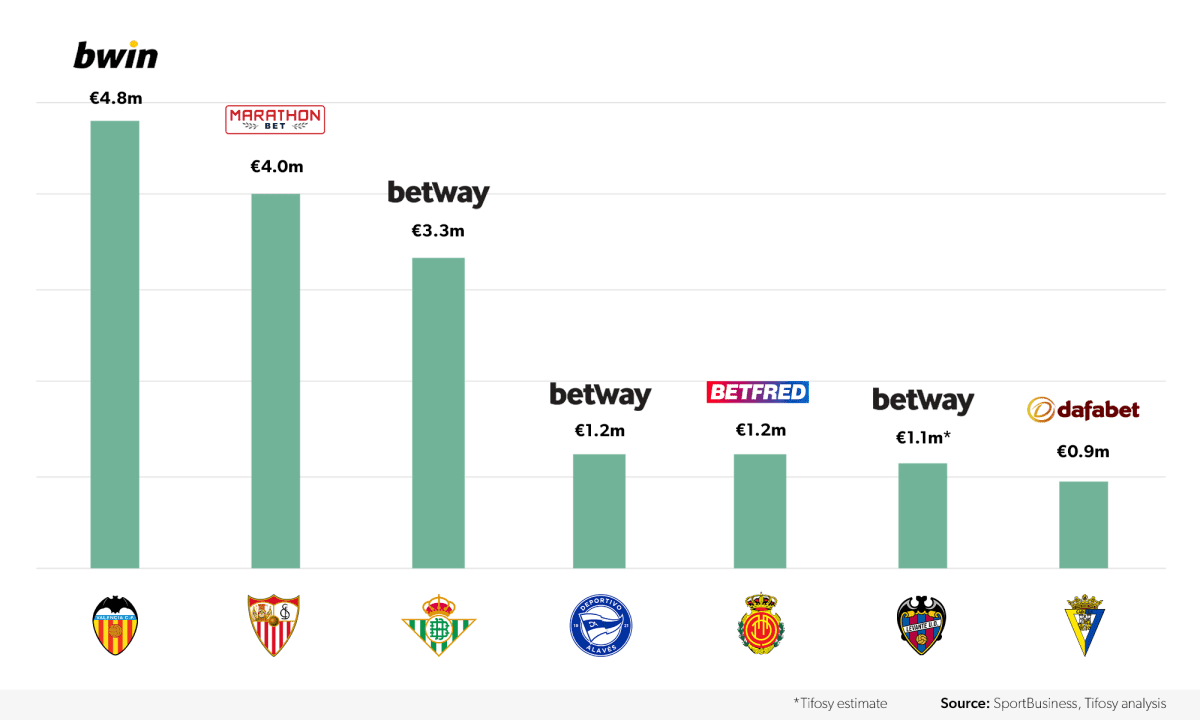 Currently, nine clubs in the Premier League have gambling companies as front-of-shirt sponsors, bringing in an estimated £54 million in annual revenue. A ban would have a significant impact on clubs particularly in the EFL, where gambling sponsorships generate club revenues of over £40 million annually and over 50% of clubs have commercial partnerships with brands in the sector, including 15 front-of-shirt sponsors in the Championship.
Crypto firms in the frame to replace gambling sponsors? 
The fastest-growing sector in European football sponsorship is crypto, including both cryptocurrency exchange and fan token brands. Two of the seven gambling sponsors lost from La Liga club shirts at the start of the season have been replaced in hastily-agreed deals with issuers of fan tokens. Overall July 2021 saw the launch of 16 new crypto partnerships, with the highest number made by Socios, operator of the Chiliz cryptocurrency and 27 fan tokens for European football clubs, which agreed sponsorship deals starting in July with five clubs in France, Spain and Italy. At the same time, three of the agreements were launched by rival Bitci and two by Binance, the world's largest cryptocurrency exchange which has moved into fan tokens.
16 crypto sponsorship deals launched in European football from July 2021