According to FIFA, France 2019 was the most watched FIFA Women's World Cup ever, up by 30% on the reach of the 2015 edition in Canada. The final between the USA and the Netherlands reached 264 million people.
Of course, international football is a very different ball game to the domestic game. In men's football the major international competitions (FIFA's World Cup, UEFA's Euros and CONMEBOL's Copa America) attract viewing figures that dwarf those seen in the domestic leagues of any of the participating nations – and the same is true in the women's game.
Nevertheless, there is growing interest in domestic women's football leagues. Media coverage and attendances – when games are played in front of a crowd – are increasing, the names of the biggest stars are rising in prominence. While financial data is scarce – many teams' figures are incorporated into their parent club's results – there are some indicators as to the rise of women's football in the Big 5. We map out the establishment of leagues and clubs, and the development of the competitions to date.
European women's football started in 1968
The first women's league of the modern era to come into existence was in Italy, where the Serie A Femminile was founded in 1968, although it did not form into a single top tier until 1974. In that same year, Germany developed a 16-team national women's cup competition, which lasted until the Frauen-Bundesliga was formed in 1990. France's Division 1 Féminine was launched in 1975, although it originally started in 1918 before and lasted 12 seasons before women's football was prohibited in 1930. In 1992 it was restructured as a single top division. Despite (or perhaps because of) being the "top two" of the men's game, Spain and England were actually the last to set up formal women's leagues, in 1988 and 1991, which both relaunched in 2011 with new modern structures. While all 12 women's teams in England's top division are affiliated to professional men's clubs, there are 14 independent clubs in the top tier leagues on the continent – two in France, three in Germany, four in Italy and five in Spain.
France's Division 1 Féminine originally started in 1918 and lasted 12 seasons before women's football was prohibited in 1930.
Amongst the 2020/21 participants of the top women's leagues, all but Italy have at least one member club founded in 1970 or earlier, and four of the 12 in the Frauen-Bundesliga were established by 1980. All of Italy's Serie A Femminile clubs were formed in the last two decades, with Pink Bari (unconnected to SSC Bari) the first in 2001. Four of Serie A's biggest clubs (Juventus, AS Roma and both Milan clubs) only launched women's teams in the last three years. All but four of the clubs in the French and Spanish top divisions came into existence since 1997, with Spanish giants Real Madrid finally entering the fray in 2020. In England, seven major men's Premier League clubs established clubs in the years between 1987 and 1995 but Manchester United, the biggest English club of all, operated purely as an academy for many years before finally launching a women's team in 2018.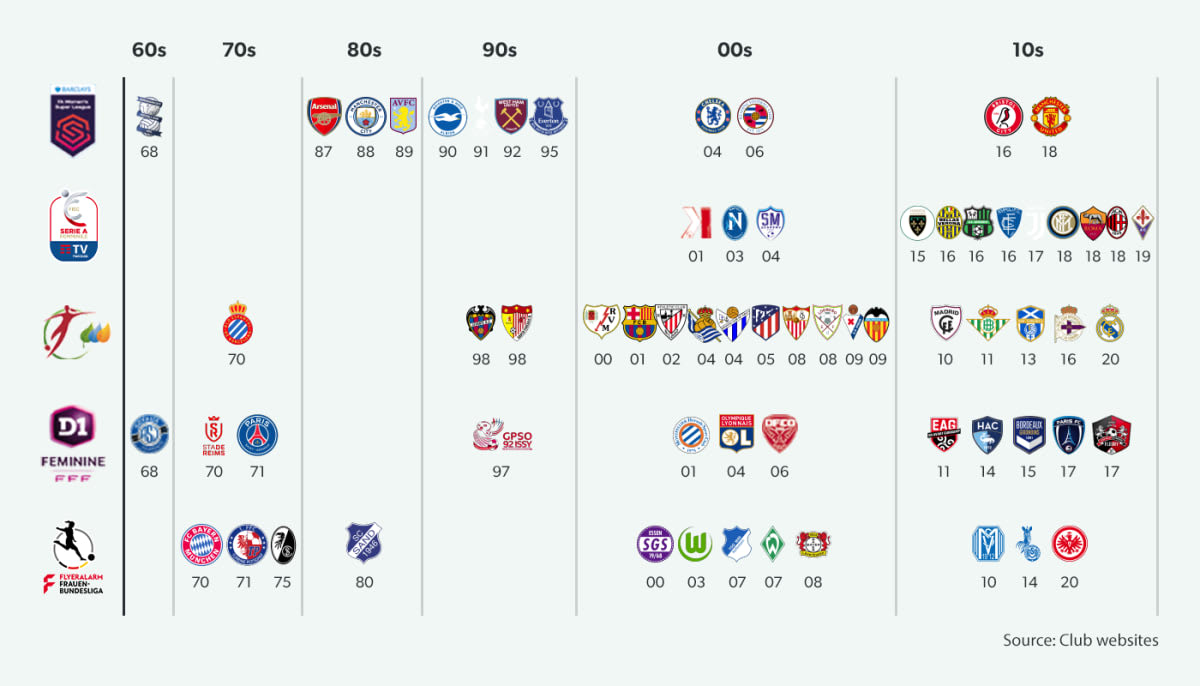 84% of Big 5 men's clubs have a female team
82 clubs in the men's Big 5 have established a women's team, while 16 have not. 39 are in the top tier, 22 in the second tier and the remaining 21 in the third tier or below. All 20 Premier League clubs have a women's team: nine in the Premier League, four in the Championship and seven in lower tiers. The lowest-ranking is Fulham FC's women's team, which is in Tier 5 of the women's football pyramid. On the continent, 90% of La Liga and 85% of Ligue 1 clubs have a women's team – of which 56% and 35% respectively play in the top tier, while in the Bundesliga and Serie A the number drops to 72% and 70% respectively (53% and 50% in the top tier).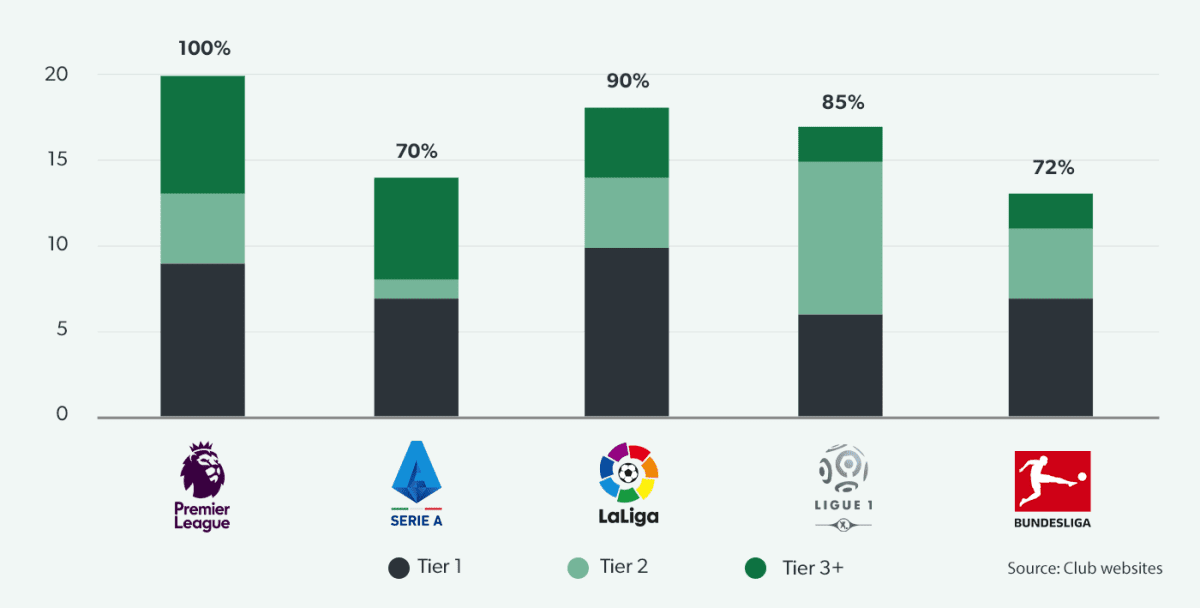 As noted already, 14 women's clubs in the Big 5 remain fully independent. This group of clubs is the oldest, with an average foundation date of mid-1988. 38% of clubs in the top women's leagues (25 clubs) were founded organically as offshoots of existing men's clubs, often being created as part of a club foundation or alongside academy teams. While dates vary between leagues, the average date of these clubs being formed is mid-2001. The last 27 clubs (41% of the total) were founded through mergers between small local clubs with an established club. The average date for these mergers was mid-2007 – seemingly clubs which had opted not to build a team from within later decided to play catch-up by acquisition: the clubs selected for incorporation into the men's clubs were generally well-established, being on average 21.5 years old at the time of merging.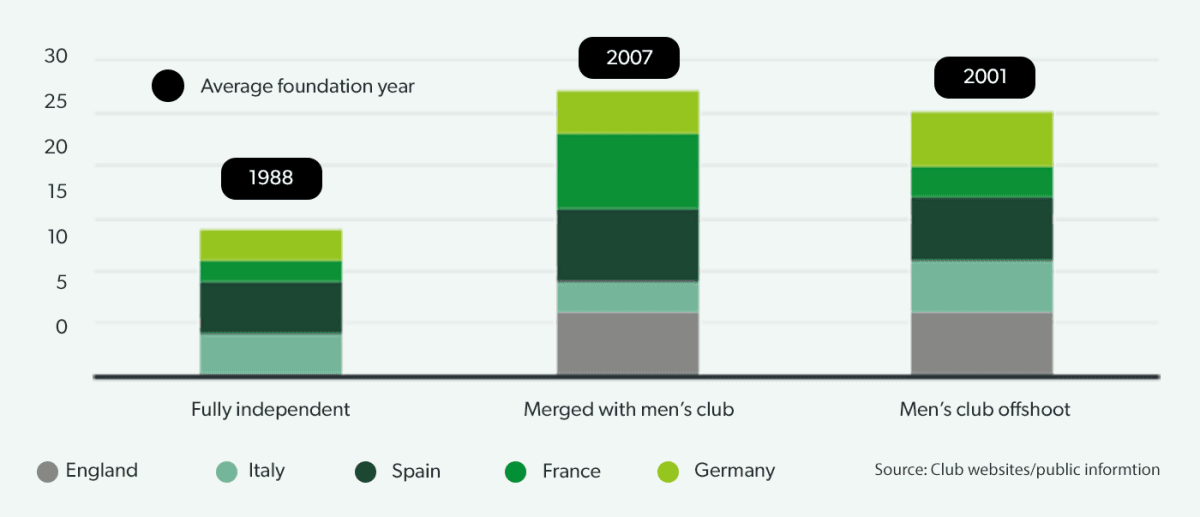 England's WSL leads in social media
The 12 clubs in England's WSL have 32 of a possible 36 accounts (89%) across Facebook, Twitter and Instagram – which is matched by the 12 clubs of the Frauen Bundesliga. Average aggregate followings are 1.4m and 420k respectively. Clubs in Spain's Primera Division have launched only 72% of possible social accounts, but have an aggregate average following of 518k. In France and Italy, only 61% and 58% of accounts are covered, with much lower average followings of 166k and only 53k respectively. Affiliation to a men's club brings significant advantage: on average, linked clubs have 16x as many followers in aggregate as independent clubs, with the effect being most notable in Spain where teams linked to a men's club have 29x larger following than those "going it alone".