About Tifosy
Tifosy is a global sports investment firm. We provide specialised sports advisory and capital raising services across the sports industry and enable investors worldwide to invest in sports.
TIFOSY INVESTMENT PLATFORM
We work with professional sports clubs to raise capital from sports-focused retail, sophisticated and institutional investors globally. Through an online, transparent and regulated process, we simplify and the capital raise process and go directly to the investor, also providing ISA investment and secondary market capabilities.
Tifosy is authorised by the Financial Conduct Authority, enabling us to work with clubs across Europe and source investments worldwide. The Company acts as a "one-stop shop" throughout the capital raise process, combining deep expertise in financial and legal structuring/documentation with a sophisticated data-driven digital marketing model, designed to capture maximum value from a global investor base.
Tifosy raises also create significant engagement, reaching a huge audience of potential investors – known and unknown to clubs - including fans, ordinary retail investors, HNWIs, family offices and sponsors. All investors get to be part of the club's future development while accessing an attractive return and often special privileges.

TIFOSY ADVISORY
We provide owners, boards and management teams of sports clubs with high value-add advisory services. Through our global relationships we also assist sports clubs in structuring and sourcing debt and equity capital.
Services include
Strategic advisory
M&A (buy-side and sell-side)
Private capital raising (private placements, secondary minority)
Debt structuring and financing
Valuation
Financial modelling
Consulting
Tifosy in the media
"The explosion of international interest in English football is really what makes businesses such as Tifosy viable"

"Tifosy aims to tap the growing trend of sports teams using alternative ways to bolster their finances"

"Tifosy is the first and only investment platform dedicated to sports"

"Sports groups have increasingly sought new routes to raise capital in recent years, finding banks increasingly unwilling to lend"

"As clubs embrace social media and secure millions of followers from all over the world, there is an opportunity to combine popularity with online investing"

"Tifosy have a number of projects to be proud of and one of the key aims is to call for more 'transparency' from those who own football clubs while also trying to bridge the disconnect that has undoubtedly developed between them and the fans"
Invest Today
In the past 18 months, Tifosy issued the first online retail bonds in English and Italian football, making history in both markets and catching the eye of much larger sports clubs and sports-focused investors. But this is only the beginning.
Clubs at all levels need access to flexible external financing and there is significant investor appetite. Sports has become a real asset class. Tifosy, being at the forefront of this industry transformation, is perfectly positioned to monetise this large opportunity.
We are now working with top-tier clubs on capital raises in the tens of millions while providing attractive cash returns for investors that are in line with – or ahead of – other opportunities readily available to them. And we continue to bring innovation to strengthen our offer and our competitive advantage, for example in launching the Tifosy Innovative Finance ISA and secondary market.
We expect the next 12-18 months to be transformational for the company and revenues to grow significantly. In order to solidify our position and not commit to any strategic or financial investor at this point in time, our Board has decided to raise a further £2m through the platform, of which our current shareholders already committed £1 million.
This will be the last retail investment round. Don't miss out on becoming a shareholder and coming on this exciting journey with us.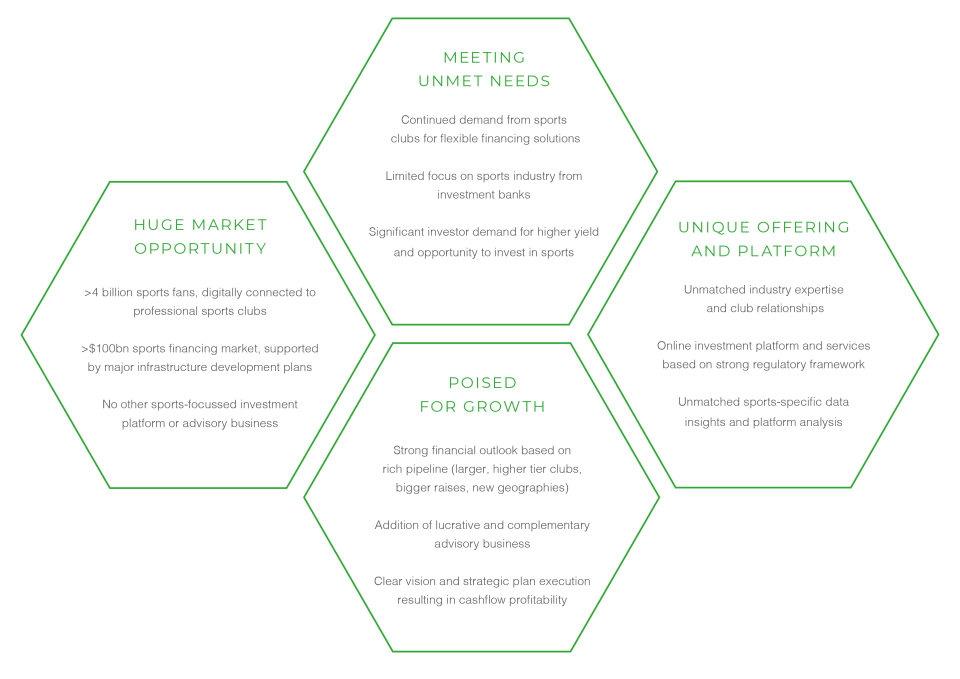 Questions?
Use the live chat or email info@tifosy.com
Tifosy is led by a team of outstanding individuals, bringing expertise from a wide range of sectors and disciplines.
Fausto Zanetton
Founder and Chief Executive Officer
An Italian raised in Belgium, has spent his career in the finance Industry, where he worked with many media, sports & internet companies globally, most recently at Morgan Stanley and Goldman Sachs. Seeing sports clubs struggle to get traditional funding, and the growing tech, social and alternative finance revolution, sparked the idea of Tifosy in his mind. Fausto has an MBA from London Business School and is a qualified accountant (CPA). He is fluent in several European languages and is a huge fan of Inter Milan.
Fausto Zanetton
Founder and Chief Executive Officer
Gianluca Vialli
Co-founder & Non-Executive Director
Has been with Tifosy since the beginning and at his kitchen table we had the initial inspiration to start the company. He is loved the world over as a former striker for Sampdoria, Juventus, Chelsea and the Italian national team. During his glittering career he won all 3 European Club cups, and numerous domestic trophies. After hanging up his boots, Luca managed at Chelsea and then at Watford, and now divides his time between his role as sports commentator/analyst at Sky Sports in Italy and supporting his Foundation which raises funding for research on Cancer and ALS.
Gianluca Vialli
Co-founder & Non-Executive Director
Tommy Aylmer
Chief Legal Officer
A double major in business and law at UCD, Tommy joined Tifosy from Arthur Cox, a top European law firm, where he specialised in M&A and Corporate Finance. Tommy has an exemplary track record of providing advice on a wide range of commercial and compliance issues (including mergers; acquisitions; IPOs; spin-offs; finance structures and corporate governance) and advised many top tier banks. He also has experience in the sports industry having advised Ireland's largest telecommunications company on the acquisition of the Irish broadcasting rights to the EPL and UEFA Champions League.
Tommy Aylmer
Chief Legal Officer
James Pollock
Managing Director
Is a veteran of major blue-chip marketing companies, having begun his career at Procter & Gamble in London, then heading up European businesses in Geneva, before returning home to bring his strategic expertise to other FMCG companies at Kantar Retail, a WPP company. Prior to joining Tifosy, James headed up strategy for one of the four business units at Unilever (Ice Cream and Tea). A fan of Arsenal FC since his early years, James also follows rugby and tennis.
James Pollock
Managing Director
Nicola Verdun
Managing Director
Came to Tifosy from Juventus FC, where he was Head of Global Partnerships and International Development. He secured sponsorship contracts with major international brands for the club. Previously, he has also worked as Business Director at Nielsen Sport (formerly Repucom) and Sports Marketing Director at media company MEC Access. He brings to Tifosy a deep understanding of sports marketing and fan engagement. Born in Turin, Nicola is a Juventus FC fan.
Nicola Verdun
Managing Director
Maxime Budin
Executive Director
Hailing from Paris, Maxime joined Tifosy from Goldman Sachs where he acted as advisor to financial institutions. Having gained prior experience at Bank of America Merrill Lynch and Deutsche Bank, Maxime has very strong experience in detailed valuation and sector analysis on M&A transactions, IPOs and debt financings. With a master's in management from ESCP Europe, Maxime is fluent in several European languages, plays rugby and football, and is a lifelong fan of Paris Saint Germain
Maxime Budin
Executive Director
Simone Bonfiglio
Executive Director
Simone came to Tifosy following eight years working in the finance industry, with roles in investment banking at Credit Suisse and in analytics and sales at Bloomberg. He has advised corporations in the media, sport and telecom sectors on growth strategies, optimising capital structure and financing requirements. Italian born, he also lived in Russia, Spain and the United States where he became an American football addict (and a Seahawks fan), as well as playing semi-pro football before building a career in finance.
Simone Bonfiglio
Executive Director
Alex Kossmann
Finance Director
Half-Uruguayan, half-German, and with finance qualifications from both LSE and LBS plus an accounting background and fierce analytical skills, Alex leads both the finance and data analytics functions, on the latter working closely with the tech team. Before moving to London, he worked at Bank of America Merrill Lynch and Julius Baer Group and in the reporting team of a large multinational in the oil drilling industry.
Alex Kossmann
Finance Director
Mrinal Sinh Smith
Chief Product Officer
Mrinal began his career in marketing, where at global agencies such as Saatchi & Saatchi and McCann, he led brand, digital and membership strategies for brands including Visa, Costa Coffee and Philips. Moving into media, Mrinal joined the Guardian where he launched the Guardian's apps and digital subscription products, before moving into a senior management role as part of the team that drove the Guardian to become the most-read English language newspaper in the world. Mrinal is an avid fan of practically every sport on the planet, and particularly loves football, cricket, rugby and F1.
Mrinal Sinh Smith
Chief Product Officer
Geoff Tidey
Chief Technology Officer
The tech genius behind Tifosy's platform, came with over two decades of development experience in multiple programming languages. He has worked with established companies and start-ups as developer, CTO and Co-founder, and notably worked at SIS (Satellite Information Services) and Kelkoo/Kelisto. Geoff is an ardent Tottenham Hotspur fan, and also finds time to follow his local club Billericay Town.
Geoff Tidey
Chief Technology Officer
Daryl Watson
Lead Developer
Following an education in music and maths with statistics, Daryl began his career in the luxury hospitality industry before retraining as a coder at the prestigious Makers Academy in London, where he went on to coach other students. Daryl is now a full-stack developer with experience using Ruby on Rails, Javascript with Backbone and ES6, and PostgreSQL, all of which he brings to the engine-room of Tifosy's platform. Another Gooner, Daryl regularly completes endurance hiking events and is a keen weight-training enthusiast.
Daryl Watson
Lead Developer
Charlie Compitus
Senior Marketing Manager
A graduate in Contemporary Media Practice, Charlie joined Tifosy from Millwall Football Club, where as well as being a lifelong fan and season ticket holder for 17 years he worked in the media department producing content for the club and its Community Trust. As an experienced creative developer with skills in video production, photography, graphic design and animation, Charlie is proficient in a wide-ranging suite of design & video software, as well as having press experience from his time working on professional sports at Southwark News.
Charlie Compitus
Senior Marketing Manager
Tom Murray
Marketing Manager
Trained as a designer and visualiser at Central Saint Martins University of the Arts, Tom has advanced expertise in 2D and 3D design practices across traditional and digital media. Previously Graphic Designer at premium London food retailer Sourced Market, Tom has experience of a wide range of design applications, CAD software and video production techniques. Prior to Tifosy, Tom worked as a freelance designer for a number of clients including contemporary artist Lauren Baker and luxury homeware brand British Colour Standard. He is a passionate fan of Tottenham Hotspur and regularly plays 5-a-side and 7-a-side football.
Tom Murray
Marketing Manager
Key Documents
To view this information, you must have logged-in and completed the self-certification. Click here to sign-up/login and certify.