Without the predictable weekly schedule of most popular sports, pay-per-view (PPV) has been the model favoured by boxing for more than 70 years.
The earliest form of pay-per-view was closed-circuit television, where professional boxing telecasts were broadcast live to a select a number of venues, mostly theatres, where viewers paid for tickets to watch the fight live. The first fight broadcast in this way was Joe Louis vs. Jersey Joe Walcott in 1948 and closed-circuit telecasts peaked in popularity with Muhammad Ali in the 1960s and 1970s.
The first home pay-per-view cable television broadcast was the rematch between Floyd Patterson and Ingemar Johansson in 1960, when 25,000 subscribers paid $2 (sent by mail) to watch Patterson regain the heavyweight title. The third match between the two in 1961 was viewed by 100,000 paying cable subscribers. Muhammad Ali fights also featured on early pay-per-view home television, with Ali vs. Sonny Liston drawing an estimated 250,000 buys on cable television in 1964. The "Thrilla in Manila" between Ali and Joe Frazier in September 1975 sold 500,000 pay-per-view buys on HBO.
The model has been appropriate not only because of the sporadic nature of the boxing schedule, but also because broadcasters are able to incentivise athletes to appear on their channels for major bouts with high fees, counting on high appetite to deliver a return on their outlay. The comparative rarity of a match-up between two world-class fighters justifies high one-off pricing, while extended build-up creates the opportunity for heavy marketing.
The biggest global market for PPV revenue is the USA with just over $2bn forecast for 2021, while the United Kingdom and Japan are next with a little over half this amount. Germany and China take fourth and fifth spots globally.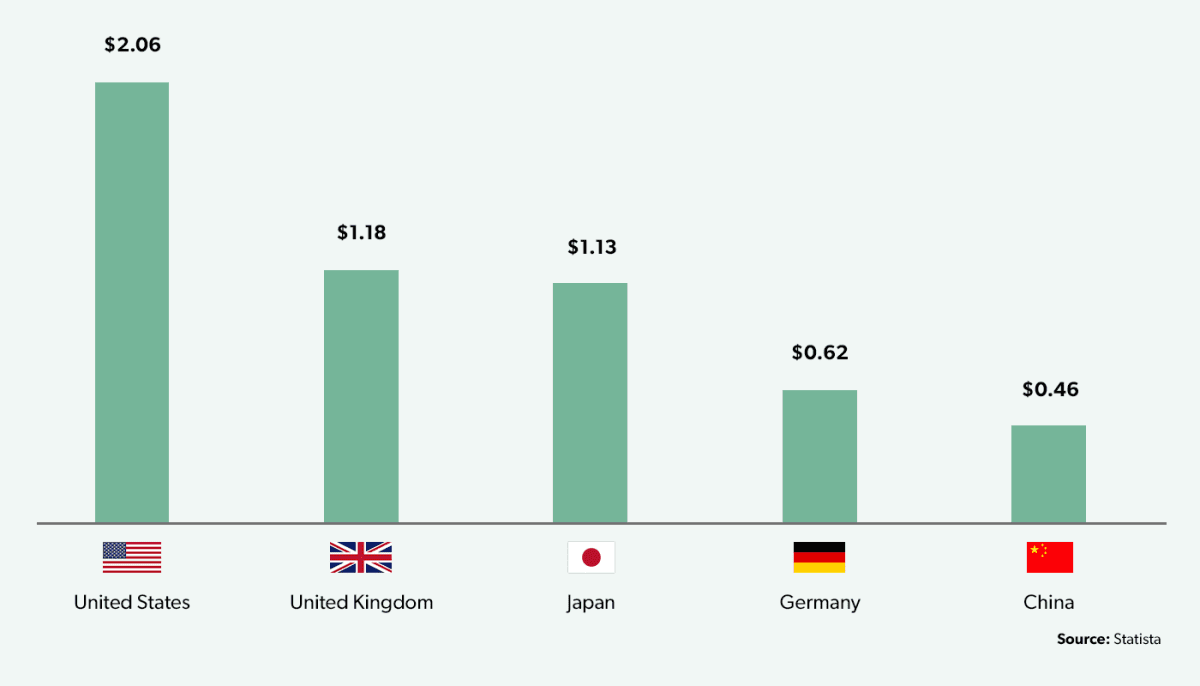 Revenue per user within the model is on a steady growth curve, with annual growth of 2.7% in the five years to 2021 (from $11.42 to $12.68) and similar growth up to $14.00 expected by 2025 – a growth rate of 2.5%.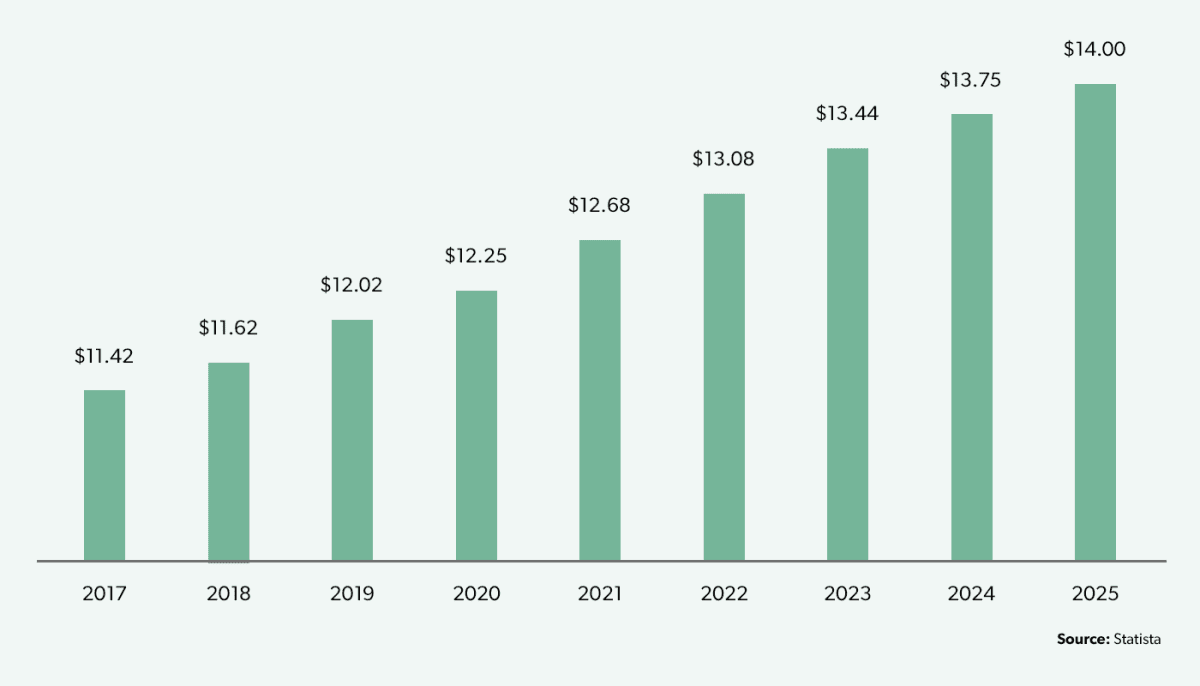 The growth of OTT: a threat to PPV?
In recent years, sport has seen a clear shift towards the over-the-top (OTT) model, i.e. streaming services. Our piece in January discussed the growth of digital viewership: in the US, digital live sports viewers almost doubled from 18.6m to 36.5m between 2018 and 2020 and are projected to grow 32% to 48.2m by 2023 (9.7% CAGR). This would mean digital viewers grow from 12% to 30% of overall sports viewers across five years.
Overall OTT, which has ventured into a wider range of sports, already has a commanding lead over PPV in terms of both viewers and revenues and is forecast to grow the gap in the period up to 2025. While PPV users are expected to grow at a faster rate (4.9% on PPV vs. 4.9% on OTT), the absolute number being added in the period is 580 million on OTT vs. 116m on PPV. Meanwhile PPV revenues are forecast to grow more slowly than OTT (7.3% vs. 9.0%), adding just $4bn vs. OTT's $68bn anticipated growth.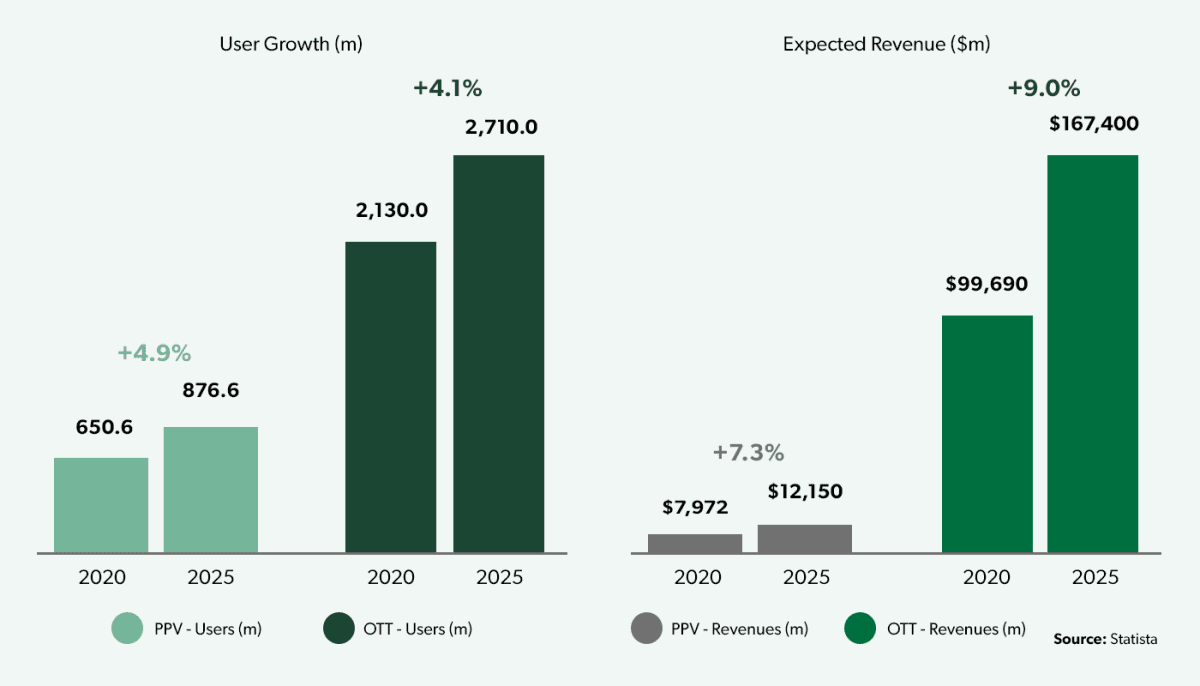 The emergence of DAZN in global boxing has been considered by many to be a threat to the traditional pay-per-view model. Instead of paying individually for big fights, DAZN is encouraging fans to pay monthly subscriptions to access a range of fights — some major title fights, others less significant.
Indeed, boxing has become the principal global focus for DAZN: while it operates in some markets with a wider range of sports rights – it just took over the rights to Serie A from Sky – fights are the primary product for most of its 200 countries. The company has committed hundreds of millions in recent years to building partnerships with boxers and promoters. In April, a deal was announced with Eddie Hearn's Matchroom Boxing – promoters of current heavyweight champion Anthony Joshua – that was reported to be worth "well into nine figures" according to The Athletic. The five-year contract ends Matchroom's almost decade-long exclusive broadcast relationship with Sky Sports, which broadcast boxing via the PPV model on its Sky Box Office service.
It remains to be seen how effectively DAZN will be able to convert an audience used to the PPV model into longer-term subscribers to its platform. With long-term deals secured with major names, however, they will have time in which to convince fans to make the move.