The first iterations of fantasy sports date as far back as the mid-19th century, although player statistics only began to form part of the gameplay in 1930 with the launch of National Pastime.
This baseball board game introduced player cards with statistics from the previous season to determine the outcome of a given in-play situation, thus simulating the performance of real-life MLB players. Baseball continued to be the sport of choice for later additions of APBA (1951) and Strat-o-Matic (1961). The 1960s saw the advent of more predictive games, based on the outcomes and statistics of the upcoming season, and in 1963 the first fantasy American football game had its inaugural season: the "Greater Oakland Professional Pigskin Prognosticators League" (GOPPPL), whose chief architect was Wilfred Winkenbach, California businessman and future limited partner in the Oakland Raiders. Leagues grew primarily through local word-of-mouth until the introduction of late 1980s and early 1990s when the first fantasy sports magazines were launched and games were launched in newspapers such as the Los Angeles Times and the Miami Herald. In the same period, fantasy football was introduced in England (led by the Daily Telegraph and the Daily Mirror) and Italy (Fantacalcio, led by La Gazzetta dello Sport), and quickly spread to other European countries.
From minor hobby to global adoption
The advent of the internet precipitated a boom in the population and widespread participation in fantasy sports, as statistics and scores became accessible with immediacy and completeness not possible in print media. In 1995 ESPN introduced its first fully online fantasy baseball game, with CBS fantasy football following in 1997. Yahoo! entered the market in 1999 with a free product, prompting some competitors to drop subscription charges. Over time, the number of game providers and fantasy sports offered has grown, with games available in all traditional North American sports, college leagues (NCAA), soccer, golf, cricket, Australian Rules football, F1, and wrestling. Recent data has not been published, but as far back as 2017, the number of fantasy players in the USA and Canada was estimated by the Fantasy Sports & Gaming Association, the US trade group representing operators, to be 59.3 million.
Adoption of internet-based fantasy soccer games followed in Europe, with some leagues building media and other entertainment partnerships for their fantasy offerings such as La Liga's tie-up with Marca and the Premier League's with EA Sports. Fantasy Premier League is the most widely played fantasy soccer game globally, with close to 10.4 million active accounts in the current season (at the time of writing). UEFA has created a fantasy game for its flagship competition, the Champions League.
Fantasy Premier League surpassed 10.4m active accounts in the 2022/23 season
Fantasy Premier League active accounts, 2002/03 to 2022/23 (m)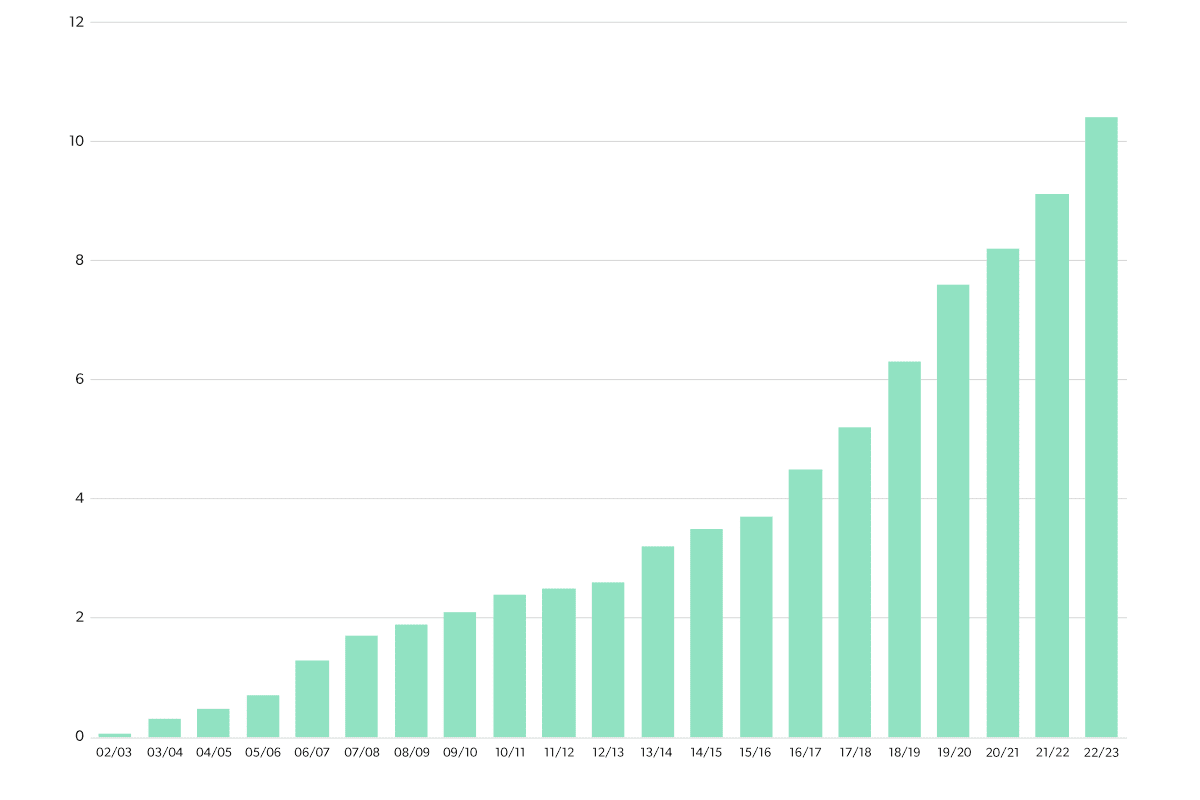 Source: AllAboutFPL
FanDuel and DraftKings quickly amassed a combined market share sufficient to convince federal legislators to block a proposed merger in mid-2017
Making money: Daily Fantasy Sports
Until relatively recently, fantasy sports have been a season-long activity. Participants (commonly "managers" or "owners" select a squad or team from a list of available athletes (within a capped budget), pick their team and manage transfers over the season and accumulate points based on their selected players' real-life gameplay to try to reach the top of a leader-board. Typically games are free to play, although some charge team entry fees. The potential to monetise this type of game is constrained by the length of the season and the time before winners can be declared and prizes distributed.
This issue began to be overcome from late 2006, when the Unlawful Internet Gambling Enforcement Act (UIGEA) was signed into law in the United States – a bill which legalized the new concept of Daily Fantasy Sports (DFS) as games of skill rather than sports betting, which remained illegal under the Professional and Amateur Sports Protection Act (PASPA) of 1992 until this federal law was struck down in May 2018. DFS is an accelerated version of fantasy sports conducted over short periods such as a week or a single day of competition and typically structured in the form of paid competitions ("contests"). Winners receive a share of a pre-determined pot funded by entry fees, with operators taking a percentage as "rake" revenue.
Initial entrants to this new sector included Fantasy Sports Live and SnapDraft, a spin-off of Instant Fantasy Sports which had been acquired by NBC in 2008. The largest current DFS operators are FanDuel, founded in New York in 2009, which raised $417.5m in venture capital before being acquired by Irish bookmakers Paddy Power Betfair (now Flutter) in the wake of PASPA's demise; and DraftKings, founded in 2012 in Boston which outdid its major rival with $727.6m of investment before listing via a SPAC on the Nasdaq in April 2020 (investment figures from CB Insights). The two companies quickly amassed a combined market share sufficient to convince federal legislators to block a proposed merger in mid-2017.
Daily Fantasy Sports remains a relatively small share of both companies' revenue but the segment is considered strategic, being seen as a way of introducing more sports fans to overt forms of sports betting. Fantasy sports are also seen as a positive driver of sports viewership, with an article in the Journal of Media Economics showing increases of 73% and 35% in viewership of MLB and NFL games respectively amongst fantasy sports participants. DFS companies have been quick to form partnerships with the world's largest sports leagues and have received investment from major media and tech firms: 21st Century Fox acquired over 10% of DraftKings, which also counts MLB Ventures and the NHL amongst its backers. Stakes in FanDuel have been bought by Google Capital, Comcast Ventures and NBC Sports Group.
The fantasy sports market is now valued at around $9bn in the United States alone, according to IBISWorld research, while various reports estimate the global market will grow from $19.9bn in 2020 to $40.6bn in 2026 and $47.9bn by 2028, fuelled by a host of drivers such as increasing smartphone availability and digital infrastructure, athlete popularity, choice of apps, technological advancements in virtual reality, analytics and machine learning to grow user base and develop engagement and further developments in gamification and team customisation.
The fantasy sports market in the United States is projected to remain close to $9bn in 2022
The market size of fantasy sports, United States of America, 2012 to 2021 ($bn)
Source: IBISWorld
Adjacent business growth
Perhaps the most significant area of adjacent business to fantasy sports is in media. Over the past years, hundreds of social media accounts and podcasts have been established to cater to followers and listeners eager to hear the latest advice and tips for managing their teams. The official Fantasy Premier League account on Twitter has close to 4.5m followers (well ahead of the 900k for the NFL's official account), while unofficial accounts – many of which are run by individuals command tens or hundreds of thousands. Some leagues and broadcasters also run accounts with large followings and some have launched TV shows – predominantly in the United States, although the Premier League has one and Sky will soon relaunch Fantasy Football League, the show (originally on the BBC and subsequently on ITV) whose hosts David Baddiel and Frank Skinner went on to release Three Lions, the song adopted by England fans and sung at tournaments since 1996.
TV shows have sprung up to cater to fantasy sports enthusiasts
NFL fantasy football shows in the United States

The other interesting area for fantasy sports is NFTs, with developments in this space led by Sorare. Founded in France in 2019 and backed in its $50m Series A by Antoine Griezmann, Rio Ferdinand, and Oliver Bierhoff, Sorare members build a team of player NFT cards from the available selection of licensed teams around the world, to compete in a range of leagues. Starting out in European soccer, Sorare has now created partnerships with 49 soccer leagues globally – and 295 individual soccer clubs – according to its own website. An estimated $430m of NFTs have been sold on the Sorare platform since launch in 2019, and it's Series B funding round broke European records, raising €580m at a valuation of over €3.6bn. In 2022, Sorare has started fulfilling its promises to penetrate other sports, with entry into the United States: the agreement with the MLS announced in March was quickly followed by a partnership with the MLB (and its player's association) in May and the NBA this month.
India: global fantasy sports leader in waiting?
To date, the biggest market for pay-to-play fantasy sports is the United States, which is estimated to account for approximately 50% of global revenues. Europe follows, led by the UK and Sweden – where key players Leadstar Media and Scout Gaming have focused on building white-label technologies to license to game operators. There is huge potential in Japan and China, although these are both currently constrained by restrictive gambling laws.
There is one country that could challenge the United States for leadership of the global fantasy sports market: India. A 2022 joint report from Deloitte and the Federation of Indian Fantasy Sports (FIFS) places the number of fantasy sports players in the country at over 130 million (growing at 130% CAGR from just over 2 million users in 2016), with a market size of $4.4bn (approximately half the size of the US). Add to this the estimate that currently 80% of players participate in free contests and smartphone penetration has reached only 42% and the FIFS projection of growth to $20.8bn by 2025 seems possible.
The number of fantasy sports players in India has grown 130% CAGR since 2016
Fantasy sports in India, 2016 to 2022 (m)

Source: Deloitte/FIFS
Given it is followed by 91% of sports fans in India, cricket dominates fantasy sports with 85.2% of revenue, and many of the most popular apps drawing their name from the number of players in a cricket team: Dream 11, MyTeam11, My11Circle. The remaining 14.8% of revenues are dominated by field hockey (6.7% share) and soccer (6.3%), while other popular Indian sports such as Kabbadi and wrestling/WWE, and NBA are currently very small. Data in the Deloitte/FIFS report shows that despite small revenue shares, football and Kabbadi are played by 48% and 9% of fantasy sports users respectively, indicating the potential monetisation opportunity.
In news that could herald a decisive moment for the Indian fantasy sports industry, Google has announced a one-year pilot (from 28 September) of new guidelines allowing the distribution of Indian fantasy sports apps through its Google Play store. Until now apps were only distributed via Apple's App Store, which in India has a 95% share of the mobile phone market.
Key Outtakes
The continuing growth of the United States, the acceleration of Europe and India, and the various secular trends driving fantasy sports bode well for game operators, media companies, and rights holders.
While regulators in most markets see a clear difference between fantasy sports and online betting on the basis of skill, the rapid growth of daily pay-to-play offerings is seen by some to pose similar risks as traditional gambling.